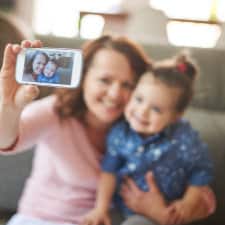 2021 Update: We still stand by this advice on how to organize family photos; you may also want to check out our newer discussion on the best apps for privately sharing photos. Over on Corporette, Kat's shared her best tips for how to get started with digital photo books.
I don't know about you guys, but I have been overwhelmed by the number of photos we take of the boys. So many good family photos!(Part of the problem: I text the grandparents a "picture of the day" of each of the boys.)
Over the years I've developed my own system for dealing with all of them, but I'm curious to hear what everyone else does, because my system is definitely a bit labor intensive… How do you organize family photos? What are your best tips for organizing family photos and "processing" them into projects?
How I Organize Family Photos
Step 1. Take lots of pictures, usually with our iPhones. (Yes, yes, these give lousy pictures compared to our point-and-shoot — and definitely compared to my brother's DSLR — but for the moment I'm fine with this. I'd love to learn more about photography at some point, but right now it's more of an accidental hobby! Someday…)
Step 2. Upload all pictures, from all cameras, directly to Dropbox. I like backing them up this way because a) then they're backed up and I can delete them from my phone, b) it isn't a big deal if something happens to the phone because the pictures are backed up, and c) I can review the backed-up pictures on the computer when I get a moment.
Step 3. Sort from Dropbox. When I get a moment (I may go months before I do! It's a good project to do while watching tv, pumping milk, talking on the phone, etc.), I review the pictures from Dropbox. I sort everything into two main folders:
a) Good pictures to save (deleting all of the ones with half-closed eyes and the blurry photos, as well as choosing the best pictures of the "burst" photos I take).
b) Favorites. This folder overlaps the "Good pictures" folder, but it will become the only folder that I go back to when I'm making a photo album or looking for something specific.
I occasionally will put pictures in other folders as well (I keep a "picture projects" folder for various projects I have plans for eventually, like a 10-year anniversary photo album and another Griffin family recipe book). We share a Dropbox folder with both sets of grandparents, so I usually title the folder of "good pictures" something like "kvg added 3-27-15" and upload it. Once it's uploaded, I copy it to a "2015" folder that lives on my desktop computer (rather than the cloud). Oh, and if there are any REALLY great pictures of the boys, I put them in a special folder I keep on Dropbox for the rare occasion where I'm out with a friend and someone says, "Baby pictures! I need pictures of the boys, stat!" (That was more common when we were all new moms, though.)
Step Four: Make a photo album with pictures from the "favorites" files. When Jack was really little I bought a bunch of Groupons for different photo albums; in those early days I made one album like 3x a year. Way too many! I'm still not the greatest here. I have consistently made photo calendars for ou relatives (Snapfish has the best deals — something like 3 calendars for $19.99 or something); this year I decided that I would also try to power through a year-album while the photos and everything were fresh in my mind. I'm up to about September 2014 at this point… I'll get there sometime! I should note that as the boys get older I'm starting to realize that a lot of the gems are in the quotes and little memories — so I've been emailing myself monthly notes and just saving the emails in a folder in my email. The 2014 photo album is the first where I've incorporated these quotes and written memories — the addition of text makes it more labor intensive (I do hate typos, and making the tense consistent across the book was also a challenge) but hopefully it'll be a better memory keeper for us.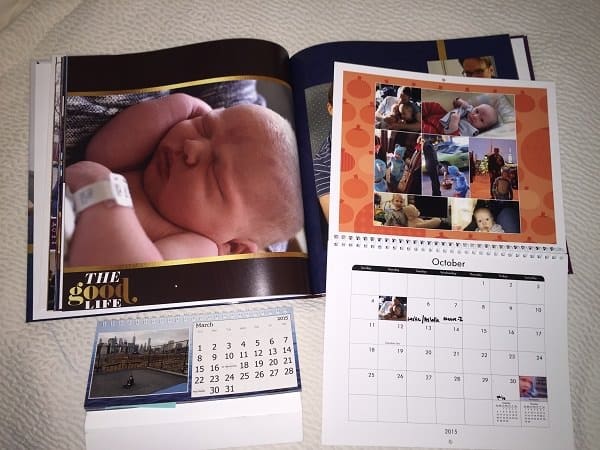 Pictured, clockwise: The draft copy of my Shutterfly book for the first half of 2014 (12×12), my 2014 Snapfish calendar (collages done via PicMonkey), and my Vistaprint desktop calendar.
Step Five: EVENTUALLY, I assume, I'll sort the photos on my desktop into specific folders by month, with all of the pictures from various events (Easter at Grandma's! Trip to the Met!) in specific folders within month. A few years ago we bought one of those "Scan all your old photos" deals for my mother, and once she got the files, she worked to sort them all into folders by DAY — but for my $.02, at least the way my memory works, I'd rather rifle through a bunch of pictures in one general folder by MONTH rather than have to open a zillion folders with 1-2 pictures, but we shall see. (I don't remember which company we used for her — the name "Scan Digital" sounds familiar, but I'm not sure. It was a ton of work to collect all the photos, organize them the way the company required, and then organize the digital files we received back — but hopefully it was worth it!)
These systems are my "best practices" — but note that most of my pictures on my desktop aren't sorted more specifically than by year, and at this point the last album I actually printed and gave to the grandparents ended December 2012… so I'm far from perfect. I should also note that I enjoy making the family albums, so for me it's a fun side project — not something I'd want to delegate to my husband or outsource to a third party.
A few notes on various products and services once you've figured out how to organize family photos:
Calendars: Like I mentioned above, Snapfish has the best deals for big calendars. I also do a Vistaprint desktop calendar once a year for all of the relatives — I keep it on my desk and look at it daily.
Photo albums: Personally I find Shutterfly the easiest to use; they even have an iPad app that's been getting better. I also liked Mixbook and MyPublisher, but Shutterfly is the one I keep going back to. (One of the big ones that I haven't used yet is Blurb, which everyone raves about — there's a bit of a learning curve with each new program, so at the moment I think I'm going to stick with Shutterfly for everything.)
Time-saving tricks:

Shutterfly has an option ("Simple Path") where they will automatically fill your book with your pictures, in chronological order. I don't use this since I enjoy making my own, but you may find this helpful!
Groove Book has a clever subscription service — for $2.99 a month they send you a monthly keepsake photo book from your phone photos. (I haven't used them yet, but at $2.99 a month I just signed up. I originally saw them on Shark Tank, but they were recently acquired by Shutterfly.)
Artkive. I include photos of Jack's artwork in the family photo album (when I get to the end of 2014 I plan to add a few pages with various pictures of his artwork, maybe divided roughly by month or maybe even just quarter), but I should mention that there is also this handy app that helps you make albums from your child's artwork projects. (I take pictures of everything he does, hang a select few up around the house, and for a very select few I plan to frame them (like the painting he did for me while I was in the hospital having Harry) — but most of them, alas, are bound for the recycle bin.
Fiverr. I've written before about how I use Fiverr. If I wanted to outsource the project I'd check here — I could probably find someone to pick the best photos as well as someone to design a photo album for my review. "Gigs" start at $5 each.
Ladies, how do YOU organize family photos and eventually make something productive with them? One mom told me she just takes them directly to Costco to be printed, rather than dealing with digital files, and puts them directly into old fashioned photo albums — which sounds like an easier shortcut than mine. What are your best tips?
Social media photo credit: Deposit Photos / © gpointstudio.