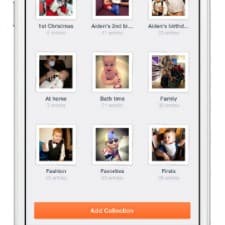 Many, many articles and essays have been written about the potential dangers of posting photos of your kids on Facebook and other social media. Whether or not you agree (that's a topic for a whole other post!), there are some great alternatives out there for sharing photos of your children with family and friends. (Psst: We recently did a post on apps that help working moms stay connected to school/daycare, and we've also talked about how to organize family photos and make photo projects.) Sure, you can safely use platforms like Instagram, Flickr, and Google Photos to show off pictures of your kids (as long as you adjust the privacy settings carefully), but there are some great apps for privately sharing photos on the market right now — and all of them have a "free" tier for pricing.
23snaps
23snaps (sample screenshot shown above) allows you to privately share photos online — and family members can either get updates through the app/site or receive emails with the photos. You can use 23snaps using a web browser or with iOS, Android, or Kindle. Free. 
Cluster
Cluster protects your family photos by only permitting invited users to see and post to the albums you create in private groups. You can use Cluster using a web browser or with either iOS or Android. Free. 
Notabli
Notabli lets you do a lot more than just share photos privately — it makes it possible to automatically organize photos, videos, quotes, notes, and audio clips by kid, date, location, and type. The people you've invited can see updates within the app or through a shared link (they can add their own photos as well), and you can print photos and make photo books from the app. (If you want, Notabli will automatically create photo books for you with every 50 photos.) You can use 23snaps using a web browser or with iOS, Android, or Kindle. Free (except premium services and photo books). 
Tinybeans
Tinybeans helps you create a private online baby journal and print photos from it, too. Your invited family and friends can view photos through the app/site or just receive email updates, and if you want, you can simultaneously share your photos on Facebook (although that kind of defeats the purpose, right?). You can use Tinybeans using a web browser or with iOS, Android, or Kindle. Free (except photo books and premium version, which is $8/month or $50/year). 
Do you have concerns about posting your kids' photos on Facebook or other social media, or do you not worry about it too much? Do any of your family members share pictures of your kids on social media without asking you first? Do you use these apps for privately sharing photos or any other good tools to share your kids' photos privately with proud grandparents and other relatives? 
Pictured: iTunes 
Social media image: Deposit Photos / SimpleFoto.