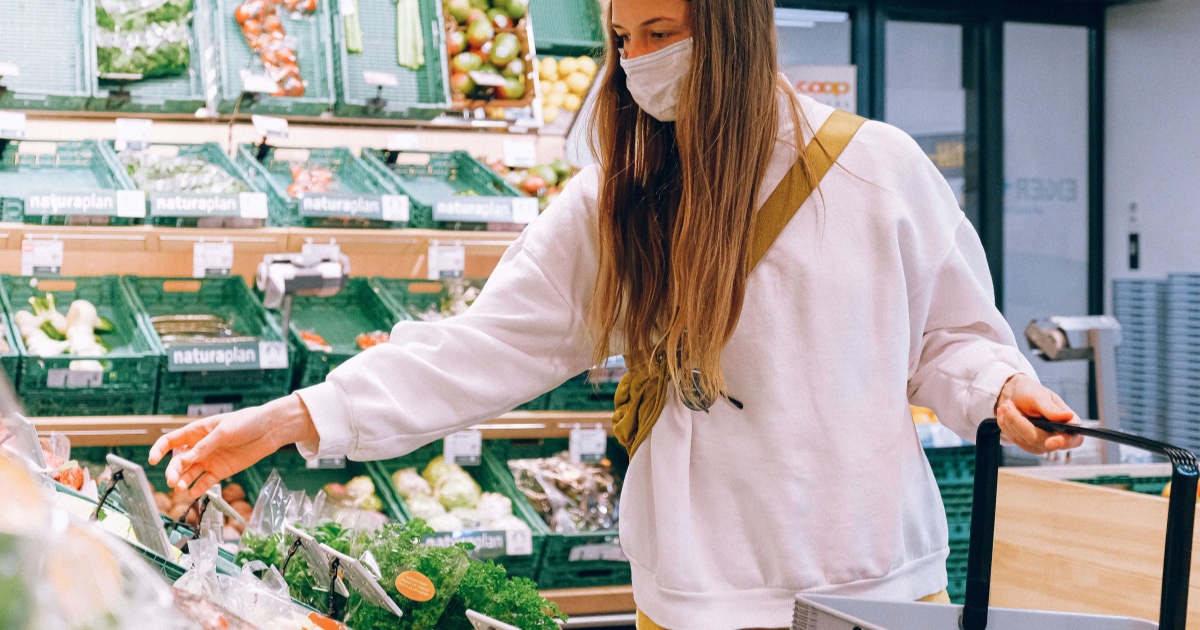 Am I the only one who's struggling a bit to manage kids, groceries, cooking, and meal planning during the coronavirus quarantine? During normal times I try to meal-plan our dinners a week ahead of time, but for some reason the stress of trying to reduce the number of deliveries and trips to the grocery store has completely killed any imaginative cooking. I'll share some of what I and my friends are doing, but I'd love to hear from you guys — how's it going with kids, groceries, and cooking these days? Do you have frozen pizza, hot dogs, frozen broccoli, and pasta on repeat as well — or are you getting more imaginative in your recipes? How far out are you planning family meals, and how much are you relying on frequent deliveries or grocery store trips? (Do you feel like these household tasks are disproportionately falling on you?)
Some Stuff I'm Doing Regarding Groceries, Cooking, and Meal Planning:
A three-week meal plan: I made a two-week meal plan largely based on freezer meals/shelf-stable stuff like pasta, PBJ sandwiches, frozen pizza, hot dogs, etc. My hope is that if I get groceries delivered every three weeks, I can do one week of more inventive meal plans with fresh ingredients, and then string out the rest of the time with those freezer/shelf-stable meals — and then only go to the grocery store for needed items I can't get elsewhere for a quick shop. My two-week shelf/freezer-stable meal plan for shopping purchases was a bit crazy — it's not exactly what everyone will eat each day, but rather "yes I can serve him PBJ four times in two weeks realistically." It was an Excel chart, and I had a column for every person for breakfast, lunch, and dinner, because we all often eat different things (insert eyeroll here).
Chores for everyone! Our kids are pretty spoiled, but we've taken a fresh interest in encouraging them to help unload the dishwasher (fine, yes, for screentime or money for Steam), put their dishes away, only use one cup a day for water (versus getting a new cup every time they want a sip of water), and so forth. (We've been using the Pillowfort cups from Target, which I loved because they were colorful, stackable, BPA-free, and dishwasher safe (and about $.59 each), but is it just me or do they take forever to dry? It always feels like there are water droplets hiding somewhere…)
I've gone a little crazy wiping down grocery packaging. I've seen a LOT of conflicting information about whether or not you should worry about your grocery items having the virus on them. I think at this point, everyone agrees that you should not leave refrigerated/frozen foods sitting in your garage for multiple days (somehow this was a question), and that washing fruit and vegetables with hand soap is a bad idea. Some stuff that is probably overkill but I'm doing anyway:

Wipe freezer stuff: I've read that the virus can live while frozen or refrigerated — so we're wiping down every package with Clorox wipes before we put them away.
Don't touch pantry items for a while if you can avoid it. Apparently the virus can live for 24 hours on cardboard, or 96 hours on plastic or metal, so to the extent possible, we're trying to not touch those shelf-stable items for a while, and leave them in a less-trafficked part of our home. (If you have a garage, this should work.)
Ditch delivery containers. We are not getting a ton of prepared food deliveries right now, but to the extent we are, we're trying to shed the paper and plastic containers ASAP, wash our hands, and microwave/reheat the food to the extent possible. This video has a lot of naysayers but I'm basically trying to do what he describes for takeout/delivery (starting at the 10:30 mark or so). But then Dr. Fauci said in this interview that touching groceries isn't a huge concern (annoyingly, I cannot find the spot; it was a brief discussion in the first third or so of the video.). So you do you, I guess?
Out, out damn spot. We're trying to wipe down kitchen counters and get a fresh kitchen towel daily.
Happy Birthday! We're washing our hands before every meal, after handling anything "from outside," and… well, just all the time.

If you do go to the grocery store: Again, I've heard conflicting advice on masks, gloves, and so forth; this NPR article looks like a good roundup. Personally I'm doing this, but everything is going to be different:

Only one person is going to the grocery store (me, when I have to).
Assume you're infected. Something I read that's made a lot of sense is to "assume you're already infected and could be spreading the disease," so if I wear gloves or a mask, that would be the reason why. (We were all battling some mysterious but persistent cold for a few weeks there in February/March so it's entirely possible? I guess?)
If you do wear a mask — do not touch your face! I actually had picked up a mask from a doctor's visit in late February/early March for what I thought was bronchitis (lots of coughing), and I still had it in my purse, so I wore it on my last grocery shop — and sweated — and I realized halfway through the shop that I was unconsciously touching my face a ton to adjust the mask. DOH.
If you do wear gloves — take them off before you touch anything that is "yours" — car door, apartment door, steering wheel, etc.
Wash your hands a ton!
If/when you go to the grocery store, try to do a "big shop" so you don't have to go very often. If there are brands that you and your kids are particular about that may be harder to get from online delivery (sugar-free Heinz ketchup, for example), then consider getting a few extras. If there are foods that you enjoy having a variety of (salad dressings, particularly, or maybe it's dumb kid snacks), consider familiarizing yourself with what you can get from online delivery, and then filling the gaps with your big shop.

Finally, if space/money allows, you may want to consider getting a chest freezer if you don't already have an extra one. Prices start at around $260 at places like Home Depot.
Readers, how are you dealing with kids, groceries, and cooking during coronavirus? Are you doing a ton of fun cooking projects with your kids, or is the pressure to do that just another thing that's hard to manage while you're trying to work from home while schools are closed?
Stock photo via Stencil.
This post contains affiliate links and CorporetteMoms may earn commissions for purchases made through links in this post. For more details see here. Thank you so much for your support!
We are a participant in the Amazon Services LLC Associates Program, an affiliate advertising program designed to provide a means for us to earn fees by linking to Amazon.com and affiliated sites.
Sales of Note…
(See all of the latest workwear sales at Corporette!)
See some of our latest articles on CorporetteMoms:
Click here to see our top posts!
And — here are some of our latest threadjacks of interest – working mom questions asked by the commenters!