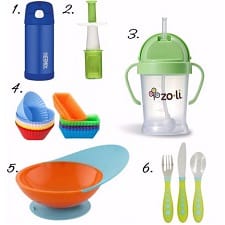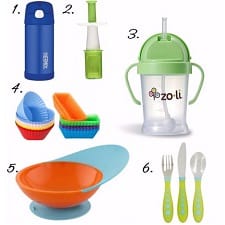 My cousin's daughter (the closest thing I have right now to a niece!) is turning one soon. I wrote about the "baby head cold" gift I gave my cousin when her baby was born — and, because my cousin and her husband are both scientists (who are also kind of opposed to the pink/purple/princess/girly stuff), I've also been shipping them all of the science-themed boy clothes they might like for their daughter. But as their daughter's first birthday approaches, I find myself wanting to get my cousin B a collection of some of the best cups and plates that we loved the best when the boys were in that stage — instead of a toy that may or may not get used. I can't tell you how much money I've spent on Amazon and other baby stores buying products for feeding my toddler that looked like good ideas in theory but turned out to be duds! So: these were my favorite sippy cups, bowls, and more for the toddler years — which are/were yours? As working parents, what are/were your favorite products for feeding your toddlers?
Pictured at top (random order) and discussed more thoroughly below: one / two / three / four / five / six.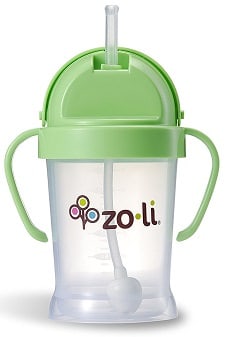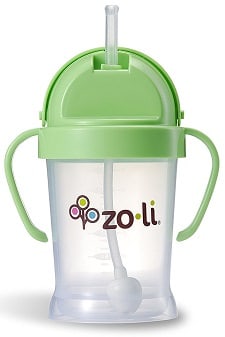 This sippy cup is by no means perfect, but I've tried a LOT of cups and kept coming back to this one for the multiple goals of being a) easy for my baby to drink, b) easy(ish) to clean, c) not leaking everywhere in the diaper bag (although it takes a bit of practice and attention to get the top screwed on properly), d) not leaking everywhere if thrown. They come in a bunch of colors and sizes (with replaceable straws, although that often feels like a minor surgery), for $12ish at Amazon. (Our second favorite in this category was this Munchkin cup, which is a lot more affordable at $6ish.) Pictured: ZoLi Sippy Cup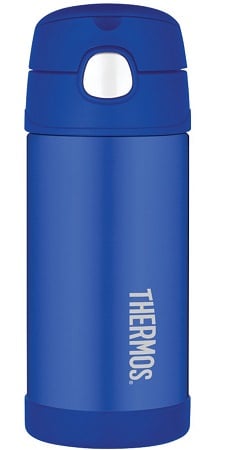 The Thermos is much heavier than the ZoLi cups, but these are also great — particularly for when temperature of the drink is important. Need to keep drinks cold on a hot summer stroller ride? Add some ice and your kiddo will be WAY cooler and more comfortable than you are. "Hot cocoa" time? Put it in the Funtainer (skip the marshmallows). I've also put consomme and "sick tea" (warm water with lemon and honey) in the Funtainer and given it to my boys to sip. (Don't put anything undrinkably hot in there because it really will not cool down — it should always be a good drinking temperature for your kiddo.) Another must-have if your kiddo is in daycare: the Thermos Foodjar is awesome for keeping mac & cheese, soup, and other things warm. (I wouldn't put things like chicken nuggets in there because ew, steam, but you do you.) The Funtainer comes in a thousand fun colors and patterns for $11-$29. Thermos Funtainer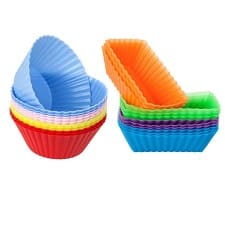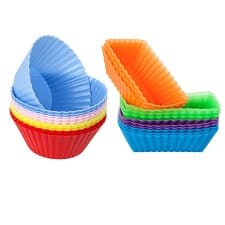 These are surprisingly useful, even now with a 2.5 year old and a 5.5 year old. They're great for holding small snacks (Cheerios! raisins! peas!). They're super lightweight and survive being thrown, dropped, and more. (They're about half the size of one of these Take n Toss bowls — we use these a lot more than we use those bowls, honestly.) They're packable, both for lunch boxes, as well as for restaurant/stroller/picnic outings. We always handwash ours, but they are in theory dishwasher safe, as well as freezer-safe and microwave safe (we used to nuke J's peas & carrots directly in the silicone liner). Plus, they're colorful and happy. We still use these for ketchup, mustard, maple syrup, craisins, and more. Amazon has a TON of different options; these ones look nice, are eligible for Prime, and a set is only $5.99. BPA-Free Silicone Cupcake Liners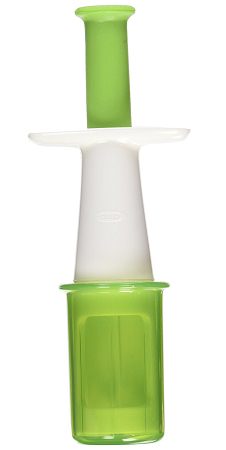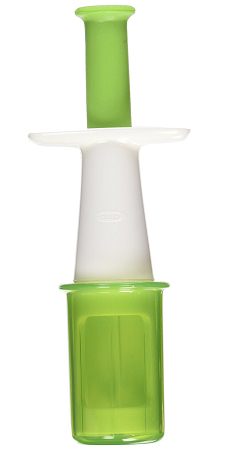 We use this one all the time, particularly in the summer with cherry tomatoes and grapes. (I'm a little crazy with choking hazards in general and still cut my 5.5 year old's hot dogs in half, and quarters for my 2.5 year old, though!) Oxo Grape Cutter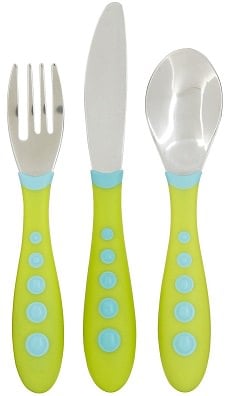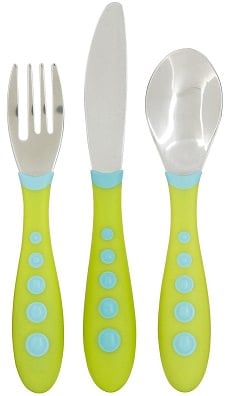 My eldest son got a million brightly colored plastic spoons, forks, and knives, and they held up fine… until they started getting gross. (We went through a "couldn't deal" period where we put them in the dishwasher, though, so there's that.) I think CorporetteMoms readers turned me on to the idea of stainless steel cutlery for kids, and now that I've bought some I try whenever possible to give my youngest the stainless steel stuff. We have this set and this set, and although we have these soup spoons instead, I might consider buying these if we used them all the time. Pictured: Gerber Graduates Kiddy Cutlery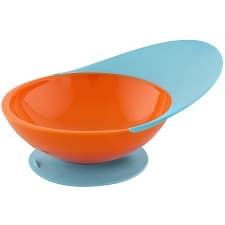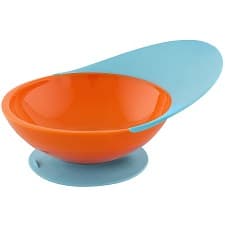 We've tried a LOT of bowls over the years, and I'd say this one is one of the few ones that does what it promises — it suctions to the table or tray (more than the others, at least), and the spill catcher actually does catch (some) of the spills. We also like (and use) these Munchkin suction bowls — but the Boon bowl is a favorite. It's $7.99 at Amazon. Boon Bowl
For older kids, I'd also add Corelle plates, stainless steel mugs, Take n Toss cups, silly straws, and cute food picks like these (great for rolling up ham or making other finger food a bit more appealing — we had some tofu left over recently from a recipe we made and I decided to try baking some for the kids. They weren't fooled, but they did show vague interest considering the tofu bites had fun finger picks sticking out of them. #Success!)
Ladies, what products have you tried and loved for the always fun task of feeding your kids? Did you find that some were products were loved by one kid but not another (for example, my eldest loved these snack catchers; my youngest, not so much). (Did you try anything and absolutely hate it? Want to share?)
This post contains affiliate links and CorporetteMoms may earn commissions for purchases made through links in this post. For more details see here. Thank you so much for your support!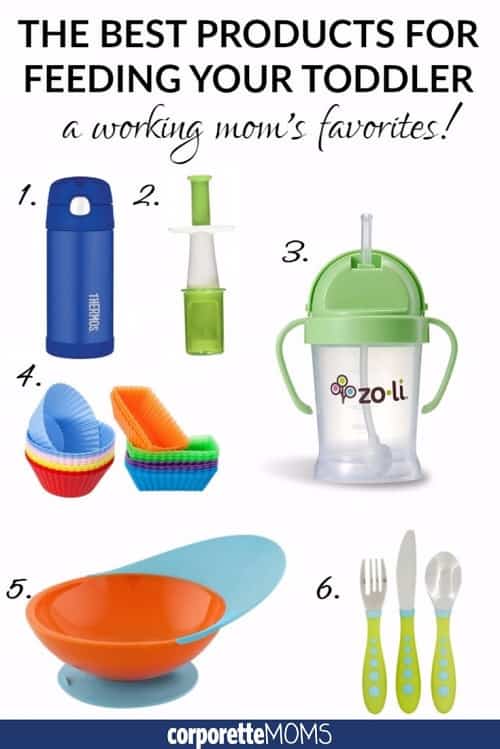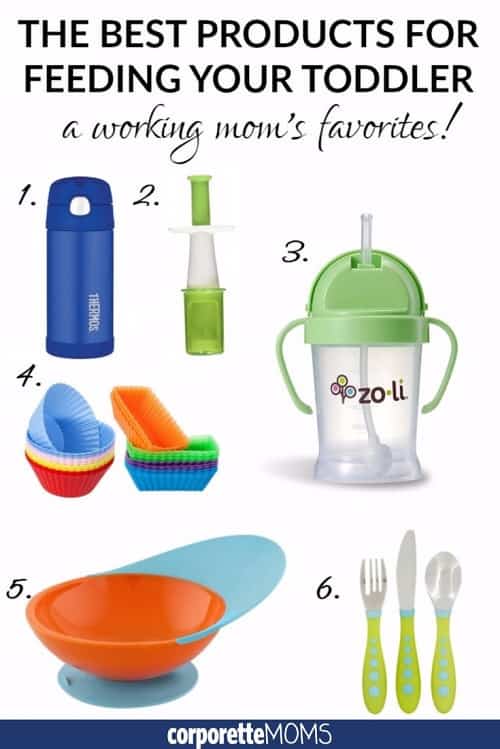 Pictured at top (random order) and discussed more thoroughly above: one / two / three / four / five / six.