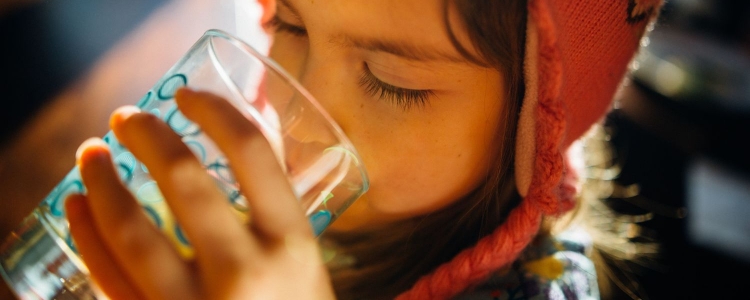 Today at Corporette we're sharing five easy ways to drink more water — so I thought it might be good to have a corollary discussion over here. Do you have a daily water target? How intentional do you have to be to meet your goal? What are some of your best tips on ways to drink more water? When it comes to your family, how do you help your kids drink enough water? Do you have any favorite water bottles or "healthy" drinks other than water for your kids? (Do you have any favorite straws or other cups?)
For my $.02, it's always a struggle to get my kids to drink anything that isn't a juice or lemonade. The original plan was to give them their first drink diluted 50% with water, and each successive drink would have a higher water portion than juice. Of course, I realized far too late that one of our caregivers was completely ignoring this — now neither wants plain water unless it's dire. (And why yes, this does lead to problems with weight and bathroom issues, which I won't get into right now.)
There are lots of drink mixes you can make that are lower sugar, of course, but I've always felt a bit squeamish about giving my kids too many chemicals. (More accurately, I've wanted to research in depth before I intentionally gave the kids chemicals and artificial foods on a regular basis, and I haven't done that research yet, so I've tried to avoid them all.)
The best product I've found thus far is the True Lemon line, which tastes good AND promises to be free of sugar, artificial flavors, artificial sweeteners, artificial preservatives, colors from artificial sources, and more. For occasional treats we've also bought the lower-calorie drink boxes like Honest Kids, Capri Sun, or Poppilu.
Readers, how about you — do you feel like your kids drink enough water? Do you yourself struggle to drink as much water as you should — and what have you tried to drink more water?
Psst: Here are some of the best water bottles and things we've used for our kids in the past, as well as some of the products mentioned in this post. Readers, what are your favorites? It looks like the weighted toddler water bottle we loooved (the Zoli) has an updated version that isn't as well loved as the original. Do weigh in, readers!
(Here was our last discussion on favorite sippy cups and the like…)
This post contains affiliate links and CorporetteMoms may earn commissions for purchases made through links in this post. For more details see here. Thank you so much for your support!