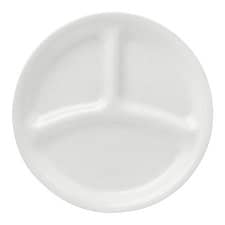 My eldest is in that phase where none of his food can touch (and he also eats about a third of the foods he used to eat when he was an adventurous toddler), and I've just kind of decided to lean in rather than wringing my hands over it too much. I bought some beautiful BPA-free plastic divided plates a while ago that
say
they're dishwasher safe, but my new thing is that I want to wash anything plastic by hand. This just meant that the fancy plates were never free, or it felt like my husband and I were doing the dishes all of the time. So I went on a hunting expedition, and found these shatterproof glass plates from Corelle — with divided portions. They come in 8.5″ plates as well as
10.25″ plates
, and they come out beautifully in the dishwasher. They're $7 per plate over at Amazon (with bulk discounts available — 6 plates for $30, for example);
Corelle.com
also has them for $6, but if you buy 4 you save 30%. Another bonus: they're really thin plates, so they take up much less room in the cabinet. Score.
Corelle Livingware 8-1/2-Inch Divided Dish
We are a participant in the Amazon Services LLC Associates Program, an affiliate advertising program designed to provide a means for us to earn fees by linking to Amazon.com and affiliated sites.