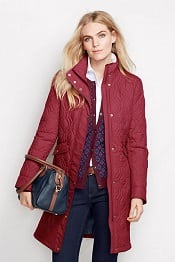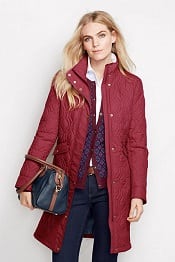 Is your winter coat washable? Have you otherwise changed your coat preferences after kids? We've talked about how to buy a great winter coat on Corporette, but we haven't talked about how that changes once you've had kids. Reader L wrote in, noting:
I love the Washable Wednesday feature! These days, machine washable is the number one feature I look for in clothing. Could you do a round up of professional, machine washable winter coats (i.e., warm enough to wear in the Northeast)?
Innnnteresting. Here's a fun story about me: after my first was born, as mentioned, I was way bigger than I'd been at any point in my life before — joy. I tried to muster up some groove and figured, I can have an AMAZING winter coat, no matter what size I am — I want to love it every time I walk out the door. It'll make sense even though I work from home, and I'll still be able to be fashionable and feel beautiful. So I spent some money on a nice Cinzia Rocca wool/cashmere coat, in a lovely dark green color. It looked nice with jeans — it looked nice with dresses. I could have fun with colors and wear my purple Loro Piana scarf with it, or I could go darker and wear black with it. It was perfect.
Fast forward to a few weeks after getting the coat, and it was my turn to pick my son up from daycare. I arrived, happily wearing my coat, and went about the usual routine of collecting his stuff. As per usual, I gave him a healthy snack to help his mood before dinner. The healthy snack was one of those yogurt mashes… and it did not help his mood. At some point on the 15-minute walk home, it turned into a Major Toddler Meltdown, and the yogurt, somehow, was everywhere — covering him, his little face, his coat, his stroller. It was pretty cold outside so I focused on getting him home, gritting my teeth the whole way. When we got to the vestibule of our building, he leapt out of the stroller and turned to me, arms outstretched, still shuddering/sighing/sobbing. Without thinking about it, I scooped him up into one of those mama hugs — the ones where you're part sorry for him that he was in such a miserable Meltdown place, and part so so relieved that it seems to have finally run its course. And THEN I remembered: I was still wearing my new beloved wool coat — and he was still totally covered in yogurt.
Sigh. SO: I can see why washable coats might be a thing mamas would want. So let's round 'em up. Before we get to them, though, I do have a few other ideas:
Rethink when you wear your winter coat around your kids. If you live in a car culture, do you really need to wear it walking from the parking lot to the building? Would something lighter (like an insulated vest, 0machine washable puffy jacket, or even a washable wrap or ruana) work for that walk?
Patterns hide stains better than solids, particularly dark patterns — and they can be a chic way to inject some fashion and some personality into an otherwise boring outfit. Add a swipe of red lipstick and it can be full on glamorous.
Remember that a lot of wool coat instructions say "dry clean," not "dry clean only" — that traditionally has meant that you can, in theory, wash it. I'm not sure I'd throw it with abandon into the washing machine, but after a bit of spot testing in an inconspicuous space, spot cleaning the coat may be the way to go.
Buy an inexpensive coat. I really hate to recommend/encourage disposable fashion — it's bad for so many reasons! — but I will say that you can often find very, very inexpensive coats where, if a yogurt meltdown happens, they can be your backup while your other coat is at the cleaner's. Lands' End regularly has coats in their OTC section, where I've gotten crazy deals — they currently have two women's winter coats priced $44-$59. (Update, Feb. 2016: OTC is no more, sadly.) Stores like Old Navy, Target, Forever 21, TopShop all carry really inexpensive coats as well. Thrift stores may also be great for this purpose.
OK, on to the machine washable options… Readers, do you have washable winter coats? Do you have any tricks to avoiding yogurt-covered meltdowns?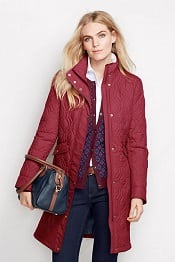 The first, obvious option: Go to the Mom stores. Lands' End, Eddie Bauer, LL Bean… I've gotten way more familiar with these than I ever would have thought I'd be. They, predictably, have some insulated puffy coats that are machine washable and super warm — but to my eyes look, decidedly, like Mom Coats. (I'm not a huge fan of puffy coats in general for the office.) This "antique garnet" quilted number, though, looks like a rare bird — fashionable, flattering, water repellant, and warm enough that its' comfort range is 0º to +20º Fahrenheit. It's available in regular, petite, tall, and plus sizes, in four colors — and it's $129 (and, today only, there's a deal with free shipping on regular prices). Women's Quilted PrimaLoft Coat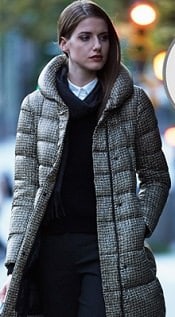 I also like this "ultra light down" coat, with an off white tweed print. (There are actually a lot of styles and colors available with the ultra light down.) It's available in sizes XS-XXL, and carries instructions to "hand wash cold." It was $90, but is now marked to $80 at Uniqlo. WOMEN ULTRA LIGHT DOWN SHAWL COLLAR PRINTED COAT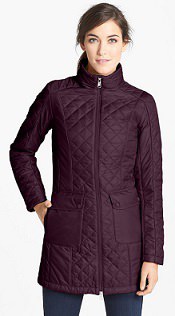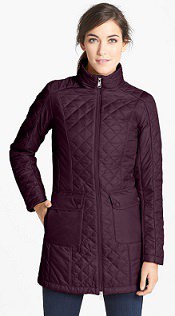 A lot of the puffier coats look a bit, well, rugged — I like this one from The North Face because (like the others I'm featuring), it looks streamlined, yet functional and warm. As the product page notes, it "offers the warmth equivalent of 600-fill down while maintaining performance in wet conditions." Nice! The North Face 'Ruka' Parka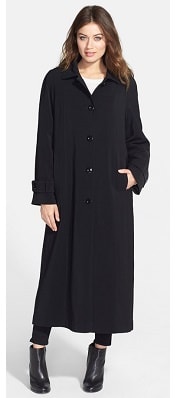 Depending on how cold your winter is, this may or may or not be an option, but: Gallery, London Fog, and other brands offer a number of washable coats that have detachable liners that are pretty warm, in my experience. Polar Vortex warm? Well, no — more like "run/walk to the car during a Polar Vortex." But that may be all you need. At the very least, these coats bypass the "puffy coat" look, and all look conservative and traditional with a skirt suit. The pictured coat is $199, available in regular and petite sizes S-XL, also at Nordstrom. Gallery Full Length Nepage Coat with Detachable Hood & Liner (Online Only) (Regular & Petite)
Like this feature? Check out other recent installments on Corporette!