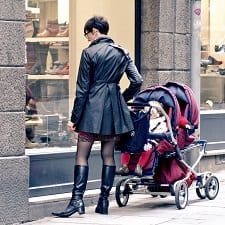 Here's a question Kate and I were just discussing (and I believe the readers were yesterday as well): at a certain point, have you found yourself buying brands for yourself that you would have previously considered "mom brands," either out of convenience (like if you're already buying your kids' clothing at the store), a lack of patience for delicate-care clothing, or the desire for a more forgiving cut than you wore prior to kids? Do you seek out brands where the in-person shopping experience is best suited for moms, like the Evereve stores (here's an interesting Inc. article about them)?
Let's face it, Lands' End, J.Jill, Eddie Bauer — these are not usually the brands the stylish 20-something wears. In their marketing, the companies even try to brand themselves as mom brands, using models who are past their 20s (some even, gasp, with gray hair) and who have medium-sized and actually plus-sized bodies. I always think of the ill-fated Jones New York as the classic example here (although I did wear a ton of their clothes in my 20s), but I used to love the model they used on their site because she was pretty but medium-sized, with a much boxier, almost athletic build than you see on most models. So let's hear it: Which brands have you recently tried, or tried again? Which do you like? Which brand used to be in the "mom brand" camp but is now crossing over — for example, Talbots has made huge strides lately to getting more fashionable clothes and cuts in.
For my $.02: A while ago I posted on my personal Facebook page, "I've reached the point in my life where everything in the Lands' End catalog speaks to me." (It was one of their winter catalogs, with a zillion bright, happy packable jackets and the like.) "Oh honey," a friend replied, "I've been there." (I still say their ponte dresses are great. OK, and their DD+ swim options. I also like their t-shirts. And, yes, packable jackets.) For me I definitely answer "yes" to all of the questions I posed above. Yes, there's a convenience factor — I buy a lot from Old Navy and Lands' End because I buy stuff for the boys there. Yes, there's a lack of patience for delicate care, particularly since I work from home — it has to be pretty special for me to dry clean it regularly. Yes, I do seek a different cut — partly because I carry my post-baby weight in my tummy (grrrrrr) and my once-hourglass figure is more of an apple figure now. It's also partly because I wear flats so much more often than I did before kids, and pants from the petite section just make more sense to me now. I'm usually seeking a different price point now as well — I want more affordable clothes that I won't cry over too much if they get ripped in the laundry or if one of the kiddos somehow manages to get marker on 'em.
I'm a bit of a weird Nordstrom shopper in that I love their website (it's one of the main places I love for online shopping), but I can't stand the way actual stores are laid out — but I suspect I'd be solidly in the "mom section" of their store, as well. Some of my favorite brands to buy/sale-stalk from Nordstrom include Kut from the Kloth, NYDJ, Vince Camuto, Eileen Fisher, and JAG jeans — whether they're targeted at my demographic or not, they all seem to fit really well.
Psst: here's a link to the old but hilarious video on mom jeans, from SNL. No crocheted vests, ladies!
Ladies, what are your thoughts? Have you crossed into "mom brand" territory, either for workwear or weekend wear? Which are your favorite brands to wear now that you have kids?