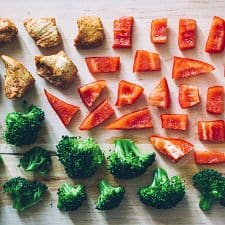 Ok, ladies — what do you pack for your kiddo's lunches, whether for daycare, elementary school, or other? Are you most concerned with ease of packing, assuredness of eating, nutrition, calories, or cost? What are your top easy school lunch ideas? Have you had success outsourcing this task — for example, I'll bet this is a nobrainer for those of you with au pairs, but for those of you in daycare it's either you or your partner. We kind of had a discussion about working moms and kids lunches a few year ago, but it's been a while — so let's discuss.
For my $.02, we're trying to maintain my first grader's weight until he grows a bit taller, so my primary concerns are a mix of calories, nutrition, and volume (I want him to feel like he's getting a lot of food, even if I know he'll only eat half of the cherry tomatoes or baby carrots I pack for him), and, selfishly, ease of packing for me or my husband. We also try to be good to the environment where we can and pack reusable containers — but I'm also realizing that this is resulting in a zillion dishes to wash, so we'll see how that goes.
For "mains" I find that it's hard to get around yogurt/milk/sandwich options, unless we have acceptable leftovers (for example, I've given meatballs and rice before!) — so most of these ideas are easy snacks and "extras." But I'm curious to hear what your tips are for packing school lunches — and what you pack! 
These are my go-tos for easy school lunches:
Easy School Lunch Ideas that are Healthy and Non-Processed
cherry tomatoes
apples, precut apple slices
baby carrots
hard boiled eggs
shredded or pulled chicken
grapes
all berries
Healthy, Convenient Food Ideas for School Lunches
Some good ideas if you're in the middle of the road (i.e., "healthy" convenience food) — but they tend to be expensive!: