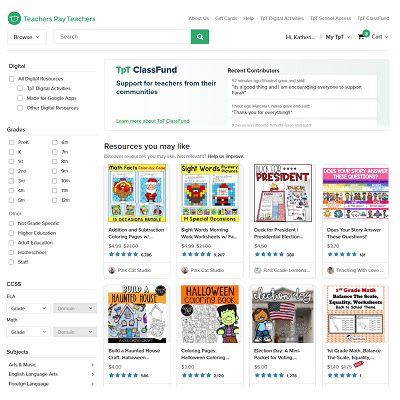 I don't think I've mentioned Teachers Pay Teachers before on this site — and it's a fabulous resource, so let's discuss. The idea behind it is a bit like Etsy for teachers and homeschoolers — teachers who create interesting lessons or even lesson plans can sell those items (almost entirely digital downloads) on the site.
In this era of remote school, hybrid school, and who-knows-what school that we all had back in the spring, I think it's to be expected that there will be gaps and learning blocks for kids. I find it empowering as a mom, when I recognize that my child is struggling with a concept (like decimals, or how to make 10, or reading comprehension stuff), to be able to go onto Teachers Pay Teachers and look through the resources to find something that might appeal to my child.
Sometimes it's a character-themed lesson that will appeal more to my kiddo — I've bought Harry Potter, Minecraft, and Pete the Cat stuff, and more. Sometimes it's a lesson that's coming from a visual-spatial learning style, which I think both of my kids respond to.
Many resources are under $3, with most under $15 — and the site runs 25-30% off sales often. They offer resources for pre-K through 12th grade.
(If you ARE a teacher, you can find resources for yourself on there also — entire lesson plans! — as well as sell your own materials. I know of at least one teaching couple that makes so much it's their full-time job now, but I can't find a link at the moment…)
TECH PROBLEMS? Is this site being problematic for people? I know one person noted at Corporette that she was getting an error message (BlogVault, perhaps?) and I worry that yesterday things were loading slowly. Let me know here (or at Corporette) if you're having issues. I can't recreate any problems on my end so I'm not even sure what to ask my tech guy about. Thank you!