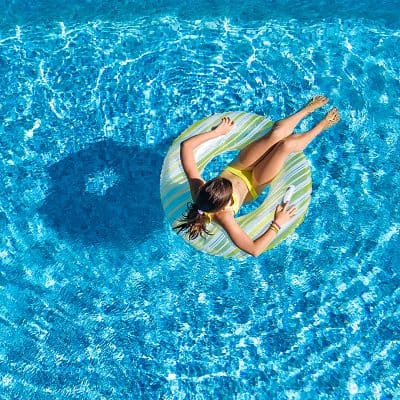 With Labor Day almost here (I swear I just turned my wall calendar page to August … and now it's already time to buy a PTSA calendar), we thought we would share some family staycation tips. For those of you ran out of time to plan a Labor Day trip or just decided to relax at home, we talked to some other working moms about their best family staycation tips.
Psst: On the "real" vacation side of things, we've talked about the easiest vacation resorts for working moms, three companies that rent baby gear for travel, vacation planning, flying with kids, and tips for using Airbnb with kids. We've talked about staycations before over on Corporette, as well.
1. Make sure you're on the same page about what the weekend will look like. That advice comes from J. Whitley, whose kids are 4, 6, and 11. "For us, the most important thing is making sure we're all on the same page before we begin," she says. "I'm DOWN for getting out of the house at 7 a.m. and driving two hours to an awesome hike/tour/festival/getaway/amusement park, etc. My partner and kids? Not so much. They'd all prefer to sleep late or watch TV for the morning, have brunch, and then go somewhere around 3:30–4:30 in the afternoon and stay late. More than one weekend has been spoiled because of miscommunicated expectations/wishes."
2. Don't make the weekend all about your kids — and make sure to include some flexibility. Cynthia Drake, who has a 3-year-old and an 8-year-old, recommends building in downtime. "Some of the most memorable weekend activities I've had recently have revolved around sitting outside on a patio with my husband and a glass of wine, chatting while the kids just explored in typical kid fashion," she says. She adds, "Don't over-schedule. The older my kids get, the more I've learned to let go of over-planning activities for them. … They've done things like create science books using pieces of nature and made a mine out of couch cushions and LEGOs."
3. It may be better in the long run to keep exciting activities a surprise. Carol Heffernan, mom of a 6-year-old and a 9-year-old, learned a hard lesson about how her kids react to an unexpected change in plans. "I've learned … never to mention fun things we might do," she says. "It raises expectations and makes for cranky kids if plans don't work out. This way, if we go on an adventure, great. But if we hang around home, no one's disappointed."
What are your best family staycation tips? What do you generally choose to do during a staycation — fall back on your kids' everyday favorites, or pick special activities that are more of a treat? If you're staying around home for Labor Day, are you planning a trip for later in the year? Did your kids start school yet or does that happen after Labor Day where you live?
Stock photo credit: Deposit Photos / JaySi.