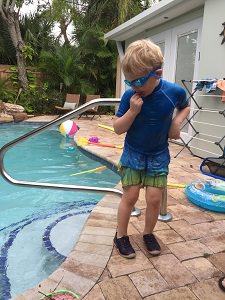 What are your best tips for renting a vacation house or Airbnb with kids, ladies? Whether you're doing Airbnb, VRBO, or another sort of rental, planning and executing the trip can feel like a full-time job in and of itself.
I shared a vacation horror story a week or so ago on Corporette — we rented a small house near a beach in Florida with my inlaws for a week. It turned into a horror story when I injured my knee on day 3 and was stuck on crutches for the remainder of the vacation; in separate incidents my FIL also wound up going to the emergency room, my husband walked into the ocean with his iPhone, and then lost his driver's license a day before we flew back.*)
It got me thinking, though — what are your best tips for renting a house when you have kids? What do you need to think about, above and beyond, if you're not staying at a hotel or a friend's house?
Three Things to Consider when Doing Airbnb With Kids
1) Babyproofing. My MIL chose our Florida house because it looked really safe online — no stairs, an alarm system on the pool, and more — but we still made sure to pack corner bumpers, outlet plugs, a few cabinet ties, as well as some night lights so we could all avoid bumping anything in the middle of the night. (We didn't use the adhesive on the corner bumpers — better than nothing, I figured.) 
I was lucky to find this article before I went about Airbnb and the liability issues that arise because the "hotels" aren't regulated. It's a pretty graphic article, but it was good to reset my thinking from "city inspectors have checked this place out!" to "this is someone's home."
2) Food.  If you think you're saving money, don't forget that you're going to have to make a massive, massive run to the grocery store your first day there. My bill came to $420, and that barely took us through 3 meals. Your house may or may not be stocked with basic things like ketchup, mustard, butter, olive oil, spices, and more (and even if they are there, you may not want to use them!).
We brought two Thermos bottles (one for each kiddo), two Zolis for H, and two Take n Toss cups for J; that was probably the bare minimum if we hadn't wanted to be washing dishes every two seconds. The next time we do a trip like this, I'm going to do a bit of research ahead of time to see where the closest Costco or the like is, or maybe even travel with some frozen, high-cost food in my packed luggage (depending on trip duration, of course) –maybe I'm crazy but 3 frozen pounds of chicken or ground beef, packed in an insulated bag with ice packs wouldn't be a bad way to save money, assuming I can get them for a good price ahead of time.
3) Toys. Oi. I was hoping that between Grandma and the beach, my eldest would be entertained, but I brought a few bath toys and made a DIY Lego kit before we left.
Oh, and here's an awesome trick for traveling with stuffed animals: Get a large ziplock bag, put the stuffed animal inside, and get rid of all the air when you close it — you can get rid of 50-75% of the bulk without doing any damage to the stuffed animal.
We Kindle'd some of the boys' favorite books; I also brought a handful of our thinnest books that both boys like. (We were really lucky and there was already a bunch of kids' books down there — we also didn't have to worry about bringing our Pack n Play, towels, beach toys, or more.)
Ladies, what are your best tips for renting a vacation house with kids? Any tips on traveling with grace (amidst a million clunky bags, strollers, etc.), or general tips on vacationing with kids?
* There was mostly a happy ending, though — by a huge stroke of luck we connected with the person who found the driver's license, my FIL is fine, and as for me I'm lucky nothing was broken or torn, I'm off crutches and the cane, and I can limp around semi-normally now. As for the iPhone, well, he needed a new one anyway, and iCloud miraculously had the beach photos he hadn't yet uploaded to Dropbox.