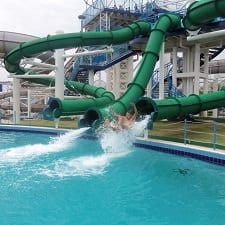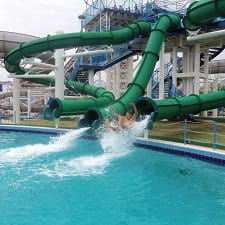 Which family vacation resorts have you tried and enjoyed? Are there any you've tried that you wouldn't? Which is your kids' favorite? When you want to have a fun family vacation but don't want to do a lot of planning, where do you go? Which do you think are the easiest family vacation resorts for working moms?
Before my husband and I became parents, I wouldn't have considered an all-inclusive and/or resort-type of vacation. We valued flexibility and spontaneity: the opportunity to have our full pick of hotels and B&Bs, the ability to choose any restaurants we wanted and also to discover some by wandering around a new city, etc. Why would we want to limit ourselves by taking a cruise or staying in a resort, and why would we want to stay in one place?
Well, now that I'm a mom, I completely understand the allure of a "one-stop shop" family vacation resort. (It's not the only sort of vacation we take as a family — for example, we've taken our son to Toronto and London — but it's an option I like to take advantage of!) Family vacation resorts like Great Wolf Lodge make for easy, fun, relaxing trips that require little planning and offer something for all ages. My son is a big fan — he's already asked us a few times about when we'll return. (Note: So far, we've gone to the Canadian GWL location in Niagara Falls twice and have really enjoyed it, while Kat's family had a so-so experience at a different location, so YMMV.)
Where do you go for the easiest family resort vacations? Have you tried Great Wolf Lodge, Kalahari Resorts, The Tyler Place Family Resort, Hershey Park, Beaches, Legoland, a Disney cruise, … or, of course, Disneyland or Disney World? (They definitely merit a separate post – are there any aficionados amongst us?) Do you try to carve out some quality time with your spouse by taking advantage of resorts' supervised children's activities? (And did you see this recent essay in which a mom criticizes other parents for doing so?) How have your vacations changed since you've become a parent — or have you tried to keep your trips as close to your pre-kid vacation style as possible?