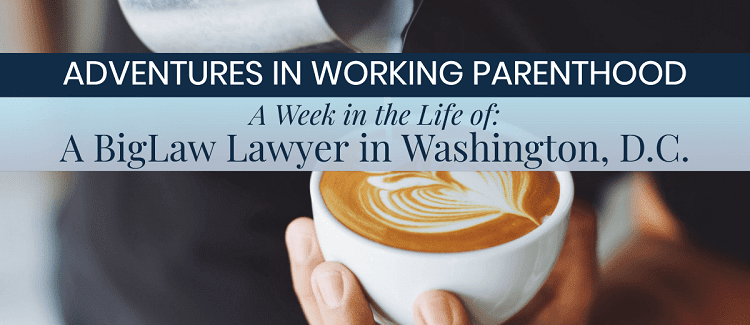 For this week's installment of our Week in the Life of a Working Mom series, I'm happy to introduce CorporetteMoms reader CM, who lives in Northern Virginia with her husband and son and works in D.C. in BigLaw. Our usual caveat applies: Please remember that this is is a real person who has feelings and isn't gaining anything from this, unlike your usual friendly (soul-deadened, thick-skinned, cold-hearted, money-grubbing) blogger — so please be kind with any comments. Thank you! — Kat
If you'd like to be featured (anonymously or otherwise), please fill out this form! You can see all posts in this series here.

First, Some Basics About This Working Mom…
Name: CM
Location: Live in Northern Virginia, work in D.C.
Job: BigLaw lawyer
Age: 30
Home Situation: I live in a 3,800-square-foot house with my husband (31-year-old BigLaw lawyer), our six-month old son, our very enthusiastic dog, and two foxes that have taken up residence in the backyard. We just moved to the suburbs after living in a condo in D.C. for two years, so we're getting used to the space!
Childcare Situation: Nanny 40 hours a week (M-Th), Grandma comes over on Fridays

A Week in My Life
Sunday
Everyone's up by 7:15 a.m.! We've made great strides in sleep training but baby still gets up once a night — usually around 3:00 a.m. — and then is up for good around 6:00 a.m. My husband and I switch off, so whoever does the 3:00 a.m. wake-up gets to "sleep in" until 7:15 a.m. Today is my day to sleep in! I wake up and take the baby from my husband, who then feeds and walks the dog. I feed the baby and we hang out in bed for a little bit.
Monday
6:15 a.m. Woke up with the baby. We play in his room, then sit in front of the living room windows to see if we can spot our backyard fox friends (the cleverly named "Foxie" and "Foxo"). I let the baby wake up my husband by smacking his face and shrieking excitedly. He takes the dog out while I start feeding the baby, then we play hot potato with the baby while we take turns getting ready. Fortunately the baby thinks watching us brush our teeth is hilarious and exciting, and I've gotten good at applying makeup with one hand (or at least I think I've gotten good at it. Maybe everyone in my office thinks otherwise).
8:30 a.m. The nanny arrives and takes the baby to finish feeding him breakfast. Since the nanny works until 6:30 p.m., our goal is to be out the door by 8:45 a.m. so we can be back home on time — which with D.C. traffic means leaving no later than 5:45 p.m. so we can make sure we're home when she's supposed to leave. My husband and I work next door to each other, so we commute together, which I really enjoy.

9:15 a.m. I'm usually at the office by now, and every morning I debate whether or not to have a coffee. (I'm trying to take it easy on the caffeine since I'm still breastfeeding). It's Monday, so coffee wins. Grab a coffee and chocolate croissant to eat at my desk. The first thing I do every Monday is map out the week — noting to-do's, meetings, reminders. I find it really satisfying to cross things off as the week progresses!
12:00 p.m. Grab a sandwich and eat in my office while I pump. Then it's meetings, Excel sheets, a quick dip into the Boden sale, and conference calls.
4:00 p.m. I pump again.
5:00 p.m. I check in with my husband that he'll be ready to go at 5:45 p.m., then we meet in the parking garage to head home.
6:15 p.m. We hear about baby's day from the nanny when we get home. Then it's a rush to feed and walk the dog, make dinner, and eat by 7:30 p.m. I make dinner today. I do most of the cooking — my husband is trying to get into cooking, so we've agreed he's in charge of dinner one night a week and picking brunch on the weekends. Today is a very quick kale-chicken sausage-crouton saute from Smitten Kitchen. We eat, the baby throws peas at the dog, and then my husband does bathtime and bedtime while I clean the kitchen and make breakfast for tomorrow (something I try to do every day but that actually only gets done 2–3x a week).
11:00 p.m. Asleep.
Now that CM's son is 18 months old, we asked her how compatible pumping was with her BigLaw job and how long she was able to pump/breastfeed:
I breastfed/pumped for a year, so the full six months I was on leave plus six months after I got back to work. Pumping at work was actually not much of an issue because I had a lock installed on my office door so I could just pump in my office. I do remember slightly agonizing over what to write on the little sign I would post on my door when I was pumping (so people wouldn't knock and try to come in) — I settled for "Please call or email and I'll swing by shortly!" The few times I had to pump while traveling were kind of awful, though. (I distinctly recall pumping in the Newark train station bathroom.)

On the leave point, my firm offers four months paid leave and the option to take another two months unpaid. I planned to just take four and then realized two months in that I should have done the full six. So I sent an email to the heads of my group (the awesome CorporetteMoms commenters gave me lots of advice on how to draft that email) and they responded almost immediately granting the extra leave. I am very grateful for that.
Tuesday
7:15 a.m. Wake up, take the baby for breakfast and hanging out. I get a text from our cleaning lady that she'll be coming by today, so I make sure to leave a check for her on our kitchen counter. She comes every other week. Nanny arrives at 8:30 a.m., out the door at 8:50 a.m. My mom sends me a text at 11:30 a.m. to let me know she's at our house — she stops by a few times a week to hang out, see the baby, and (embarrassingly) do our laundry or make us dinner. We don't ask her to, but we don't complain about it, either. She sends a couple of pictures of the baby. Lunch, pumping, calls, research, pumping. Home at 6:25 p.m. — traffic was a little heavier than we expected. The house is clean and my mom has left us some curry for dinner. We play with the baby, eat, then I do bedtime so my husband can work. With two BigLaw associates, someone is always working from home. Before the baby — when we also lived much closer to our offices in D.C. — it wasn't a big deal to stay late, order some Seamless, and crank out those billables. Now we need to be home on time. Sometimes it's tough to have two people with such demanding jobs, but we're (knock on wood) usually not terribly busy at the same time, and the upside is that the other person understands the nature of the job and can help make things easier without needing to be asked. Tonight, that means I bake a couple cookies for my husband to eat while he reviews SEC filings. (Side note: we freeze a huge batch of chocolate chip cookie dough every few weeks. Fresh baked cookies on demand!) In bed by 10:00 p.m. but I stay up an hour to finish my new book.
Wednesday
5:30 a.m. Wake up — oh well. Usual morning routine.
8:40 a.m. Out the door. It's definitely a coffee day. I run some errands during lunch, including a stop at Sephora to pick up some eye cream I want my mother-in-law to try. Like any trip to Sephora, I stop to pick up one specific thing and walk out 30 minutes later with nine things. I eat an unsatisfying sandwich at my desk and remind myself for the zillionth time to start packing my lunch.
6:00 p.m. Home, and it's my husband's night to cook. I play on the floor with the baby and the dog, and we play music in the kitchen. We have pasta. (It's usually pasta when he cooks :) ) We both have to work tonight, but I have much more work than he does, so he takes bedtime. I pop in during the baby's bath to make silly faces and squirt him with bath toys.
8:15 p.m. The baby is asleep and my husband works until 10:30 p.m. and goes to bed.
3:30 a.m. I finish work — this is very unusual — and finally go to bed at 3:45 a.m.
Thursday
I figured I'd do the middle-of-the-night wake-up since I was up all night anyways, but miraculously the baby just sleeps until 7:00 a.m., so we all get to sleep until then! Usual morning routine, but moving a little more slowly this morning.
9:00 a.m. We're out the door. I order diapers and more wipes in the car on the drive to work. My husband reminds me that tomorrow is date night — we try to go on a date every other Friday night — and asks me what I want to do. I don't have anything in mind, so he says he'll figure it out.
2:00 p.m. I don't get to eat lunch until now — busy morning.
5:30 p.m. My husband leaves for home, but I have an event to attend in D.C. (firm Recruiting asks me to go to a law school reception).
7:00 p.m. I leave the office to walk over. I eat hors d'oeuvres for dinner.
Friday
Friday mornings are easier because my mom stays over — she just takes the baby so we can get ready at a more leisurely pace (and with both hands). I still take the baby while I brush my teeth, though, because he's hilariously obsessed with our robot toothbrush. (He puts his hands on it and stares at it wide-eyed when it vibrates.)
8:50 a.m. We mosey on out. I'm hoping it'll be a quiet Friday, so of course it's not! Meetings, research, and a filing to review and get out the door. I stop at the awesome French bakery near my office to get my mom an almond croissant.
6:00 p.m. We get home and my husband feeds and walks the dog while I play with the baby and chat with my parents — my dad has come by after work. I hand over the baby and the almond croissant, then my husband and I head to a local sushi place to have dinner. We try not to just talk about the baby but of course we just talk about the baby. We also debate whether or not he likes mochi ice cream (he does, he just forgets that he does) and the upcoming work we're having done on our house.
In addition to doing date nights every two weeks, we're also supposed to do "financial check-ins" once a month. My husband takes care of most of our finances but I'm trying to be better about knowing what's going on. We're also trying to be better about budgeting since the reality is we won't both be in BigLaw forever. The financial check-in is supposed to be separate from the date but they always get conflated because time gets away from us. Today's is mostly about making sure we have enough cash to pay for house repairs.
9:00 p.m. Home to a quiet house. We say goodbye and thank you to my parents, then we watch an entire episode of SNL (… from like three weeks ago, but woohoo!).
10:00 p.m. Asleep.
11:30 p.m. The dog barks at a ghost at and wakes up the baby, but he's mollified and back in bed by midnight.
When we asked, CM expanded on her comment about not being in BigLaw forever:
Since I submitted this piece, my husband has actually left BigLaw to go in-house. He had been wanting to for a while before we even had a baby, but kind of put those plans on hold so we could deal with a tiny new human, then so I could get situated back at work. There was a financial change with him going in-house, of course (although he moved right when BigLaw associates got raises last year, so that kind of softened the impact), but not so much of an hours change. The HUGE change has been that he is roughly 1000x happier, which I will take over extra money any day! I am starting to think about my next move now, but no concrete plans yet. We're planning to have a second kid at some point and I'm tempted to stay for another paid leave, but would probably jump ship if something great came up before that. I'm in a pretty specialized legal practice so I'm not sure what that looks like yet. Some days I think I should tough it out for partner and then some days I do a lot of research about how to open an ice cream store.
Saturday
Every weekend we say we're going to relax and every weekend we run around like crazy.
7:30 a.m. Wake up, and my husband has coffee while we figure out what we want to do today. We go to the grocery store early — we've found that pre-10:30 a.m. is the best time — and do our shopping for the week.
12:00 p.m. Back home to unload and feed the baby lunch. It's nice out, so we go for a long walk around the neighborhood with the baby and the dog.
2:30–3:30 p.m. The baby takes a nap and I read with him in my lap — I could put him in his crib but it's nice to just snuggle after a long week.
4:00 p.m. He eats again. I take the baby and the dog out to the backyard to sit in the grass while my husband does some chores. We order takeout for dinner, eat, and then do the whole bedtime routine (together tonight).
8:30 p.m. The baby's asleep but wakes up again at 10:30 p.m. and again at 11:30 p.m. Everyone's asleep by midnight.
Here's what CM said when we asked how her weekends had changed:
The change is that we've stopped telling ourselves we're going to relax! But on balance, it's more fun running around on the weekends because we have an opinionated toddler now and he gets a kick out of going places. We do a toddler gym class on Saturdays now, and try to get outside or to a museum. I end up working a lot of weekends, but it's usually flexible enough that I can do it during naptime or after bedtime. I just tell myself I can sleep in ten years, maybe (hopefully?).
Thanks so much to CM for sharing a bit of her life as a working mom! Readers, what's your biggest takeaway from her week of work as a BigLaw lawyer as well as her general work/life balance?
Stock photo via Stencil.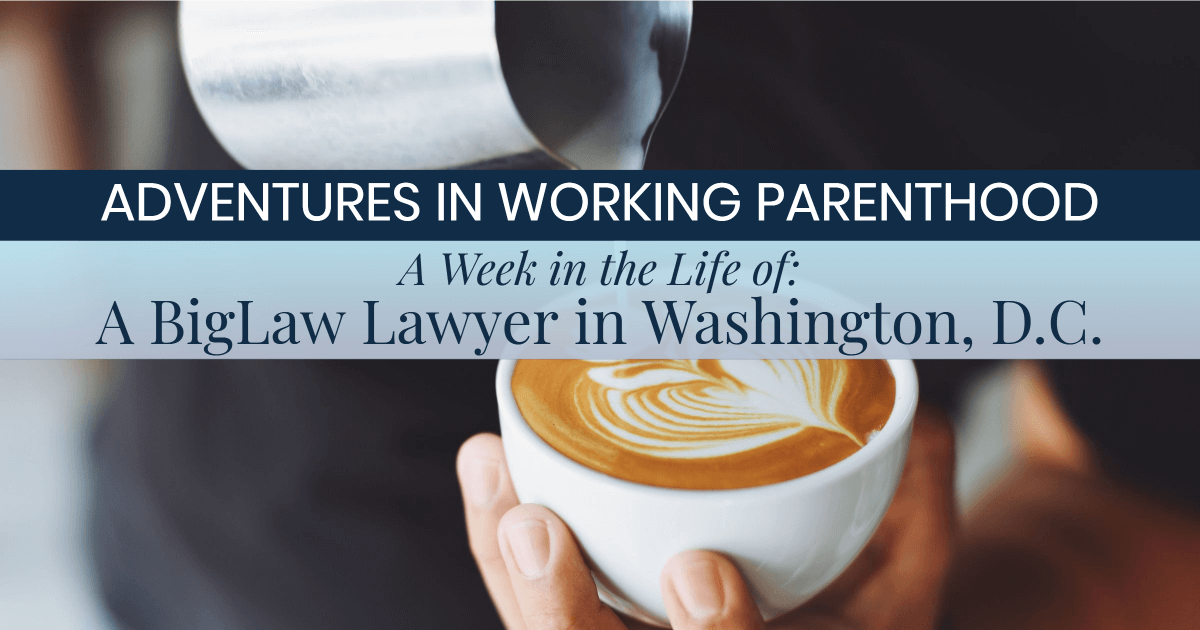 Psst: check out some of our other top working mom diaries, including: