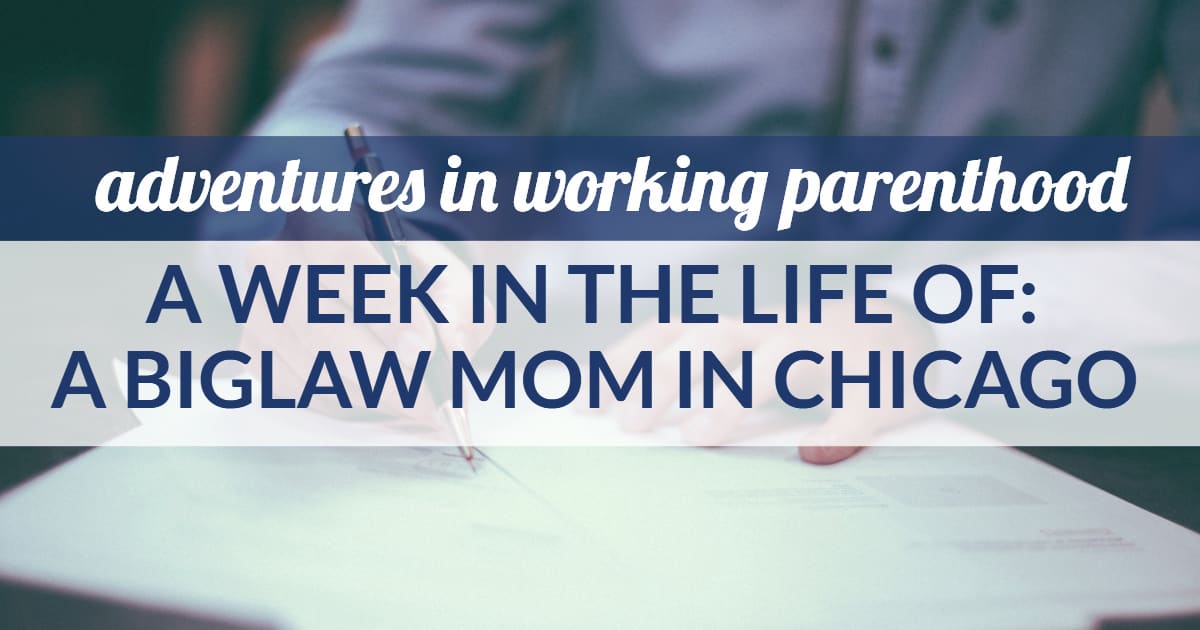 For our second Week in the Life of a Working Mom series, I'm happy to introduce Reader L., who is a 29-year-old BigLaw mom in Chicago with a toddler and a work-at-home dad. Our usual caveat applies: please remember that this is is a real person who has feelings and isn't gaining anything from this, unlike your usual friendly (soul-deadened, thick-skinned, cold-hearted, money-grubbing) blogger — so please be kind with any comments. Thank you! – Kat
If you'd like to be featured (anonymously or otherwise) for a "week in the life of a working mom" feature, please fill out this form here! You can see all posts in this series here.
Psst: if you're interested in the BigLaw lifestyle, you may find our interviews with a lawyer mom working reduced hours.
First, Some Basics about this Working Mom…
Name: L.
Lives: Chicago
Job: BigLaw corporate junior associate
Age: 29
Home Situation:
I live on the first floor of a standard Chicago two-flat (3-bed, 1-bath apartment) with my husband (30-year-old computer programmer and work-at-home dad) and our 20-month-old daughter.
Childcare Situation:
We have a nanny who comes three mornings a week (15 hours total). Otherwise my husband stays home and takes care of our daughter. Whenever we have my parents or my husband's parents in from out of town, they watch the baby for an afternoon/evening, too. We pay the nanny $20/hour for 15 hours a week, paid on the books (so with taxes/fees, etc., works out to $23/hour).
Last Week in My Life
Sunday
6:30 a.m. – Toddler ("F.") wakes up in our bed. We try to ignore her or give her a book so we can sleep a little later. I give in and nurse her and then my husband gets up to change her diaper and get started on breakfast while I put a pillow over my head and sleep for another 20 minutes.
7:30-9:30 a.m. – We slowly do breakfast, showers, etc. F. wants to get in the shower with me to '"rinse," so my shower takes forever. We try to get things ready to get out the door for church — quiet toys, the diaper bag.
9:30 a.m. – We drive to church. (We meant to leave at 9:00). Fortunately traffic is light so we get there a bit early and can let F. run off some energy outside before going in.
10:00 a.m. – 12:00 p.m. – Church. We go every week. F. stays in the service with us, which is a lot easier after 16ish months.
12:00 p.m. – 1:00 p.m. – We hurry home and throw together lunch before putting F. down for a nap at 1:00 (she missed her morning nap).
1:00-2:30 – I nap while she's napping; when she wakes up I take her in bed with me and we snuggle and read books.
2:30-4:30 p.m. – We get a snack and go to the park. I take 100% responsibility for F. on Sundays — it's my husband's day "off" since he has her the rest of the week.
4:30-7:00 p.m. – We have friends over for dinner. We started inviting people over on Sunday afternoons/early evenings as much as possible since it's really the only time we can guarantee we will be available and relaxed. Dinner is not fancy. I think we ordered takeout. Friends left at 6:30ish so they could get their own kids to bed at 7:00.
7:00-8:00 p.m. – I do bath/bed routine with F. Husband takes over when she starts asking for daddy.
8:00-10:00 p.m. – I fold laundry, tidy up the kitchen, and read a romance novel.
10:00 p.m. – Bed.
Monday
6:30 a.m. – I wake up and nurse F., empty the dishwasher and get her started on breakfast. Husband makes coffee. I take a shower and get ready for work; I have old makeup brushes that F. likes to play with while I do my makeup. Husband packs a lunch.
8:00 a.m. – I leave for work. I take the El. On my way to work I place an Instacart order to be delivered my office with snacks for the week.
8:40 a.m. – I walk into my office and proceed to do online shopping for half an hour — I order a bunch of stuff on Primary for F. I do all of her clothes shopping.
9:15 a.m. – Husband texts me that he's at the park with F. and relays her latest funny antic. I like getting a couple photos or videos of her throughout the day. Monday the nanny does not come so my husband takes care of F. all day — they are both usually in their pajamas still when I leave. They do not go to any planned events/classes during the week but will sometimes arrange a playdate with another stay-at-home dad from church, and he takes her on "adventures" on the train to new parks/woods/playgrounds.
9:20 a.m. – I actually start work. I usually eat lunch at my desk, whatever husband has packed + the snacks I order from Instacart. Twice a week I make it a point to have lunch with a contact or someone from my department. I keep a list of people to reach out to.
5:40 p.m. – I leave for a networking reception. It is at a bar and huge and packed and very much not my scene, so I leave after talking to two people and take an Uber home, and resolve to do more networking in ways I feel more comfortable with (mostly one-on-one coffees…). In the Uber I send emails to some contacts from before law school, and manage to set up one coffee for the next week before getting very carsick.
6:30 p.m. – I arrive home, change clothes, and sit down to eat dinner with my family. After dinner I nurse F. and do bedtime.
8:00 p.m. – I fold more laundry and lay out my gym clothes. I think about working but nothing is pressing so I finish my romance novel from yesterday while intermittently complaining to my husband about the awful networking event.
10:30 p.m. – I get F. when she wakes up and bring her to our bed.
Here's some additional info from L. about their family arrangement regarding her husband taking care of their daughter on weekdays:
After we were married, we sort of negotiated whose career would come first (chronologically), and it was clear to both of us that my career goals had less flexibility re: timing than his. That left my husband as the primary parent, which was a role we had contemplated for him for a long time. The initial plan was for him to stay home full time, but he had a great opportunity to keep working part time after our daughter was born. … For right now we love how this works — my husband enjoys being home and I am so grateful my daughter can be at home with him; it adds a lot of flexibility to my hours and I'm not distracted by childcare concerns.
Tuesday
5:30 a.m. – My alarm goes off and wakes up F. I try to get her to go back to sleep but she will not, and now I am late for the gym. I eat a banana and run the three blocks to the gym, arriving at 6:15.
6:15-7:00 a.m. – I meet with my trainer. It makes my workouts more efficient because I don't have to think about it or keep track.
7:00 a.m. – I run back home, shower, nurse F., and get ready. I am sort of annoyed that my husband still doesn't have coffee made; he has been snoozing on the couch while F. destroys the living room while I was at the gym.
8:00 a.m. – Leave for work.
8:30 a.m. – The nanny arrives. She'll be at the house until 1:30, so my husband will shut himself in his office and work. He's lucky to have a very flexible job and is also working on a couple projects of his own. He likes being home with F. but it's definitely good for him to have work in his field too.
9:30 a.m. – Actually start work. Ugh, again. I'm definitely not hitting my hours target this year; the department has been a little slow and I hate scrounging for work, and am great at procrastinating instead of going around to get work.
1:00 p.m. – I return from lunch with a junior partner who I really like to find that I was staffed on a new deal and have approximately seven million voicemails and emails about it. Start panicking quietly.
6:30 p.m. – Leave work "late" because of the work from the new deal.
7:00 p.m. – Arrive home and jump into bath and bed; husband and F. have already eaten dinner at 6:30. Starving because I haven't had a chance to eat since lunch (and I'm still nursing which = hungry all the time).
8:00 p.m. – Log back on my laptop and work on new deal.
12:00 a.m. – Go to bed.