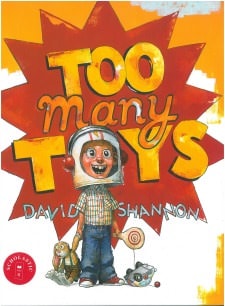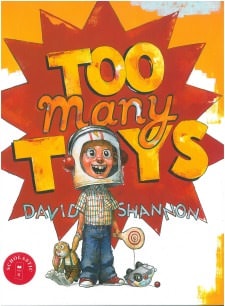 Does it feel like your kids have too many toys? What have you done about it, if anything? Do you rotate toys so that everything's not out at once? Yes, it's a First World Problem, to be sure (too many toys! oh, the humanity!), but if you've got kids with too many toys, you know the drill: Stuff often ends up all over the house, many toys sit unused in storage bins for months (or years), and, maddeningly, new toys that are begged for are often played with for a couple weeks and then abandoned.
Ruth Soukup of Living Well Spending Less wrote an essay in 2012 called "Why I Took My Kids' Toys Away (& Why They Won't Get Them Back)" that went viral, and it's worth a read. She explains why she took away her kids' toys after getting tired of them not cleaning up their room and noticing that they kept wanting more and more "stuff" without being satisfied with what they had. She donated more than half, kept some, and put a few toys on high shelves in her daughters' bedroom — and she started taking out one at the time for her girls to play with. 
A year later, Soukup wrote an update and answered some common questions from readers, like "What are your guidelines for the toys that you keep?" and "What do you do about birthdays & holidays?"
This season is a great time to talk about this issue! Here are some ideas of gifts to give kids who have too many toys, focusing on experiences rather than physical things:
Family membership to a museum, zoo, aquarium, etc. Here's a bonus: Many museums offer reciprocal membership at other museums; for example, my family's membership at a local science museum gives us free or discounted admission to more than 300 other science museums worldwide. 

Tickets to a special event: a concert, a play or musical, sports event, etc.

A family day trip: to a local town/city, a water park, a theme park, etc.

A day with Mom and/or a day with Dad: Take a day off from work and enjoy breakfast and lunch with your child, plus some fun activities. (Hey, maybe you can actually sleep in! No, you're right — probably not.)

Books, of course: If you need suggestions, check out these lists: Notable Children's Books for 2016, American Library Association; Best Illustrated Children's Books of 2016 and Notable Children's Books of 2016, the New York Times. Or share a classic children's book that your kid doesn't already have, like Charlotte's Web, Anne of Green Gables, the Harry Potter books, Corduroy, Cloudy with a Chance of Meatballs, The Snowy Day, etc.

The gift of giving: When I worked at an animal shelter, I was amazed by the kids who would forgo birthday presents and ask for things our organization needed instead. Why not do it at the holidays? Help your child choose a local charity and figure out which items to collect, and then he or she can ask relatives to buy items from its wish list. After the holidays, go together to give the donations to the organization in person. Alternately, buy a charity gift — make a donation to plant a tree, for example. Here are some ideas. (Just be aware that some of these gifts may be purely symbolic.) One more possibility: Kids with too many toys can choose some of them to give to charities that help children in need.
Your turn: What have you found to be good gifts for kids with too many toys? What books or experiences are you giving your kids this year? Do you ask your kids' grandparents and other relatives to get them specific things that aren't "things"?