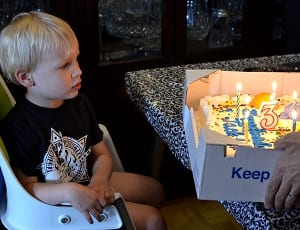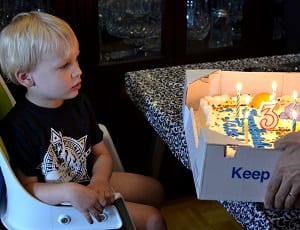 It is my eldest's birthday today (happy 4th, Jack!), so I thought it might be a great time to have a discussion about birthdays, toys, and experiences.  More and more of my friends are telling me that they are purposely not buying presents for their kids, and instead planning experiences like trips, concerts, etc.  At 4, he's been a bit young for all of that in the past — and honestly, every day is like his birthday around here.  Besides, all of the grandparents love to buy presents for the boys (sometimes it feels like they are single-handedly keeping Fisher Price, Bruder, Tonka, Thomas, and so forth in business!).  So: this "plan a nice experience" sounds like a great idea.  I think up first, we'll plan a day with him at an amusement park near my parents — they can watch the baby so Jack can get Mommy and Daddy all to himself for a day the next time we visit.  It's still going to involve a fair amount of planning and research, not to mention day-of logistics, but I think he'll have a blast.
(When asked what he wanted for his birthday, he said, "Ummmm… a cupcake." Yes! We can do that!)
Ladies, how do you celebrate your kids' birthdays?  If with experiences rather than toys, what other kind of experience-focused presents have you given to kids?  
Pictured: Jack, sizing up his huuuuuge Costco cake last year — pantsless, of course, because that's how we roll.  Also pictured: our fugly but functional oilcloth table cover and our Oxo Tot High Chair.  All rights reserved.