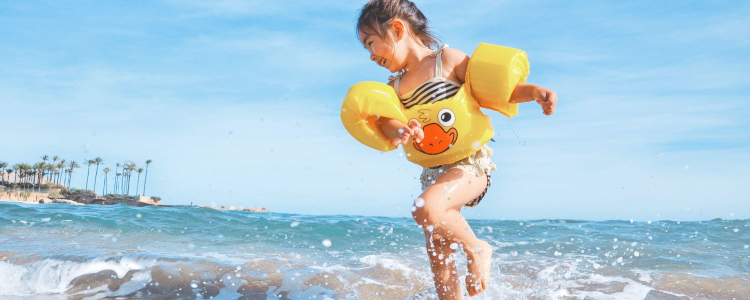 What are the best "experience gifts" for kids and loved ones? If this is what you do, how do you "dress up" the gift to give them a present to open, and make small children understand that the experience is the gift?
We've talked a lot about family travel, including family vacations with grandparents — if you try to arrange a vacation as a big experience gift, do you like to travel during the holidays themselves? (And then celebrate the holidays at home another way, or do you just bring a few representative small gifts?)
The last time we discussed toys, birthdays and experiences (aww, with my then-3-year-old pictured) it was a huge relief to know I'm not the only parent who doesn't really love a ton of toys, especially with really generous, toy-focused grandparents — but none of us really had great ideas for what experiences made good gifts for kids. I've been thinking about it a lot more this holiday season, so I thought I'd round up some of my ideas… I'd love to hear yours!
Ideas I've been thinking of for my 10-year-old and 7-year-old boys include:
Groupon-type activities like one-off artsy classes such as Paint Nite or glass blowing, as well as perhaps a weekly art class. (It's harder to dress up a weekly class as a gift, though, since in his mind education is free and so is the time to take him there and back!)
Theater tickets (for my 10-year-old)
Expensive-hobby gifts — this year it'll probably be ski lessons but my youngest might be into horseback riding eventually.
Perhaps a few mommy/son restaurant nights with cuisines we don't usually eat
Once he's fully vaccinated my eldest and I have also talked about taking a few small trips — just the two of us — to cities. (Both of my kids got their first shot on Monday night– I'm so proud of them!)
Readers, what are your thoughts on the best experience gifts for kids? Do you prefer to gift experiences, and what does that look like — is there a representative present to open? If the "gift" is a vacation, what does that look like?