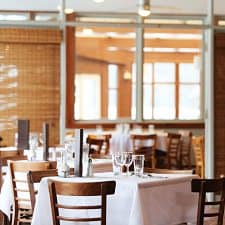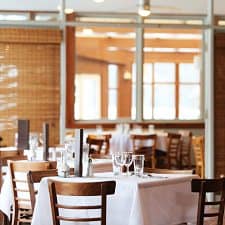 Before J was walking a ton, we went out to dinner… a LOT. Not only was this expensive, but we both wound up gaining about 10 pounds. Still, it was great to have what we realize now was our last hurrah for at least a few years. So I thought I'd round up my five top tips for eating out with kids. It's worth noting at the outset that a lot of this comes down to frequency and training — the more often you go out, the easier it will be to have a well-behaved child. Here are my TOP FIVE tips for eating out with kids:
Get in and out quickly. If you can, know what you want to eat, and order quickly — the more time you spend at the table without food or another activity for your kiddo, the deadlier it will be. If your child's meal will take longer to make (oven baked macaroni! freshly baked pizza!) then order theirs when you order your drinks, and be clear with the server that you'd like it to come asap. (God bless the servers who have learned this important lesson!)
Bring snacks! Baby Mum Mums, applesauce pouches, yogurt pouches… these are all shelf-stable things that you can keep in your diaper bag. We would also try to bring more fruits or veggies from home, such as pre-cut grapes or apples, or some nuked broccoli or carrots. We found it helpful to space snacks out during the course of the meal, so that if Jack started to get bored we could throw another snack at him. If you find your supplies dwindling, note that if you ask nicely, bartenders may be willing to throw a few olives towards the cause. (Do all toddlers love olives as much as mine?)
When it's time to go, it's time to go. We've ordered appetizers and then had to ask for them to be packed up to go because our kiddo was being fussy. (Pictured: once, we had to leave so early that my husband still hadn't drunk most of his martini — let's just say I got creative.) In my limited experience, a kiddo will not recover from a meltdown that occurs while dining out — you can bounce him up and down the sidewalk for hours and still never finish your meal — so it's best to just pack it up and leave if he's fussy. In the beginning this only happened on rare occasions… but as Jack got more independent with walking and wanted to explore, play on the floor, and so forth (which we obviously wouldn't permit), that led to us packing it up more often. When the time change happened that fall and it got super dark, super early, our dining-out days were over (for the most part). This rule applies even if the restaurant is empty except for you and the staff — but it does bring us to an important corollary:
Respect thy other diners. Particularly after a certain time (I'd say 7 PM), it doesn't matter which restaurant you pick — your child is on borrowed time. If they're perfect and angelic for the entire meal, wonderful! But what's acceptable at 5PM in terms of volume/fussiness is totally different at 7PM. I'd also say that sometimes you have to step outside of your role as parent and remember how other people think — even if your child is behaving WONDERFULLY for her, she may still be a demon child as far as other diners are concerned. My husband and I still remember a meal we had when we were pregnant with Jack: A table next to us had 3-4 adults and about as many kids, probably mostly under 6 — all of them proceeded to take the silverware and bang it like maniacs, loudly. Maybe this was a "low roar" to the parents, but it absolutely horrified us. The restaurant wasn't super fancy (if memory serves, we were there with a Groupon) but it was probably around 7:30 or 8.
As a last resort: ice cream and iPhones. I'm not a huge fan of giving our kiddo a movie to watch during dinner, or giving him ice cream to get through the meal… but if we want to dine out and don't have a babysitter for Jack, I'll admit that we've done both to get to an end of a meal.
I haven't yet mastered the art of dining out with a Very Curious and Emotional 4-Year-Old (other than picking your restaurants well, and getting in and out quickly), and I'd love to hear if you guys have any tips. Ladies, how often do you dine out with your child? What are your best tips?  
Social media pictures via Stencil.