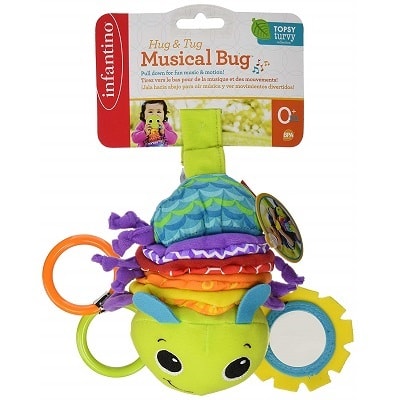 My son had a very similar toy to this that he absolutely loved. His was a bug shape that when pulled down would rattle its way back to the top. I would rattle it in front of him and also attach it to the handle of the car seat so he could watch it sway back and forth when he was either in the car or we clicked the car seat into the stroller. It made for a milestone moment I will never forget — one day I was driving and all of a sudden I heard the sound of it being pulled down and rattling back up, and I thought to myself, "OMG he can do it by himself now!" He finally had enough hand-eye coordination and grasp strength to reach out and pull it down himself. Ah — I think I'll excuse myself before I get emotional! This toy is $11.99 at Amazon and is eligible for Prime.
Hug and Tug Musical Bug
This post contains affiliate links and CorporetteMoms may earn commissions for purchases made through links in this post. For more details see here. Thank you so much for your support!
We are a participant in the Amazon Services LLC Associates Program, an affiliate advertising program designed to provide a means for us to earn fees by linking to Amazon.com and affiliated sites.