Brrrr, it's cold outside!
Let's discuss, ladies: what are your favorite winter soups and stews for working moms, either because they're easy or quick… or other reasons?
This year we're trying to make a lot more soups and stews, usually served with "freshly baked" bread — I love those parbaked loaves for the pantry and rolls for the freezer. (We got out of the habit of having soup for dinner for a while because my husband often eats soup for breakfast, and I haven't wanted to force him to eat soup twice in one day — as we approach ten years of marriage I finally just declared winter Mondays to be Soup Mondays and then he at least knows that's what's coming for dinner.) My kids love consomme and pureed tomato soup, but not many of these meals below — it's not because they're non-kid-friendly meals, it's just that my kids are weird. So: most nights when I serve soup for my husband and myself, I make
separate meals for the kids
— or I tend to "disaggregate" the soup or stew and serve the kids the meat and vegetables separately on their plates, sometimes plucking things from the soup itself, sometimes just keeping some aside to saute at the last minute separately.
Food photography is, unfortunately, a skill I do not possess, which is why I used a stock photo up top… some of my own casual pictures of our favorite winter soups and stews are below, though.
Pictured below, clockwise from the top: Kimchi Jjigae / Bean and Sausage Soup / Dad's Lentil Soup / Mediterranean Beef Stew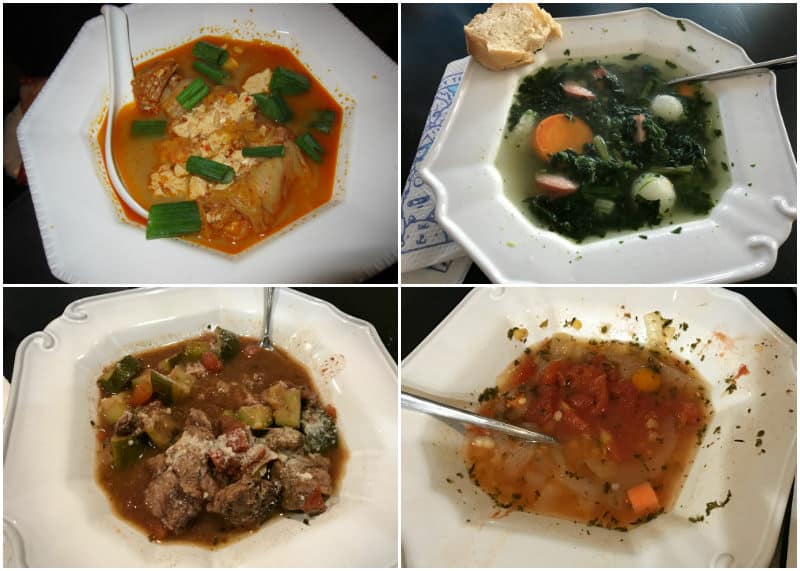 Readers, what about you guys — what are your favorite winter soups and stews? Have you found success with anything that the whole family can eat?
We are a participant in the Amazon Services LLC Associates Program, an affiliate advertising program designed to provide a means for us to earn fees by linking to Amazon.com and affiliated sites.