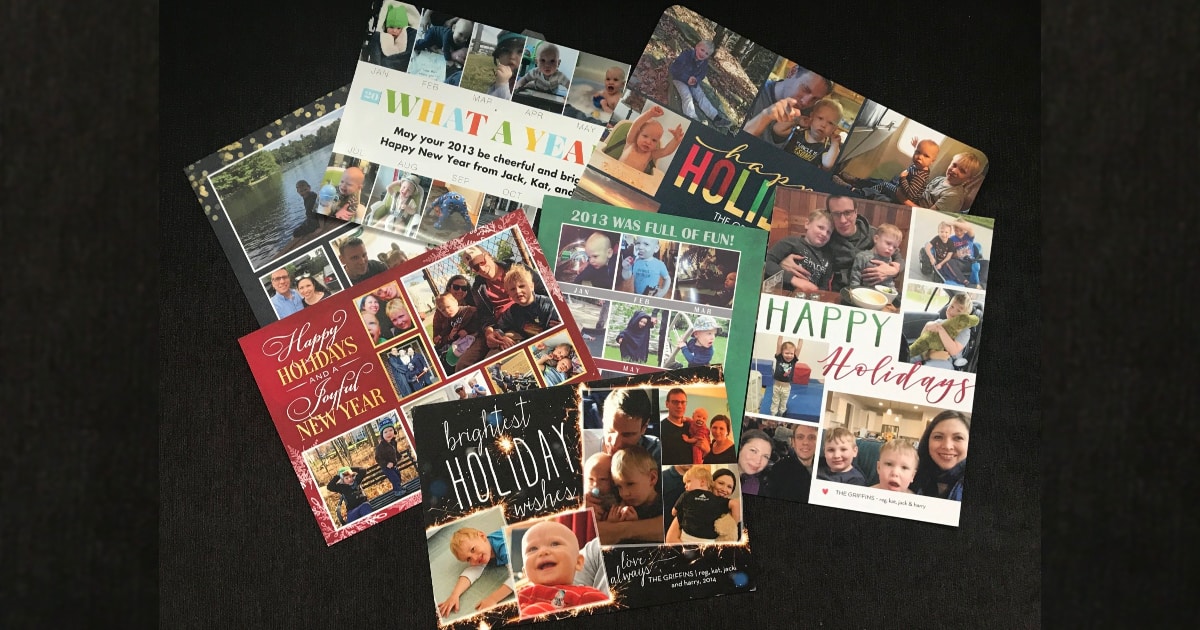 I just placed my order for family holiday cards this morning and thought it might make an interesting discussion — I know I've definitely picked up a few tips for family holiday cards over the years, and would love to hear yours.
A few caveats: we have never done a family photo shoot for holiday cards, so I don't have any tips on that. (Instead I tend to use a collage of various photos from the past year, with hopes that all four of us are in at least ONE picture.)
I also don't write a ton — in fact this is the first year I wrote even a few sentences — in large part because it kills me if there are typos or editing mistakes.
One final caveat: while I've experimented with a lot of different card places over the years, personally I've found that I like the quality, ease, and pricing at Shutterfly the best for holiday photo cards and photo books; I almost always order family photo calendars from Snapfish because they have a year-end calendar deal that blows all the other calendar deals out of the water.
When my eldest son was first born I experimented more with some of the other photo spots — they all have great deals and great products; the pricier ones will have slightly shinier foil or thicker cardstock, while the less expensive ones will have slightly thinner cardstock or slightly duller pictures.
For my $.02 the main difference between digital photo companies is the interface — there's a big learning curve to figure them all out, and know what you can do in each of them and how to do it — so at this point it's not worth my time to investigate the competitors.
But this post isn't sponsored by Shutterfly (although I do have an affiliate link that I'll stick in here), so please feel free to discuss which photobook company is your favorite.
Of course it's totally fine to say a big old NOPE to holiday cards (in fact, we have a whole post where we discussed what we DON'T do as well as holiday delegating ideas) In the past I've talked about my other general obsession with digital photo books (here are my best tips on how to get started with digital photo books!), as well as the business etiquette around sending family holiday cards.
This post contains affiliate links and CorporetteMoms may earn commissions for purchases made through links in this post. For more details see here. Thank you so much for your support!
My Best Tips for Ordering Family Holiday Cards
So, here are a few of my best tips on family holiday cards that I've learned over the years…
1. Look for sales at the company you're comfortable with instead of trying to look for THE BEST sale out there.
For example, a few days ago Shutterfly offered 40% off cards, but I suspected it could get better, so I waited until that deal ended (it was good through Nov. 20) and checked today — and voilà, it is now 50% off plus free shipping. I was going to order 90 cards that would have been something like $168; today I ordered 105 cards for $124.
2. Keep a list of what you've paid in the past, when you ordered and what the deal was so you can gauge what's a good deal.
Also, keep a list of how many cards you've ordered in the past! I remembered that last year it felt like we had a ton left over but didn't remember exactly what number we ordered.
This is what my personal list looks like. (If you're reading this post thinking, GAAAH I HAVEN'T DONE THIS YET, don't worry — you'll notice that a lot of years we ordered prettttty late. Procrastinators for the win! In fact, we are such procrastinators that in 2011 we just decided to combine our birth announcement (my son was born in AUGUST) with our holiday card.
2019 – Shutterfly, $124 ordered 11/21 (50% off, f/s, ordered 105 because same price as 95)
2018 – Shutterfly, $110, ordered 11/18 (50% off, f/s)
2017 – Shutterfly, $169, ordered 12/10 (105, $25 rush shipping)
2016 – Shutterfly, $96, ordered 11/28 (100)
2015 – Shutterfly, $170, ordered 12/6 (didn't come until 12/18!)
2014 – Shutterfly, $132, ordered 12/12
2013 – Shutterfly, $128, ordered 11/28
2012 – ?
2011 – Shutterfly, $75, ordered 11/17
3. Pro Tip for Family Holiday Card Content: Put the Year on it!
I can barely remember which holiday card is from which year, to be honest — so this is the first year I made sure to put the year 2019 on it.
I also always appreciate when people mention how old the kids are, so this year I put a few super short sentences to note, basically, that in 2019 J turned 8 and started 3rd grade and H turned 5 and started kindergarten.
Because I'd included photos of some trips on our card, I also included one sentence noting that my husband and I had gone to Lake Tahoe for a wedding (so, so, so gorgeous) and the whole family had enjoyed a trip to Universal Studios Orlando.
4. Let your partner and kids veto pictures of themselves on your family holiday card.
My husband and I often disagree on what is a "great" photo of him — I'll be looking at the picture of him and both kids in front of Hogwarts at Universal Studio thinking, great! Three people! Smiling! Looking at the camera! In front of an interesting thing that says something about our year!
And he'll take one look and be like, YUCK, my chin, and it's out.
Fair enough!
My kids at this point don't care (and they're not handing them out to their friends or anything), but as they get older I'll have to include them in this exercise also.
5. Before you checkout, play around with how many cards you're ordering to see how it changes pricing.
Because so often the companies price their cards in tiers (where if you order X number of cards it's $Y, but if you order X+25 it's another $Y-$.25, or if you order X+100 it's Y-$1. A lot of times ordering MORE cards puts you in a lower price tier and ends up being the same, or less, than only ordering a few.
This happened today when I went to check out on Shutterfly — the card that we had selected was something like $2.40 if you ordered 80-100 cards, but $2.19 for 105-125 cards. At checkout I played around with the order count — ordering 90 cards was $116, 95 cards was $124, 100 cards was $129, and 105 cards was $123. So I could get 10 extra cards basically for free (and 90 cards would have been a little too tight anyway for us).
6. Consider saving a digital version of your family holiday card with your other digital photos.
If you've got a digital slideshow in any way, it's great to have a digital version of your family holiday card. (We looooove our WiFi digital photo frame, as I mentioned in our post with father's day gift ideas, but this also works for computer slideshows!)
Having a digital version also comes in handy if you want to include your holiday card in any digital photo books since if there's stuff printed on both sides you may not want to glue it into the book.
(I suppose, once you have a digital version, you could always then skip the ordering and just email this digital card around to people… but that seems like a jerk move to me since someone at the photo card company spent time and money designing the cards.)
How to save a digital version of your family holiday card:
On my Windows computer I just use the "PrtScn" button (above the +/= key on my ergonomically split keyboard) to take a screenshot and (because I am fancy) paste the screenshot into Microsoft Paint; crop it to just be the card and save it as a PNG or JPG.
Sometimes I'll take three digital photos: 1) the front of the card, 2) the back of the card, and 3) a vertical collage with the front of the card on top and the back of the card on the bottom.
Just Google "how to take a screenshot" if you're having trouble; for example this is the top result for how to take a screenshot on a Mac.
Tip #7: A Few Ways to Use Old Family Holiday Cards
I don't know if this is just me, but I always feel like I've spent time on these things and want to be able to "enjoy" them at a later date. One thing we tried a while ago was laminating old family holiday cards, punching a hole in the corner and putting a ribbon through them — voilà, ornaments!
But we've only got 8 right now and our Christmas tree already looks a little crazy with holiday cards hanging off them, so I'm not sure that's the best project to recommend.
I was walking through Target late last year and saw a tiny project binder with sleeves — I grabbed it and thought it would be perfect for storing old family holiday cards, and it was. (All of our cards fit but one, in a year where I'd chosen what apparently is an unusually huge card.)
It's not the most elegant thing but it works. My binder is 7.5 inches wide by 8.75 inches tall, and the sleeves are 5.5 x 8.5, so I think if you're looking on Amazon I believe this binder is the same one. (Does anyone know of a more elegant solution? There's got to be one…)
Of course, there are a zillion craft projects out there with old holiday cards; this is a nice roundup from Country Living on ways to upcycle/recycle Christmas cards.
You can also send them to the troops!
If you've got enough room to write a message on your card, you may consider using some of your holiday cards for messages to your elected officials — it's a nice personalized touch compared to the cold efficiency of a Resistbot fax or email.
8. Bonus Tip: What To Do With Other People's Holiday Cards
One final tip: I hate to throw away other people's holiday cards (the ones we've received), but at a certain point they just become clutter.
If I were enterprising enough I might put them in a binder, but instead what I do with them is take photos on my iPhone of the card (all sides that are interesting, at least), and add them to whichever holiday digital slideshows we've got. (I've tried scanning them but a) the colors come out better on the iPhone and b) it's muuuuuch faster to just snap a picture with my phone.)
Current Deals on Family Holiday Cards
Readers, do you do family holiday cards every season — or is that a NOPE for you? Do you prefer to use a few poignant moments from the past year, or do you prefer doing a holiday photo shoot with your family? What are your best tips on family holiday cards?