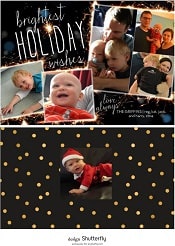 Update: We still stand by this advice on professional family holiday cards, but you may also want to check out our most recent post with tips for family holiday cards, as well as all of our posts on holiday business etiquette.
As if holiday cards weren't already enough of a minefield professionally, I've now seen tons of people (mostly single and childless friends) talking on Facebook about how "smug" all of the family holiday cards are as they tout our "perfect" families. Do you know the feeling of smug family holiday cards? Do you think you might be guilty of it?
So I thought we'd talk about it — perhaps a bit belatedly, but it's on my mind, and we've probably all seen the full range of what our friends and family sent this time around.
Do you create and send photo cards to your friends and family? Do you send the same version to coworkers and colleagues? Do you worry about intentionally sending DIFFERENT cards to people on your list who don't have kids? (And, just for old times' sake: Are religious holiday cards inappropriate for most coworkers/colleagues — or at least a KYO (know your office) situation?
Here at Casa Griffin, we've done photo holiday cards for a few years now, and I love receiving cards from my friends and family in return. We display them proudly, strung across some ribbons, and one of my favorite parts of the season is seeing everyone's cards, their pictures, their families.
As soon as we started sending picture cards, it made me wonder: Who the heck do I send these to, professionally?
I had usually sent holiday cards (regular store-bought ones) to old mentors and new friends (fellow bloggers, ad network people, old legal friends, etc.), but personal photo cards felt inappropriate, particularly since the recipients didn't KNOW my kids or my husband.
On the flip side, I worried it might be perceived as insulting to send a "regular" card and then later be found out as someone who had picture holiday cards — as in, we only send the "good" cards to friends and family.
I also worried about sending photo cards to friends I knew were struggling with fertility issues, because I didn't want to make them feel bad with my card ("Hey, look at my family with two adorable children!"), but again, I didn't want them to find out I HADN'T sent them a photo card and feel even worse.
I'm not sure I've dealt with things appropriately: We've just sent the family-photo card to people whom we thought cared about our family (whether professional contacts or not, whether they have kids or not), and to the others… well, I haven't quite gotten around to sending the other cards, reasoning with myself that sending holiday cards is a declining practice anyway.
On the "smug" point — I'll admit, I can see where people are coming from. I suppose I think there's a spectrum of smugness, with "just pictures of the kids" on one end of the spectrum, to "we hired a photographer to stage magazine-worthy photos of our family" on the other side.
The less "real" someone's pictures look, the more airbrushed — the more smug they seem, at least to me.
(A related issue: how about the letters that tout the family's trips, travels, and accomplishments? One of my friends manages the family budget very carefully so they can travel extensively, but with other friends it can sometimes add to the "smug" factor.)
Readers, what are your thoughts — do you send family holiday cards to colleagues without kids, or do you send a different, more impersonal card? Do you worry your cards  might be perceived as "smug"?
The Latest Deals on Family Holiday Cards