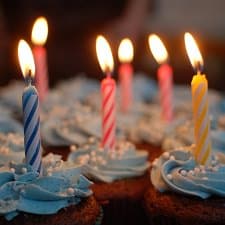 2018 Update: We still stand by this post on default birthday presents for kids, but you may also want to check out our more recent discussion on kid birthday party guest etiquette. 
For the first time ever, my eldest son J is having a birthday party for just his friends. (Summer birthdays are always awkward, but as he turns 6 he's old enough now that he knows who his friends are, even if they're not necessarily in the same class or exact same time slot for Activity Y.) One of the things that's been surprising to me is how many moms are actually
asking
what he wants — in part because my previous strategy as a gift-giver has just been to spend $25-$50 on toys or books, purchased at a store that isn't too difficult for returns, with a gift receipt. (To me that usually means Target, Toys R Us, or Barnes & Noble!) The theory behind it is that if the kiddo liked it and/or didn't have it already, great; if not the parent could return it for another toy or book the kiddo liked more. (Or, hey, for a gift card that could then be used for a larger gift.) I think I've also written about how the grandparents do SUCH a great job of getting presents that I tend to favor
experiences over toys
— so I don't even really know what he wants and have just been responding "Oh, you know, Legos or Star Wars stuff!" (Honestly, what he would LOVE are Nerf guns, iTunes gift cards, and candy, but I would probably be annoyed at anyone who got us those!!) In any event — let's discuss!
What's your strategy for getting default birthday presents for kids you don't know well? Do you have some default birthday presents that you tend to just grab and go, similar to my theory on "eh, they'll return it if they don't like it"? What are the default presents that you get again and again for kiddos — and for what age ranges? Do you ask moms of birthday boys and girls what they want for their birthday?
These are some of my default birthday presents for kids I don't know well — but ladies, I'd love to hear yours…
Under 1:
Baby registry. Just stick to the baby registry or get some nice
books for the new mom
!
1 Year Old:
Board books — or touch/pull/lift books like those from
Matthew Van Fleet
.
2 Years Old:
Books your family loves. 
Dream blanket
! My boys both love (loooove) their dream blankets.
3 Years Old:
Playdoh toys, Magnatiles, or books from the "Five Minute Stories." (J particularly loved the "Diggin Rigs" kind of Play Doh toys.)
4 Years Old:
Lego sets. Art supplies. Junior board games.
5 Years Old:
Phonics/level 1 or 2 reading books. Hidden Picture books. Legos, art supplies, board games.
How about you guys? What's your gift-giving strategies for kids' birthday parties? What birthday presents do you get for kids you don't know well?
This post contains affiliate links and CorporetteMoms may earn commissions for purchases made through links in this post. For more details see here. Thank you so much for your support!
Picture via Stencil.