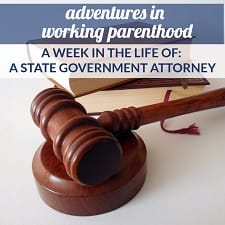 For this week's installment of our Week in the Life of a Working Mom series, I'm happy to introduce CorporetteMoms reader Emily S., who lives in a medium-sized town in the South with her husband and daughter and works as a state government attorney. Our usual caveat applies: Please remember that this is is a real person who has feelings and isn't gaining anything from this, unlike your usual friendly (soul-deadened, thick-skinned, cold-hearted, money-grubbing) blogger — so please be kind with any comments. Thank you! – Kat
If you'd like to be featured (anonymously or otherwise), please fill out this form! You can see all posts in this series here.
First, Some Basics About This Working Mom…

Name: Emily S.
Location: Live in the suburbs and work in the city in a medium-sized town in the South.
Job: State government attorney
Age: 33
Home Situation: I live in a 3-bedroom house with my husband (34-year-old self-employed consultant/writer), our 2-year-old daughter, and our dog. We have a nice backyard and plenty of play space. (Since submitting her Week in the Life, Emily has given birth to her second daughter, who is now four weeks old! Congratulations, Emily!)
Childcare Situation: Church daycare full day, 3 days a week ($150/week); stay at home with Dad or Grandma 2 days a week.