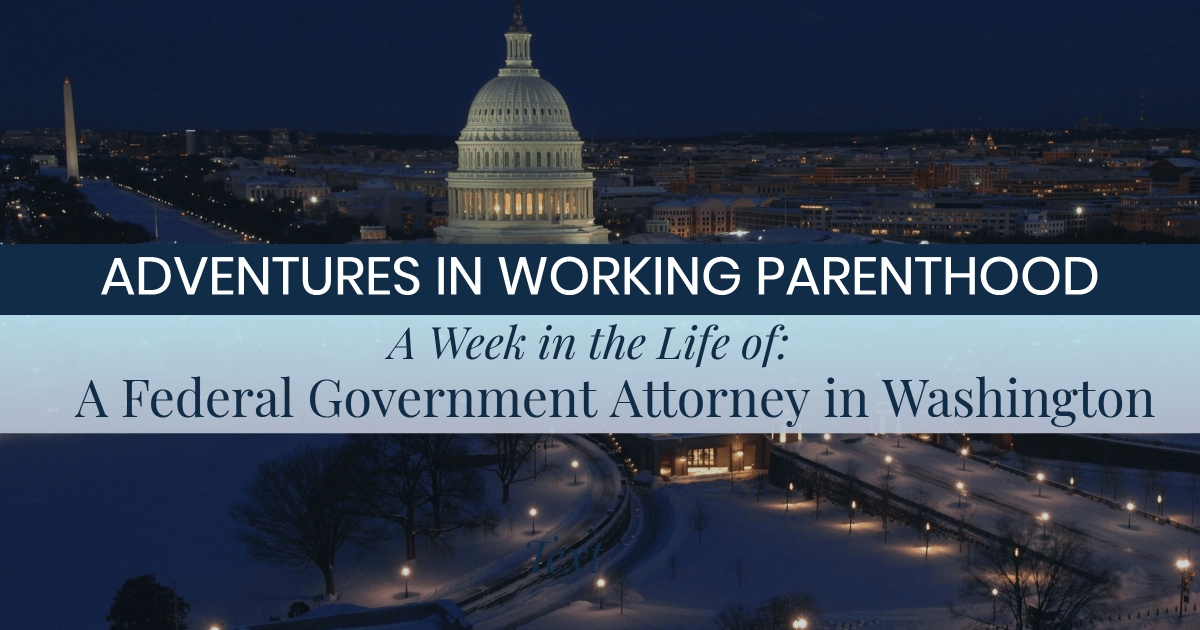 For this week's installment of our Week in the Life of a Working Mom series, I'm happy to introduce CorporetteMoms reader L, who lives in Washington, D.C., with her husband and two kids. Our usual caveat applies: Please remember that this is is a real person who has feelings and isn't gaining anything from this, unlike your usual friendly (soul-deadened, thick-skinned, cold-hearted, money-grubbing) blogger — so please be kind with any comments. Thank you! — Kat
If you'd like to be featured (anonymously or otherwise), please fill out this form! You can see all posts in this series here.

First, Some Basics About This Working Mom…
Name: L
Location: Washington, D.C.
Job: Appellate attorney for the federal government
Age: 39
Home Situation: I live in a 1,600-square-foot, 3-bed/2-bath apartment with my husband (biotech executive) and two sons (ages 3 and 5).
Childcare Situation: My kids attend Montessori preschool full time ($60k a year total for both kids — I'll be glad when they start public school!). We have a mother's helper (a college student) who picks up the kids and does chores around the house for 12 hours a week at $17/hr. My mom also often flies out to stay with us when we are busy with work and need extra help (about two months in total over the course of the year).
How is the work-life balance in your industry in general? What are common ways of juggling responsibilities that you see your colleagues and coworkers doing?
Work-life balance as an appellate attorney is amazing. The Court issues briefing and oral argument schedules months in advance, so I can plan my life and rarely have to deal with emergencies. I do work late nights and weekends when I'm preparing for an oral argument, but that's because I want to be extremely prepared. And I generally only have two or three arguments in a year, so those late nights and weekend work don't happen that often. And to be honest, I sometimes procrastinate, so some of the late-night work is a function of my own time management, not the job.
L wrote her Week in the Life last year, so here are two updates she shared:
– My younger son is a MUCH better sleeper now, thank goodness. The kids sleep in the same room now and they hardly ever wake up during the night anymore.
– My husband now travels for work four days a week. This would have been extremely hard on me even a year ago, but now that the kids are older and more self-sufficient, it's surprisingly not as hard as I thought it would be. Having an after-school mother's helper to pick up the kids and do some tidying up around the house has been key for us. And my mom is a huge help when she visits, so that's a boon as well. Since I wrote this post, my mother-in-law now lives with us for six months of the year, and she handles all of the cooking when she is here.
A Week in My Life
Sunday
4:00 a.m. 3-year-old comes to me and says that his legs are hurting. The doctor says that growing pains are real, and my son has them frequently, so I give him some Advil, a massage, and put him back to sleep.
8:30 a.m. My 5-year old wakes up, and my 3-year-old wakes up a little before 9:00 a.m. and runs into the room to wake me up. We are very fortunate that our kids have recently started to sleep in later. Husband has woken up earlier that morning and brushes their teeth while I make chai (made from scratch every morning or else we won't function) and breakfast for the kids. Although I am usually all about feeding them big meals (I think this comes from being first-generation Indian where lots of food = love), I give them something small because we're having an early brunch to celebrate my 39th birthday!
–I shower and take the kids to the playground for an hour while my husband works at home. My 5-year-old recently learned how to ride a bike and has been beside himself with excitement. My 3-year-old takes his balance bike for a whirl. We run into friends at the playground and enjoy the beautiful sunshine. We return home, drop off the bikes, and walk to our favorite neighborhood restaurant a block away. The kids gorge on ricotta pancakes, and I have yummy pasta. I'm too stuffed for dessert, but my husband surprises me with cake and a candle, and they sing happy birthday in the restaurant.
–We return home and put 3-year-old down for a nap. 5-year-old lies down for 20 minutes and then declares he's not tired. He recently dropped his naps on weekends but he is very good about keeping himself entertained, so I carry on with my usual Sunday chores — mainly, cooking for the week. I make three large meals (dal, chole, and vegetable korma) while doing the dishes and listening to podcasts. (Recently, I've started listening to Happier by Gretchen Rubin.)
–Husband and 5-year-old go to Whole Foods to do grocery shopping for the week. 3-year-old wakes up from his nap and I feed him a snack. Husband takes both kids to the playground to fly a kite while I finish up cooking. I love living so close to a great playground — in good weather, we probably go at least twice every weekend. I join them a bit later and we all have fun trying to keep our kites up in the air.
–We return home, eat dinner, and celebrate my birthday again with cupcakes from Whole Foods. Husband grinds batter for idli/dosa (Indian rice dumplings/crepes) so between that and the food I made, we're all set for dinners for the week.
8:30 p.m. 5-year-old is in bed.
9:00 p.m. 3-year-old doesn't go to bed until now because he took a three-hour nap and isn't all that tired. Husband deals with his antics (can I have water? can you massage my legs? I need to go to the bathroom, etc.) while I clean up in the kitchen.
9:30 p.m. I work out with a Fitness Blender video. I play the video on mute while I listen to more podcasts (my life hack for motivating me to get through the video)!
10:30 p.m. I go to bed — an early bedtime for me.
Monday
Today is officially my birthday, but we celebrated yesterday as a family because my husband is off to California until Friday. (He usually travels two days a week, so going away for the entire week is unusual.) He sleeps in a separate room so that he won't wake me up, since I'm a very light sleeper.
6:00 a.m. Husband leaves the house.
7:30 a.m. Kids come wake me up and we snuggle in bed for a bit. Today is a staff day, so no school, which means no work for me! I make chai for myself and breakfast for the kids, and we read several books while eating. Husband calls to wish me happy birthday and we chat. I was hoping to take the kids to the zoo, but the weather is crummy, so we decide to go to an indoor gym instead. I clean up the kitchen (I feel that our sink is perpetually full of dishes), shower, pack lunch for the kids, and make the beds.
10:00 a.m. We leave the house. We take the metro to the indoor gym, in part because the kids love the metro and in part because we bought a huge SUV a few months ago that I don't feel comfortable driving yet. Too big, too bulky. Kids run around the gym for 1.5 hours and get so tired out. One of my closest friends works next door to the gym; she comes down to wish me happy birthday and we chat for a bit. We take the metro back home, I put the kids down for a nap, and I eat some leftover noodles. Throughout the day, I get lots of calls and emails and texts from friends and family for my birthday, which makes me happy.
–While the kids are napping, I return a few phone calls and then start to read a book, when my 5-year-old wakes up. We read a few books, and then when 3-year-old wakes up, we head over to the library. I love our neighborhood in part because we can walk to so many places — the library is right across the street. I make it a point to visit at least weekly and usually check out 20 books. (My older son inhales books like candy.) We run into some friends at the library; 3-year-old plays with some Legos while 5-year-old tucks into a corner with a large stack of books.
–We leave after an hour and head to the local bakery to pick up yet another birthday treat — a slice of carrot cake for me and a slice of chocolate cake for the kids. (Note to self: sugar detox for the next week!)
–We eat dinner together and then enjoy our dessert. We check the mail, where I get five birthday cards from friends/family with long, heartfelt notes; I feel loved! I give baths to the kids.
8:00 p.m. My good friend comes over. We usually don't have friends come over on weeknights, but she knew that my husband would be out of town on my actual birthday and wanted to help me celebrate. I make her a plate of food while she reads to one kid and I read to the other.
8:30 p.m. I put the kids to bed, and my friend stays to chat until 10:15 p.m. It feels so nice to catch up in this relaxed way, and I realize that I should do this more often. After she leaves, I stay up way too late browsing the Internet. The prior week, I listened to the Happier podcast where the host talked about starting a "one sentence" journal as a way to boost happiness. I figure that starting the journal on my birthday is a good way to begin, so I jot down a few lines before bed. I enjoy ending the day this way. Husband calls late and we chat for a few minutes.
11:30 p.m. I'm in bed.
Tuesday
–I set my alarm for 6:45 a.m. but snooze two times.
7:00 a.m. 3-year-old comes to my bed and snuggles briefly. Brush teeth, make chai, breakfast, and pack lunch for myself and the kids. 3-year-old is a slooooow and not great eater, so meals are often 45 minutes long. We read several books while he eats breakfast.
8:00 a.m. 5-year-old wakes up. I make his breakfast and we sit down and read a few more books.
8:30 a.m. I take a shower and get quickly dressed while the kids play with Magna-Tiles. I'm the queen of the three-minute shower.
9:00 a.m. We're out the door. Kids' school is one block away from home, which has been transformative in terms of the amount of time it has saved and the stress it has helped alleviate. 3-year-old is crying at drop-off, which sucks but I don't feel too guilty about it — I know he enjoys school and I'm late already. I head to a doctor's appointment and am in the office by 10:30 a.m.
–I have things to do at work but I'm not pressed up against an impending deadline, so it's the best of all worlds. I love being an appellate lawyer for many reasons, but one of the primary reasons is because I rarely have to deal with emergencies or deadlines cropping up at the last minute (unlike in Big Law, when emergencies were often around every corner). The federal appellate courts generally issue their briefing schedule months ahead of time, so I usually know at least a few months in advance when a brief is due. I was supposed to have lunch with a friend but end up rescheduling, and I work through lunch. Husband calls and we chat briefly.
3:00 p.m. I text my mother's helper on what chores to do at home and what dinner is for that day. She immediately replies.
5:30 p.m. I leave work and am home by 6:00ish. My mother's helper is already seated at the dinner table with the kids. She usually starts eating dinner with the kids on her own, and I will join them once I get home. The boys come running to the door to greet me. I quickly change and join them at the table. We read books and chat while they eat dinner.
6:45 p.m. Mother's helper leaves after loading the rest of the dinner dishes and tidying up the kitchen. She is awesome, and it feels amazing to come back home to a neat and orderly home. I eat dinner while the kids play with puzzles and then start the evening routine: baths, prayers, one book for each kid, and two songs for each kid. The boys used to sleep in the same room, but we put them back in separate bedrooms several months ago. 3-year-old wakes up too much and disturbs my older one, who doesn't nap during the day and so is really exhausted.
8:15 p.m. 5-year-old is asleep.
8:20 p.m. 3-year-old is put to bed but gets up twice asking to go to the bathroom and for water. I yell at him and feel bad about it, but I know he's just making up excuses to avoid going to sleep. Usually DH deals with him at bedtime and is a lot more patient than I am, but it's all me since I'm solo this week.
8:50 p.m. He finally falls asleep. I browse the Internet, load a few last dishes in the dishwasher, work out to a Fitness Blender video, and spend a few minutes writing in my one-sentence journal. I keep telling myself I should go to bed earlier, but I don't turn the lights off until 11:13 p.m.
We asked L about her transition to her current job:
I left Big Law after being there for five years. I learned a lot and made some great friends, but I wasn't excited about the work and couldn't see myself there long term. I knew that I wanted to do strictly appellate work, and that's pretty much impossible to do at a law firm unless you're a Supreme Court clerk (and even they don't get to do appellate work 100% of the time). When the opening for my current position opened up, I jumped at the opportunity. It sounds crazy, but I could easily see myself in my current role until retirement. :) The work is intellectually challenging, interesting, hours are very reasonable, and the role is coveted and considered "prestigious" in many circles. The only downside is the salary, at least as compared to Big Law, but I would never go back to a firm given the other stressors of private practice.