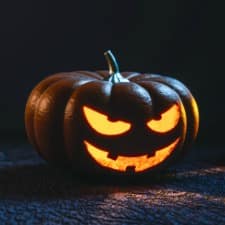 With summer weather stubbornly sticking around this year, it's hard to believe that October 31 is in just a few weeks — but since somehow that's true, we thought we'd chat today about celebrating Halloween as a mom. So, do tell: Do you have any Halloween hacks that help you with celebrating Halloween as a working mom? (Ha, considering the context, that sounds a bit macabre, doesn't it? Maybe "tips" is better.) Did you go all out when your kid was a baby but have scaled back now that he or she is older — or is the opposite true? Here are a few other Halloween parenting topics we can have fun discussing:
At what age did you start taking your kid trick-or-treating? On the other end of the spectrum, how old is TOO old, in your opinion? Ever since our son was really young, my parents have invited us to their neighborhood (they're still in my childhood home, only about a mile from our house) to visit the selected neighbors whom they know well. Some of them have been there for 30 years or more, including the older woman who gives out little bags of homemade popcorn. For the last few years, my husband has also been taking our son around a small part of our neighborhood — lucky kid! I take on door duty while they do that. When he gets a little older, we'll probably stick to our own neighborhood.
Who stays home? Or do you leave out a bowl of candy and hope for the best?