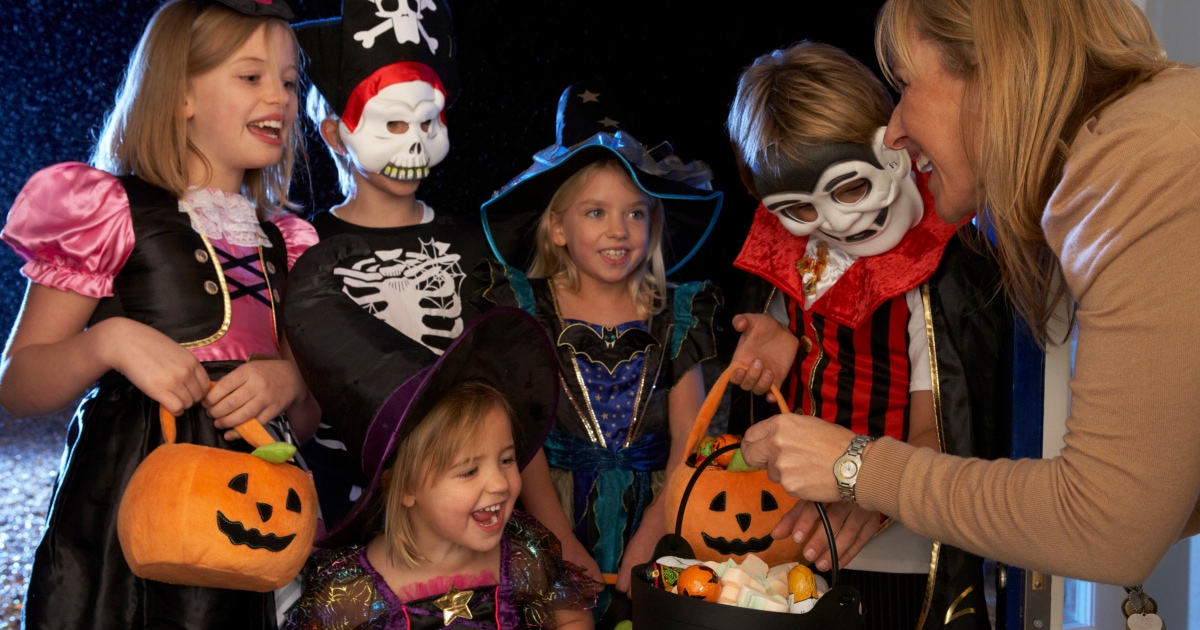 About 1 in 13 kids has been diagnosed with a food allergy, so if you'll be handing out candy tonight, it would be nice to have some allergy-friendly treats — either to give only to the trick-or-treaters with allergies, or to everyone. The most common allergens are milk, eggs, peanuts, tree nuts, wheat, soy, fish, and crustacean shellfish, meaning that lots of popular candy bars are off-limits. (OK, maybe you don't have to worry so much about the fish and shellfish.) Do you try to accommodate kids with allergies on Halloween? (Hey, no judgment if not!) Do you have a child with allergies who has to be careful during the holiday?
If you'd like to let trick-or-treaters and parents know that you will provide non-food items and allergy-acceptable food, you can print out a Teal Pumpkin Project sign and put it on your door. (If a child comes to your door with a blue pumpkin bucket, however, note that it may be the blue pumpkin for autism, which has generated debate — in theory, light teal is for kids with food allergies, while royal blue is for autistic kids.)
Want to offer an allergy-friendly Halloween treat, but forgot to buy any? Don't worry, we gotchu… so here are:
5 Allergy-Friendly Halloween Treats You Already Have (Probably)
1. Tootsie Pops and Dum Dums
Besides Tootsie Pops, all Tootsie candy is free of peanuts, tree nuts, and gluten, although some items contain milk. The company even has printable "peanut-free house" signs on its website. Dum Dum products that are packaged by the Spangler Candy Company (check the bag for the source), do not contain peanuts, tree nuts, milk, eggs, fish, shellfish, wheat, or gluten.
2. Applesauce and other fruit pouches
I don't think I'd ever give out pieces of fruit — say, oranges or apples — but pouches like this seem a bit more Halloween-adjacent, if not environmentally friendly. (By the way, here are some ways to have a more sustainable Halloween — the holiday produces a ton of waste, which I admit to never having thought about before, sadly.)
3. Fun pencils and erasers
At our house, we have many, many unused, un-sharpened pencils lying around. Some came from party favor bags, others came from teachers, and I think some must have spontaneously generated, because otherwise how did we get so many?! Though not quite as exciting as candy, pencils are a passable Halloween item. (By the way, why do so many of these pencils have erasers that don't actually work and instead leave a permanent smudge on your paper? REALLY, eraser, you had one job!) Speaking of erasers, those little ones that are shaped like food, etc., would be good to hand out, too.
4. Temporary tattoos
Halloween themes would be ideal, but any temporary tattoos would be a good allergy-safe option.
5. Miscellaneous party favors and/or things from Target's Dollar Spot
I'm sure you have some fun doodads lying around from Target impulse buys and past birthday parties and so on, so now's your chance to declutter all those random Floam toys, glow sticks, slime, PlayDoh, gel window clings, stress balls and squoosh characters, and more. (Although those are often Kat's "restaurant presents" to bribe kids into a allowing you a few moments of peace when you eat out with your kids. Also, did you know that Target's Dollar Spot has been rebranded as "Bullseye's Playground"? It makes me think of the '90s one-hit wonder Marcy Playground — and actually, the song "Sex and Candy" is somewhat Halloween-appropriate. Also, it was written at my alma mater. Here's to '90s nostalgia!)
What do you give out for Halloween, and do you keep any allergy-friendly treats on hand? Do you take your kids trick-or-treating while your spouse or partner stays home and takes candy distributing duties, or vice versa? Or do you both accompany your kids and simply leave out a bowl and hope for the best?
Stock photo: Deposit Photos/monkeybusiness.