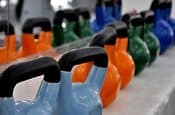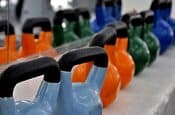 2018 Update: We still stand by these quick workouts for busy moms — but you may also want to check out our most recent discussion on the best free YouTube workouts for working moms. 
I was talking with someone last week about how moms have no time for working out, so I thought I'd round up a few of the methods that I've found over the past few years.  I still find it really, really (REALLY) hard to take the time for myself (and away from kids, my husband, my business… there always seems like a better way to spend the 20-60 minutes!), but this time around, postpartum, I'm forcing myself to take the time, both to regain my strength, be healthier for my family, exercise the crazies out, and, hey, lose some weight. I forgot how much better I feel — everywhere, in every way — when I work out, and I hope the benefit in my mood and energy, at least, helps the family.  SO! Without further ado, here's my list — readers, what do your workouts look like, post-kiddo(s) — when do you do 'em, what do you do?  Moms with older kids, was there ever a magical time when you felt you suddenly had time to workout? (Oh — and I only JUST tried this, but man it made a difference: if you wake up feeling exHAUSTED, try a bit of peanut butter or almond butter before bed — it stabilizes your blood sugar or some such so you get better sleep.)
(Psst: Still pregnant? Check out our discussion on prenatal exercise…)
Quick Workouts for Busy Moms If You Seriously Don't Have Time:
SuperMom app.  This iTunes app is actually designed to help you get a workout in when you're caring for your baby — squats to do during bathtime, etc.
Get Your Body Back.  Six minute workouts, people!  I find the instructor to be a bit grating, but I used this a lot with my first baby, when I wasn't quite sure how long he would stay asleep, etc.
Quick Workouts for Busy Moms If You Have 10-20 Minutes
(These short videos are particularly great if you're trying to get a bit of a cardio warmup before lifting weights.  After our recent discussion on Corporette, I've been doing the workouts prescribed in the New Rules of Lifting for Women and am really loving them thus far — and I've found the time required to be around 20 minutes for the workouts.)
Quick Workouts for Busy Moms If You Have 30 Minutes:
Ladies — what are your favorite quick workouts for busy moms, whether postpartum or otherwise?   How do you get your workouts in? 
Pictured: Kettlebell, originally uploaded to Flickr by Victor.