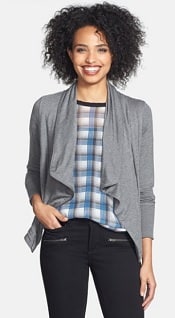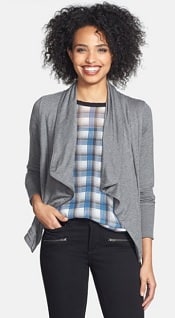 When my first son was born I got obsessed with a terrycloth cardigan from Old Navy. (How obsessed? I am sorry to tell you that, in what I hope was a bout of postpartum hormones, I wore it to my 35th birthday party). Anyhoo: I'm on the hunt for a new one, and I like this highly-rated drape neck zip cardigan from Caslon, available in both regular and petite sizes XS-XL. It comes in four colors (gray, black, a beige "morel," and a light green "olive grove") and I kind of want them all. It looks nice zipped up or not, and would be nice whether you're pregnant, nursing, in the sticky-fingers phase of momhood, or beyond. It's $68 at Nordstrom. Caslon Drape Neck Zip Cardigan
Psst: Here are two plus-size options: one with a shawl collar (terry) and one with a drape neck (not terry).
P.S.: Happy Rosh Hashanah!
P.P.S. If you're thinking, "Gosh, I wish Kat posted more expensive items," here's a $258 version of a terrycloth cardigan.