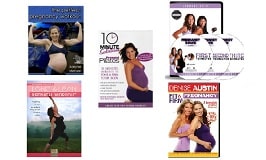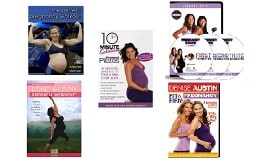 2018 Update: We still stand by these DVDs for prenatal exercise — but you may also want to check out our most recent discussion on the best free YouTube workouts for working moms. 
While pregnancy is not a time to obsess over your figure, prenatal exercise is great for both you and your baby.  In my humble opinion, you don't need to get too fancy with your pregnancy workouts — walking for 30-60 minutes a day is a great way to get exercise (wearing proper shoes and sun protection like a hat and maternity-friendly sunscreen, of course!); near the end you may want to swim.  (You may be that rockstar who can run up to week 38 — if so, good for you!)  For me personally, running was out of the question early on because breathlessness was one of my first pregnancy symptoms, and many of my favorite aerobics videos didn't seem best for every stage of pregnancy. (You can do them up to a point, but the American Pregnancy Association guidelines caution you to be wary of step aerobics or other exercises that challenge your balance, and in general avoid lying on your back for long periods of time.)  In my first pregnancy my solution was to get a ton of pregnancy DVDs, so I thought I'd give my $.02 on them.
The Perfect Pregnancy Workout Vol. 1. By far, this was my favorite video. Not only is Karyne a huge inspiration (the former Cirque du Soleil athlete is 30 weeks pregnant and looks amazingly fit and healthy) but the workout is a solid toning workout. I highly recommend.  (I did not try Volume 2 — yoga — but I did get Volume 3, on "the ancient art of belly dancing for labor".  I don't know how much it helped my labor pains, but it was a fun distraction. )
10 Minute Solution: Prenatal Pilates.  I was also a big fan of this one. While it has Pilates in the name, each 10-minute segment emphasizes a different muscle group. The programmable DVD allows you to create different custom workouts, which is also nice. Finally, the instructor (Lizbeth Garcia), while not my favorite, doesn't offend.
Pregnancy 3-Pack with Bonus Core Recovery, by Lindsay Brin.  This was the only new one that I got for my second pregnancy (I think I found it through a sale at Baby Steals) and, while I still preferred the top two DVDs when I wanted to do a DVD, I liked that these Brin DVDs were very customizable (you could program it to do cardio, toning, stretching, or all three) and were targeted for each trimester.  Brin herself seemed like a knowledgeable and easy to follow instructor.
Suzanne Bowen's Long and Lean Prenatal Workout. I only did this yoga video a few times because I attended a yoga class, but it seemed like a solid workout — much more toning and less stretching/posing than I normally think of as yoga. I did find that this video was a bit too intense for my final month of pregnancy, though.
Denise Austin: Fit & Firm Pregnancy. This one is kind of lame, to be honest. (But: I'm not a huge Austin fan to begin with.) The cardio is so, so simple, but it might work for you in those last, really uncomfortable weeks of pregnancy. I will also admit that this is the first workout video I tried to do postpartum — I thought it would be the gentlest. The DVD also comes with two 20-minute toning sessions (one for your second and your third trimester) — they're not bad, but they're nothing to write home about.
Readers, what is your plan of attack for exercise during this pregnancy? If this is your second child, what was your exercise experience like during your first pregnancy?