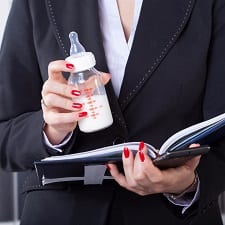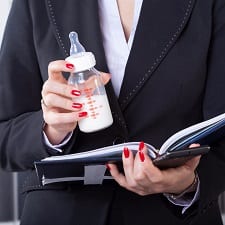 Something I've been meaning to do since starting our popular "Week in the Life of a Working Mom" series is to make it easier for you to find what you're looking for. So to that end, we've started adding more detailed tags to the posts, and we've got a much better category page. That way, if you want to read about, say, working moms with kids in daycare, you can easily find all of those posts. (We're hoping to create something far superior to simply searching for "daycare," which would bring up our regular advice posts on daycare, all posts in which we've used the word daycare, and comment threads containing the words daycare.)
When you click through to Week in the Life, you'll see all the tags laid out…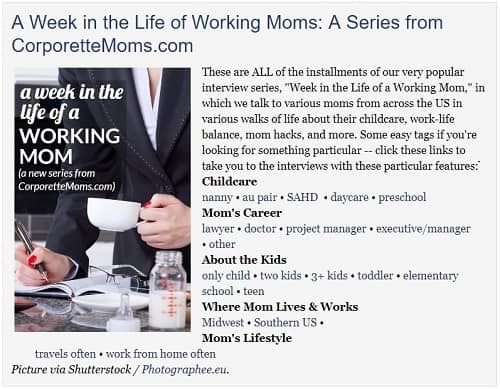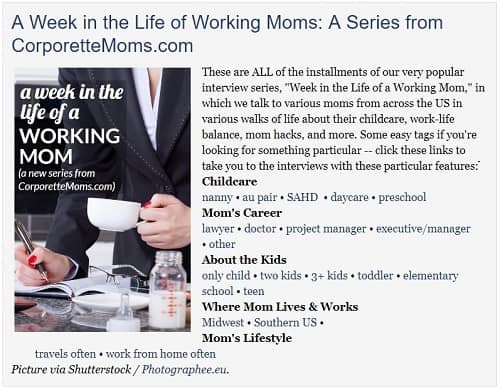 The main question is: What other kinds of factors would be interesting to you? For example, we've had a lot of lawyers and doctors so far, so those two career paths are separated out right now, and the debate we're having internally is how much we should break it down further, and by what categories. For example, the doctors we've heard from have very different schedules from the usual 9–5 workday, and their lifestyle choices reflect that. I've thought that if we get several moms with careers in STEM fields (outside of medicine), we might give them their own tag, because their personalities/interests tend to differ slightly from readers with BAs. What are your thoughts — what tags and other filters would be useful to you?
Thoughts we're still kicking around:
How valuable would it be to search by geographical location, and how could we categorize that? For example, a family in an apartment in NYC will be very different from a family in a big suburban house, whether that house is in New Jersey or New Mexico — but they'll also be pretty different from a family in an apartment almost anywhere else.
How much should we bring the partner's role into it? Obviously, it affects a mom's life if her partner is traveling all the time or is home with the kids, but it just feels a little odd to lay it out like that…
How much does age of kids matter? Is a mom to a baby very different from a mom to a toddler, or does the lifestyle difference really only matter if the kids are under 5 (because you pretty much need 9–5 care, at least) vs. 5–12 (when you still need someone home after school, but probably less than those first few years, the mom-as-chauffeur years (5–16?), and then the "dear God, college is coming" years (16+)? We're trying to be smart about it, but we want to hear your thoughts, too.
In general, what would you want to search for? Are there any other specific questions we should be asking of the moms nice enough to fill out our survey? (FWIW, we have more than 50 submissions right now, which is awesome — we're running one every other Thursday, so stay tuned for a fresh one later today.)
Stock photos via Shutterstock / Photographee.eu.