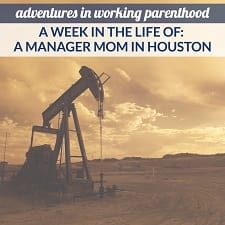 For this week's installment of our Week in the Life of a Working Mom series, I'm happy to introduce CorporetteMoms reader Kristine, who lives in Houston with her husband and two kids and works as an IT portfolio manager. Our usual caveat applies: Please remember that this is is a real person who has feelings and isn't gaining anything from this, unlike your usual friendly (soul-deadened, thick-skinned, coldhearted, money-grubbing) blogger — so please be kind with any comments. Thank you! – Kat
If you'd like to be featured (anonymously or otherwise), please fill out this form! You can see all posts in this series here.
First, Some Basics About This Working Mom…
Name: Kristine
Lives: In not-quite-the-burbs west Houston. Work in Downtown.
Job: IT Portfolio Manager for an Oil & Gas Supermajor
Age: 33, almost 34
Home Situation:
I live in a 2,200-square-foot, 1960s ranch-style home (3-bedroom, 2-bathroom) with my spouse and our two kids. My husband is also almost 34 years old (we are high school sweethearts), and he works at a smaller multi-national oil company where he is a Team Leader. Child #1 is a girl, is almost 3, has multiple severe food allergies, already wears glasses, and whose personality is my mini-me. Child #2 is 16 months younger, is an 18-month-old boy, has some food intolerances, and is otherwise a pretty typical boy who loves his momma.
Childcare Situation: My mom watches them Monday to Thursday. My husband and I work 80 hours within 9 days so we alternate Fridays off.
Because Kristine lives in Houston, which is still recovering from Hurricane Harvey, she wanted to include the following in her post, which she had written before the storm: 
As many of you know, Harvey hit the Greater Houston area as well as much of the Gulf Coast with unprecedented amounts of rain. At least nine trillion gallons of rain hit the area. That's enough water to fill the entire Great Salt Lake twice. In urban terms, that's enough water to fill 33,906 Empire State Buildings from basement to penthouse.

My family and I are safe. We are dry. We are lucky. Many Houstonians, about 1.6 million, are not okay and have been affected by flooding. There are plenty of pictures and video footage on the Internet of the devastation, but nothing can prepare you to see it firsthand. Some of my friends have lost every material possession and are starting from scratch. However, while the waters may have wrecked houses, Houston has rallied. I have never seen Houston culture shine so bright. Neighbors and strangers loving one another and helping in a great time of need — regardless of political party, race, religion, sexuality. If you want to be #houstonstrong too, here are some of my favorite nonprofits supporting the Houston recovery:
A Week in My Life
Sunday
6:20 a.m. Wake-up for little guy. Discover inventory management fail in fridge: carton of rice milk with only drops left. Cuddles in bed with both kids. We eventually get out of bed and I turn on Daniel Tiger to keep the peace whilst I get breakfast ready, start chores, get ready for church, and husband runs out to the store to get rice milk. I forget to tell him about the incoming Instacart order so he ends up returning with a few bags of groceries (whoops) AND manna from heaven — in Houston, it's also known as kolaches from Shipley's Donuts.
9:00 a.m. The girl and I go to church in matching outfits and look pretty cute, if I do say so myself. The boys stay home, and receive and put away the Instacart order. When we get home, I continue my weekend project of the seasonal clothes switch-out and purge. Start posting for-sale items on a local buy-sell-trade Facebook group.
11:00 a.m. Reply to a nastygram we mistakenly receive from our homeowner's association re: lawn clippings. We go out to eat in Chinatown and bring home leftovers/takeout so that the kids have lunch for Monday. We sing "For the First Time in Forever" from Frozen for the 230928234th time.
1:30 p.m. Naps for everybody when we get home; mine was 10 minutes. Continue chores: I do laundry/clothes purge; husband folds whilst watching NBA playoffs. In-laws come over and play with kids when they wake from nap.
5:30 p.m. We quickly realize that it's dinnertime so we all go out to eat. We sit on the patio to maintain some level of good behavior but deal with the intermittent toss of small plates and silverware thrown on the ground. In-laws pick up the tab (THANKS).
7:00 p.m. Baths and bedtime go off without a hitch. Husband and I spend some time independently on phones. He continues to fold, I voluntarily submit myself to torture — aka julienning green beans for Monday night meal prep. In bed around 10:30.
Monday
5:45 a.m. Wake up after hitting snooze once. Realize that I forgot to wash the cloth diapers and make allergy-free muffins for the kids, so I start that. The girl wakes up and helps me make muffins. Husband wakes around 6:40 to get ready for work. We like to stagger our start so that my mom doesn't have to be with the kids as long as if we both went to work at the same time. Today, husband has the earlier start and I have a later start since I planned on going to a work happy hour. I leave when my mom arrives and sit in traffic that I don't normally experience. 8:15 I'm finally at my desk and end up forgetting about breakfast and coffee since I'm not used to the late start.
10:55 a.m. Whilst facilitating my team meeting, I get a text from my dad. He asks for husband or me to go home to relieve my mom since she's sick and didn't feel comfortable asking for a day off. Husband and I agree for me to go home and also use the family care benefit that my company provides. Meeting ends, I order lunch from Chipotle for pick-up on the way home, rush out of the office.
1:00 a.m. I park around the corner of my house to finish my burrito bowl in peace. Once I get home, kids are napping, and I let my mom know she can take Tuesday off too (since it looked like she needed the rest). She obliges and heads home. When the kids wake up from nap, I have the idea of the century to take them to IKEA by myself. They wreck the place and leave a trail of snacks. I consider that my cardio for the week. Mission accomplished: bought bedding for the little one. But, also purchased a ton of stuff I don't need.
5:00 p.m. I prepare dinner, and the kids decide the best place to play is within the 1-ft. radius of my legs. Never mind that we have 2,199 other square feet for them to play in. Dinner is made. Their dad gets home earlier than usual and we eat dinner together. Sometime in there, husband turns to me and says, "I guess you're missing your happy hour." Yup. A friend of mine texts me and gets us tickets to an event where Sheryl Sandberg will make an appearance.
7:30 p.m. Kids go to bed early. Husband cleans up kitchen. I head out to buy something off of the buy-sell-trade group in preparation for a baby shower that I'm hosting in June.
I'm in bed around 10:45.
Tuesday
5:30 a.m. Alarm and I'm out the door by 6:10. Commute is a breeze. I do my usual 5-minute makeup routine after parking in the garage whilst listening to NPR. At home, my mom is out sick; husband took the morning to watch kids.
11:00 a.m. I try to regularly contribute to a local moms blog but life has gotten in the way. I texted a creative mom friend and asked her if she's interested in guest blogging to help backfill my (free) contribution to the blog. I head home after a noon dentist appointment. I grab a $3 Vietnamese sandwich and coffee at my favorite downtown-area cafe and eat while I drive home.
2:00 p.m. While I'm at home, I'm missing the demo for the project I've been managing, so I'm bummed. I work on some slides until the kids wake up. I take them to Target and by some sort of miracle, I don't buy anything, and we head over to the mall indoor playground. We have to stay indoors all week since sister bear has to avoid antihistamines in preparation for her allergist visit in a few days. With seasonal allergies, this is a nearly impossible task. We already had to reschedule once.
5:00 p.m. Their dad won't be home until late since he's going to a Houston Rockets playoff game. We eat leftovers, have a marathon of a bedtime routine where the kids had an infinite loop of sweetness — they kept hugging and kissing each other … MWAH sound and everything. They finally get to bed, I clean up the kitchen, and I text my friend to coordinate a playdate for the weekend. I try on the clothes I ordered via Banana Republic from their recent spring sale and decide to keep them all, including the on-trend, high-waisted, straight-cut jeans … aka MOM JEANS. I wind down for bed and also coordinate more logistics for buy-sell-trade.
Wednesday
I leave early per usual and am at my desk by about 6:35. I'm overwhelmed at how behind I am with my work. Nothing pressing, but I had a workplan and it's now thrown off … but … hashtag life. At home, my mom comes over to pick up the boy to take him to her house, while my husband takes the girl to the ophthalmologist. After the appointment, he drops her off at my mom's and goes back home for the exterminator appointment and the house is sprayed. I had found a tick on the floor in our bedroom the previous week. GROSS.
11:00 a.m. My mom texts a picture of my youngest one hanging out at her house in the hammock. *heart eye emojis* I buy lunch at the downstairs cafeteria.
3:00 p.m. Towards the end of the work day, I meet up with my mentor and we have a somewhat depressing conversation. We talk about my career aspirations, and in that process, we relive some of the unfortunate circumstances we both experienced in the two recent rounds of layoffs that we both survived. (The first layoff happened whilst on maternity leave; the second whilst pregnant and on bedrest.) She also challenged my career plan and suggested that I may have to push pause on my ambition in order to allow for flexibility, given all of the medical issues I have to manage for my daughter. She is a very successful (general) manager at my company and also has three kids. A lot of parallels in her history compare to mine so I respect and admire her a lot. I go back home with a deflated spirit.
4:30 p.m. I stop by Target since I agreed to meet someone there to sell some of my son's old clothes. She no-shows but not all is lost because I buy a shirt that says, "Slay All Day." This resonates with my Beyonce-loving heart. The husband beats me home today and the kids have already been fed dinner by the time I get home.
8:00 p.m. Husband and I have takeout for dinner after they go to bed. I debrief him on my mentoring session and we both rehash the conclusion that we've formed many times before — that having two children and two maternity leaves has most definitely hindered my career progression. The effect has been compounded due to the downturn in oil. I remind myself that determination of success is not exclusive of my career. I later fall asleep on the couch so husband cleans up the kitchen.
Thursday
The morning goes as usual with PowerPoint presentations, meetings, emails. Husband texts and tells me that our daughter woke up singing "Reflection" from Mulan at the top of her lungs.
12:00 p.m. I sneak away at lunch to get a haircut since I hadn't gotten one since November. While waiting, I text a friend a link to a suggested itinerary for an upcoming girls' trip to Mexico City. I also tell her about how impressive Uniqlo seamless undies are and how they hold up better than the Calvin Klein ones. We have this long-standing quest to find the perfect non-thong underwear because heaven forbid that we have visible panty lines.
1:00 p.m. After the haircut, I grab another $3 Vietnamese sandwich and coffee from the same cafe I visited two days earlier, but don't have time to eat it. I head to the work-sponsored onsite occupational therapy to prevent further discomfort or injury to my forearms/wrists. I finally make it back to my desk and eat my lunch.
4:00 p.m. My mom sends me a picture of my 1.5-yr-old son sitting on the potty and the text says, "He did it! Called then peed." I had every intention to stay later to make up for my lunchtime haircut, but then the men's bathroom floods ¼ of the floor and it STINKS, so we all head home. I get home and the kids have already eaten dinner, so we just play before I make dinner for the adults. It's a normal evening routine of kids' bedtime, husband tidies up the kitchen, and the adults hang out. Mainly, we sit next to each other, have intermittent conversations, and we independently read on our phones. I read some sort of a mix of news and lifestyle. He reads about sports or plays Clash Royale.
Friday
6:00 a.m. I already knew that I would be working remotely after the flooding that happened at the office, so I got to sleep an extra 30 minutes. I start catching up on work … until the kids wake up, somehow sense that Momma is home, and come into the office/playroom. They take turns sitting in my lap. In the background, husband is getting himself and the kids ready for the day.
10:00 a.m. Husband and I take daughter to her long awaited allergist visit while the father-in-law watches the younger one. This is a follow-up to the ambulance ride and ER visit we had recently due to anaphylaxis. I get a quote that the visit + testing will cost over $900 after insurance, and then we spend a couple of hours at the hospital.
12:30 We, the parents, pick-up Chick-Fil-A for lunch, and the kids have allergy-free soup made by my mother-in-law at home. Father-in-law leaves, everyone goes down for nap, I lie down for about 15 minutes, then resume work from home. I receive an email from the Society of Women Engineers notifying me that my topic was accepted for their worldwide conference in the fall. I'm honored since my submission was 1 out of nearly 1,200 applicants. The kids wake and husband plays with them outside.
5:00 p.m. I don't feel like cooking so we head out to Chinatown again. All the while, I'm scolding myself in my head for eating out so much this week. We have dinner, play basketball on our driveway, then head inside for bath and bedtime.
8:30 p.m. We straighten up the house since husband is having friends over for board games, and I know that the cleaning lady is coming on Monday. Might as well get a head start. Once they come over, I continue working and stop for a glass of wine. My friend, whom I texted about Mexico City, comes over for a few minutes to hang out and drop off the Foreo facial cleaning device that she ordered with her Sephora VIB discount on my behalf. Shortly before 11:00, I shower and go to bed whilst husband continues game night with his friends.
Kristine elaborated on her kids' health issues and how they affect her career: 
I do everything in my power to avoid being "mommy tracked," while also rocking the mommy thing. I have to keep myself competitive since the price of oil is not expected to rise anytime soon and I can just smell another round of layoffs around the corner. Whether it's "right" or not, something with my approach is working, as I had a great mid-year performance review and I was placed in a new position that they created for me. However, I had to provide the commentary that I was able to perform above average relative to my peers whilst dealing with a slew of kids' medical issues. There was a period of six weeks in the spring where I was in and out of the hospital or doctor's office dealing with one medical emergency or issue after another. It would have been worse if my husband and I didn't share the responsibility. It would also be worse if my kids were in daycare, as they would get sick more often than they do now. Despite those circumstances, I made it a point to honor my commitments and deadlines at work while still managing the medical issues at home. That meant logging in late or early in the morning when the children were in bed in order to meet a deadline.
Saturday
6:00 a.m. We do morning cuddles. Then we head over to the donut shop that we frequent because they make vegan donuts — safe for both of my kids. On the way back, we stop by Walmart to pick up a photo order that I had submitted earlier in the morning and also buy a wooden picture frame. When we get home, sister bear paints the picture frame, which will be a crafted birthday gift for my mom.
10:30 a.m. We all head over to my mom's house to give the kids' grandma her birthday gift. The kids play with their grandparents, then the four of us head out to eat out (again) for lunch.
4:00 p.m. After nap, we head to a friend's house in the suburbs for a playdate. Our two families have dinner out (AGAIN!) together and my in-laws also join us. By the time we finish our usual bedtime routine, the kids are in bed late at 9:00 p.m. Husband and I watch an episode of Grey's Anatomy on Hulu before going to bed.
Here's what Kristine added about playdates as a working mom: 
Right now, scheduling playdates is relatively easy since my kids' playdates are conditional on whether I am friends with the mother. I tend to be friends with moms who either work outside of the home themselves or they were in the workforce at one point and understand that Tuesdays at 10:00 a.m. are just out of the question. It also helps if the husbands involved are friends so that we can make it a family affair — it's all about scaling our time! The playdates may be scheduled a few weeks out in advance, but we make it work! Plus, I don't have to worry about scheduling around extracurricular activities. We're trying to keep life as simple as possible as long as we can. They can be overscheduled when they are older.
Thanks so much to Kristine for sharing a bit of her life as a working mom! Readers, what's your biggest takeaway from her week of work as an IT portfolio manager, as well as her general work/life balance?