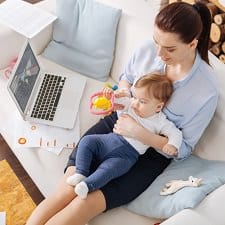 Have you seen the recent Wall Street Journal article called "Working Women Often Underestimate Motherhood Costs"? It reports on a recent study, "The Mommy Effect," which found that many women have unrealistic views of what it's like to be a working mom. The researchers say that women underestimate the time, money, and effort it will require — from childcare costs to the pressure to breastfeed — and are too optimistic about how their careers will fare. (Not surprisingly, this often leads to them leaving the workforce.) Let's discuss it today: Did The Mommy Effect study resonate with you? Do you think you had unrealistic views of what it would be like to be a working mother? On the flip side, do you feel like you were too pessimistic about being a working mom before you became one?
Psst: you may want to check out some of our previous discussions on career changes after baby and work-life balance advice to your pre-mom self.
Here are a couple of key passages from the article so that we can discuss (note that the WSJ is subscription-only), or you can take a look at the full study:
"When asked in a U.S. government survey, 60% of women with bachelor's degrees and children under the age of 6 agreed with the statement that 'being a parent is harder than I thought it would be.' Fewer than 40% of men with college degrees and children under age 6 agreed."
"Since around 1990, they found about 2% of 18-year-old women who participate in a University of Michigan survey of young Americans' attitudes and values said they expect to be stay-at-home mothers at the age of 30. Yet 15% to 18% of American women become homemakers by age 30, suggesting that many expected to combine work and motherhood and then reversed course."
You'll find plenty of mansplaining in the comments on the article (but, yes, #notallmen), as well as attacks on millennials and "the feminist agenda," but some moms have written comments about things like questioning the effort you're putting into your job when you've already been mommytracked, and wondering why many companies are still so inflexible with employees' schedules. What are your thoughts?
Do you agree with the findings of The Mommy Effect study? What surprised you most about the physical, emotional, financial, or other costs of being a working mom? Do you agree or disagree with the statement from the survey that "being a parent is harder than I thought it would be"? Since having kids, have you made career adjustments that you didn't expect (either by choice or not)? What advice would you give your pre-mom self about these issues?
Stock photo: Deposit Photos / yacobchuk1.
Further Reading: