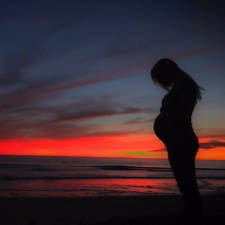 2018 Update: We still love all the advice on work-life balance in this post — but you may also want to check out our more recent discussion on The Mommy Effect study and whether working moms underestimated the trials and tribulations of working motherhood. 
Over at Corporette, we recently rounded up some of the top advice readers have shared over the years for women wondering about getting pregnant — the planner's guide to TTC, if you will. But moms, here's the question for YOU today: What would you tell your younger, pre-kid self if you could? Is there any other major advice you'd impart to someone who wanted to get pregnant? Would you make any serious changes in your life, either on the family side or the career side, if you could? What's your best advice on work-life balance, as a working mom, to your pre-mom self? 
I keep seeing stories like this one and this one where working moms talk about how they were total jerks to their parent coworkers before they had kids, and NOW they get it — why a 4:45 meeting is a bad idea, why you're not lazy or antisocial if you don't want to come out for drinks after work, why occasionally your family is more important. On the flip side, I've seen many comments from younger readers who are annoyed at all the work/life balance advice at conferences — they don't think it's helpful, they don't think it'll apply to them, they don't understand why we constantly complain about it. I also see articles like this one and this one about how women are annoyed when they're asked about work-life balance as moms. I understand their point if we're talking about a situation in which there are, say, five parents on a panel and the men are all asked about their backgrounds and work while the only person asked about work/life balance is the mom — BUT, as someone who struggles with work/life balance, I wish it were talked about MORE, among all parents.
SO: What would you tell your pre-mom self about work/life balance, if you could? What do you wish you had known before you decided to get pregnant? In general, what's your best advice for work-life balance from a working mom perspective?
Picture credit: Pixabay.