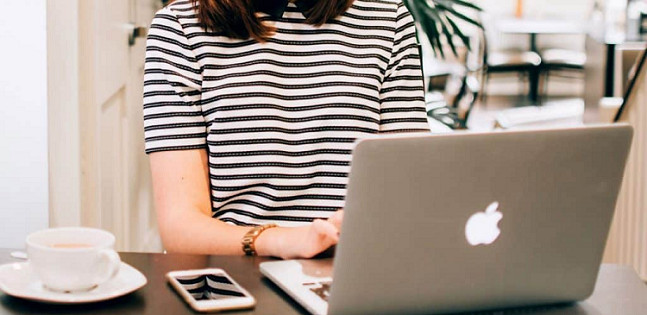 One of the big flexible work arrangements a lot of parents push for (particularly when they have little kids) is reduced face time and the ability to work from home some of the time. So I was interested a while ago when Corporette readers started talking about things they hate when coworkers work from home as well as the WFH culture in general. As always, it was an unfiltered look at a problem and might have some good clues as to what you can do to make a work-from-home arrangement go more smoothly — as well as mistakes to avoid when working from home. (TONS of people in federal offices wrote in particularly to discuss the WFH culture at their offices.) So let's discuss, ladies: For those of you who work from home on a regular or semi-regular basis, have you adopted any standard operating practices that you think makes the arrangement a success? If you've had to fight your boss on this kind of arrangement, what kind of hurdles did you need to overcome? What have you learned to avoid when working from home?
How to Make Working from Home Work For Your Boss
Be totally available by phone/email during the regular business hours you've agreed to (and communicate clearly when you won't be available during regular working hours), including forwarding your work phone to your cell phone (or your landline to your cell phone, or whatnot). Readers on the main site seemed to have big issues with a theoretical "midday yoga class," but it's worth noting that we've talked about midday workouts and lunch workouts over there a lot.
Plan face time — if you're in the office once a week, make sure you see everyone to check in.
Realistically gauge your own work quantity and quality — if you're low on work or taking too long to do it, you may need to police yourself before your boss does.
Set up a real home office so you can be as productive as possible.
Mistakes to Avoid when Working From Home
Letting business relationships fall by the wayside, from your relationship with colleagues to your network to mentors to sponsors.
Not growing enough in your profession — I recently heard a speech about how most women "fail" in their careers at least once because they turn into one-trick ponies, and I think it's doubly hard to push for new skills or "growth" work you're not ready for if you're off people's radars.
This is pretty basic, but: trying to mix "working from home" with "stay at home parenting" if you have little kids.
Blurring the boundaries! Work-life boundaries are really hard, both for you and your coworkers — particularly since you're not going to/leaving an office, particularly since most parents I know (whether they WFH or not) end up answering work emails in the wee hours of the morning when their kids make them get up (or before their kids are up).

2020 Update: Pictured above, some of the best office chairs for working from home: brown / white & purple / black / blue / black — don't forget a floor mat!
How about you, readers? Do you work from home regularly? What are your best tips for being productive and having a fruitful career while working from home — and what are the mistakes to avoid when working from home?
Psst: We've also talked about homing from work over on Corporette.
This post contains affiliate links and Corporette® may earn commissions for purchases made through links in this post. For more details see here. Thank you so much for your support!
Picture via Stencil.