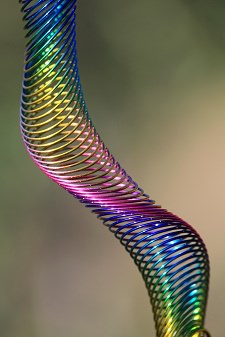 Are you familiar with all the types of flexible work arrangements? Have you thought about asking for one, either because you're currently pregnant and thinking about your return to work after maternity leave, or because you've returned to your regular schedule after having your baby and want to try something different? We've put together a quick reference guide to the six common types of flexible work arrangements — and we also have some awesome upcoming posts from one of Kat's friends who's had a very successful career mainly with reduced hours / part-time work. (Ladies who have one of the other types of flexible work arrangements, would you consider guest posting or being interviewed? We'd love to hear from everyone!)
(Pictured: Boing!, originally uploaded to Flickr by GollyGforce.)
The six main types of flexible work arrangements are:
Flextime / Alternative Work Schedule
In this popular option, a company allows an employee to adjust her work schedule without changing the total number of hours worked. For example, she might work 7-4 rather than 8-5. Her schedule may be the same each weekday, or it may vary.
Part-Time Work
An employee works a schedule with less than full-time hours, either with pro-rated benefits, reduced benefits, or zero benefits.
Job Sharing
Two employees split the hours, duties, salary, and benefits for a single full-time position with or without overlapping schedules. Each one typically works 20 hours.
Compressed Work Week
Instead of working 35-40 hours a week Monday through Friday, an employee comes to the office 4 days a week at 10 hours each, or 3 days a week at 12 hours each, for example.
Telecommuting / Remote Work / Flexplace
An employee is permitted to work offsite, either for a certain number of hours or days a week, or 100% of the time.
Results-Oriented Work Environment (ROWE)
The ROWE approach emphasizes an employee's productivity rather than a specific number of hours or a particular schedule. As long as she completes the required work and produces acceptable results, the total number of hours worked isn't important.
Ladies, which type of flexible work arrangement seems most attractive and conducive to a great working relationship on both sides? Those of you who've negotiated one of the types of flexible work arrangements, or who've worked a type of flexible work arrangement, what are your best tips for success for other working moms?
Further reading: