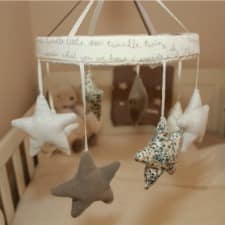 When you're pregnant, it can be overwhelming just thinking about all the stuff you'll have to buy and get ready — but thankfully, parents can find plenty of ways to save money on baby gear. Before you run out to start your registry at a baby gear superstore like
Babies "R" Us
or
Buy Buy Baby
 — or before you click over to 
Amazon
— do your research and think about what you'll really need. If there's something that you won't use right away (i.e., something for an older baby, not a newborn), consider putting off the purchase until you know whether it's really necessary. To complement our 
baby registry series
, we thought we'd gather some money-saving tips for new parents and parents-to-be. Please add your own in the comments! 
What are your favorite ways to save money on baby gear? Did you (or will you) set a budget for pre-baby purchases or just play it by ear?
Check out baby-related deals and freebies
Visit these sites for tips on how to save money on baby gear, including one-time deals:
Know when to buy new and when to buy used
Of course, it's great to save money on baby gear by going to garage sales, using Craigslist, and accepting hand-me-downs, but be careful: Some things can be dangerous if you or your baby aren't the first ones to use them. If you buy used clothing, toys, or other baby items,
check past recalls
 and be aware of recent safety regulations regarding 
drop-side cribs
 and 
pre-2013 play yards
, for example. Here are some general guidelines:
Things that are fine to buy used: baby clothes, books, toys, changing table, high chair, baby gym, furniture (gliders, dressers, etc.), baby bathtub
Things that may be OK to buy used: crib, playpen, stroller, baby carrier, bouncer/rocker
Things that are best to buy brand-new: car seat, breast pump, crib mattress, bottles and other feeding items, bath toys (prone to mold)
Don't assume that you'll need everything
Sure, it's exciting to buy stuff for your baby's nursery and start collecting cute outfits, but try not to splurge on a particular item just because your mom friend just got it, or the baby store has it, or a parenting magazine raves about it. A great way to determine whether an item is necessary or simply a nice extra is to check out
Baby Bargains
 by Denise and Alan Fields (a book we've 
recommended before
). To save money on baby gear, start with these suggestions to help you determine what's essential and what's optional — or just a waste of money. (This is not an exhaustive list, but it's a good starting point!)
What to do with the money you've saved 
Consider setting up a
529 Plan
 for college tuition
right away (and also consider mentioning it to grandparents!) and at least put a little money in it regularly. You should also start a
dependent care FSA with your employer so that you can pay for
childcare costs
with pre-tax dollars.
Moms-to-be and new moms: What did you skip and what did you splurge on when preparing for baby? What advice did you get from mom friends about which baby gear items aren't necessary? Did you buy anything that you later realized you didn't really need? Did you 
not buy something that you later missed? 
Further Reading:
Pictured: Pixabay