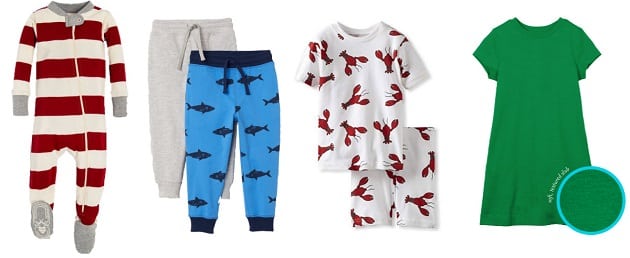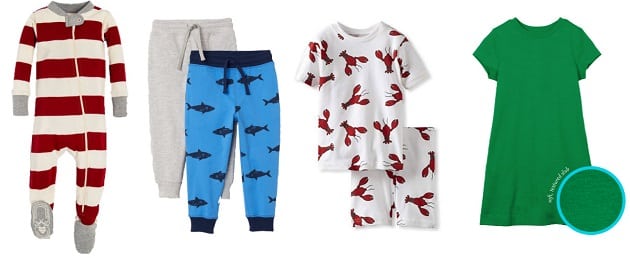 I haven't written before at length about eczema and kids, in part because once we finally (FINALLY) got my son's eczema under control, I didn't want to "jinx" it by doing the blogger "ho ho I have the solution!" tap dance thing. BUT: one of my kids suffered from it (so. many. angry. itchy. rashes), and after a lot of trial and error we finally did get it under control. Every rash is different, I'm sure, but if you're on the hunt for ideas — particularly on how to find eczema-friendly clothing for kids — here is what finally worked for us.

This post contains affiliate links and CorporetteMoms may earn commissions for purchases made through links in this post. For more details see here. Thank you so much for your support!
Pictured at top: organic cotton clothing: pajamas / joggers / dress / footed sleeper
For us, the rash was in its angriest form for about a full year. We saw a million different doctors before my son was given a diagnosis of eczema. We could get the rash to calm down with hydrocortisone cream (and calm the itching with Benadryl), but as soon as we stopped, it came back. His pediatric dermatologist told us not to go crazy trying different creams, suggested we use CeraVe or plain unscented Vaseline, and filled us up for a hydrocortisone prescription.
Eczema Tip #1: Be Smart about Lotions and Bathtime
CeraVe and Vaseline. We put one or the other on his eczema areas morning and night, regardless of whether he has a rash or not. (The main areas where he seems rash-prone are behind his knees and on his upper thighs/groin area.) Before we were using Aquaphor, which contains lanolin, which for some kids can be a trigger. The Vaseline protects the area a bit more from wetness and things like that, while the CeraVe absorbs and moisturizes. I don't believe his bath stuff was problematic — throughout this whole ordeal we were mostly using Aveeno's Oatmeal Bath! — but we've also started using CeraVe baby bath, and we've also bought Eczema Pods (pricey but the kids love throwing them in!).
Eczema Tip #2: Find Eczema-Friendly Clothing for Kids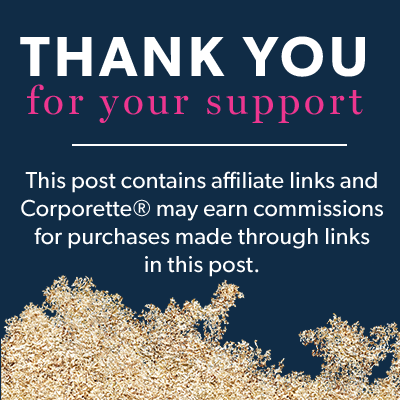 I found one blog post about how organic cotton undies and pajamas can be helpful, and decided I'd spend enough money that we could try it for a week. (Before this, he'd been wearing a lot of undies from Carter's, Old Navy, and the comfort-band undies from Hanes.) I bought a six-pack of undies and two organic cotton jammies, figuring we could just do the wash every other day. If I had to bet what's had the biggest effect, I'd guess it was this. Organic cotton clothing for kids is incredibly difficult to find, so here's the list of affordable places I've bought: Hanna Andersson (watch for sales), H&M's Conscious line (undies and clothes, but may be only 95% organic cotton), Burt's Bees Baby (undies, undershirts, and pants up to size 7! — get them at Amazon, Target, Kohl's), a really affordable line at Amazon called New Jammies — and amazingly, my mother just saw some organic cotton pajama sets up to size 12 at Costco (Kirkland brand) for $11.95 (sporadically available online). A friend noted she sometimes finds good deals on organic cotton items at Zulily, but I tend to use it more as a discovery tool — I usually find the best prices on things at Amazon. I haven't tried bamboo, but that's something else that's supposedly friendly to eczema sufferers — two brands I've been eyeing are Simply Life (undies) and KicKee (jammies, pants, and more). Garnet Hill also has an organic clothing shop online with lots of girl clothes, and Primary Clothing's whole line is OEKO-Tex Standard 100 certified. (Here's a less than stellar link to Ettitude explaining the difference between OEKO-TEX and organic certifications.)
Eczema Tip #3: Prioritize Sleep.
I used to despair because itching and eczema is such a crazy cycle. If you look at it one way, the itching would keep him up too much at night and he would be sleep-deprived so much that the next day his willpower to NOT itch would be reduced — and his body wasn't getting the rest it needed so it couldn't heal the eczema. If you look at it another way, anxiety is sometimes a trigger for eczema, and being sleep-deprived certainly makes me more anxious. I'm always protective of sleep for my boys, but when I started seeing connections between eczema, lack of sleep, and ADHD, I decided to get a bit drastic, and we got him a weighted blanket from The Magic Blanket. (Here's a nice Forbes article on what they do for kids.) It was expensive ($160 with tax and shipping) and I had no idea if it would work — but dang if the kiddo doesn't sleep better with it, and settle so, so, SO much easier with it. If we can get the blanket on just his legs, for even a minute, he calms down, even if he was jumping on the bed a minute earlier. Admittedly, he seems to wet his bed sometimes when he didn't before — but he's 4.5, so at this point I'm just taking it as par for the course.
I will freely admit that it's entirely possible my son's eczema was triggered by anxiety more than anything, and he just needed to settle into his school routine and get a better hang of potty training (we had a rough go with it, which I won't go into here) — and once that was done the eczema went away by itself. Another working theory we have is that possibly Play-Doh was contributing to his rash. Since we started this schedule in early December, he's only had one rash, and the only thing we could think that we'd done differently that day was that he was playing with Play-Doh. (When the rash started, he was HUGELY into Play-Doh, and while we'd often make it from scratch, at that point I had bought him most of the Chuck & Friends Play-Doh set, where each toy came with several jars of Play-Doh, which he obsessively played with.) He wasn't playing with Play-Doh much in the fall, though — and at his school they make their own — so at this point it's just a suspected sensitivity.
Another thing I'll note for other eczema parents is that there are other routes that I didn't go down because my son's rash went away. I haven't tried soap nuts (here's Hellobee's post on soap nuts) instead of washing detergent (we use Seventh Generation Free and Clear) or wet wraps or bleach baths (although I was ready to try salt baths after the Florida trip!), to say nothing of an elimination diet.
Ladies, do you have any experience with eczema? Do you have any tips on how to find eczema-friendly clothing for kids, or any other eczema tips to share?  It seems like a growing problem  so I thought I'd post my own experience here…