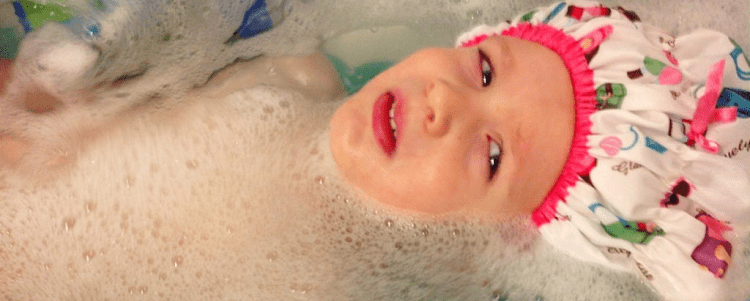 I was thinking the other day about all the various things we've done over the years to level up bath time for kids… have you tried all of these? Readers, do share — what are your favorite bath toys, bubble baths, and other ways to level up bath time for kids?
Stay tuned for some of our favorite products for bathtime!
My Favorite Tricks to Level-Up Bathtime
Fill a tub, crack 10-15 glowsticks (let your kiddo wave them around to make them glow), put the glowsticks in the tub, and then turn off the lights. Your kiddo now gets to take a really cool glowing bath. Don't cut them open or anything, just crack them. You can add bubble bath or whatever else you normally want to; if you want to light a candle and put it out of reach of the kiddo it adds a nice flickering element.
Nothing too crazy here -- just a bubble bath is always nice. If you have a kiddo with sensitive skin or eczema problems, it can be difficult to find a good sensitive bubble bath -- we liked these Bubble Podz when my eldest was suffering. Mr. Bubble also has an extra gentle bubble bath.
(NOT a bubble bath, but also a product I'd recommend if you've got a child with sensitive skin -- we had boxes and boxes of the Aveeno Oatmeal bath. Can be fun to combine with a glow stick bath!)
My kids have always loved these -- you throw 8-10 tablets into a tub of water and they fizz and turn into floaty streams of color. With younger kids you can teach color combinations also. We've mostly bought these color tablets, but we also like the Sesame Street ones. (Amazon has a lot of other options!)
We actually PREFER these to bath bombs, although my sons are always excited when they get a bath bomb in their stockings or whatever -- these are generally more affordable and you don't have to fight with the plastic packaging before you put them in.
Once you start down this road, there is also bath foam (an upgrade from the shaving-cream-in-the-bath ideas on Pinterest, because it's actually soap) and bath slime (I recommend Slime Baff over Crayola Bath Slime, but I found Slime Baff super cheap -- it turns the entire tub of water into slime.
We've never gotten a ton of use out of the bath crayons and the like that we've bought.
There are a TON of toys to buy for the bath, and a lot of them stink. The squishy figurines get water trapped inside and get DISGUSTING, and the foam numbers and letters are cute, but for some reason my kids wanted to chew on them more than spell. (Go figure.) Our preferred toys are things like this light-up whale (it squirts water) or this robotic goldfish; we also had a glowing donut that my eldest adored that I can't find a link for.
My MIL started our collection of Green Toys (they're made from eco-friendly, 100% recycled plastic), and my kiddos both LOVED them. Because the toys have no metal pieces and are all plastic, they actually make great bath toys. (Pro tip: you can often find these on great discounts at TJ Maxx and Marshalls!)
My final suggestion is that if your kiddo has a head cold (particularly the babies who hate the snot sucker), VAPOR BATHS are your friend. The bubble bath's scent is designed to make your sinuses open and your nose run -- the steam also helps. We've used these Frida bath bombs, as well as the Johnson's vapor bath. (The steam also helps your kiddo.)
Readers, I'd love to hear your favorites! What are your favorite bath toys, bubble baths, and other ways to level up bath time for kids?
This is a lousy picture (super grainy), but here's a very young J in a glow stick bath… no, you shouldn't probably let the kids chew on them…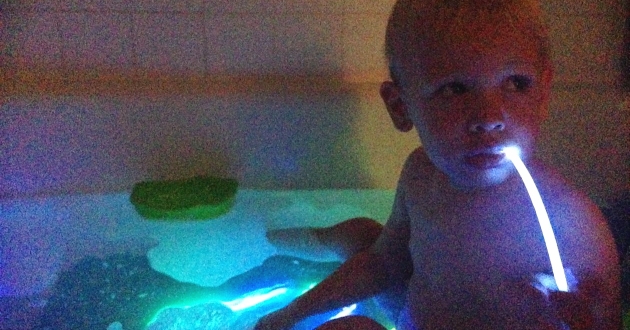 Photo credits: Katfry LLC. All rights reserved.
(Psst: if you've got a kiddo with sensitive skin, these are some of our favorites: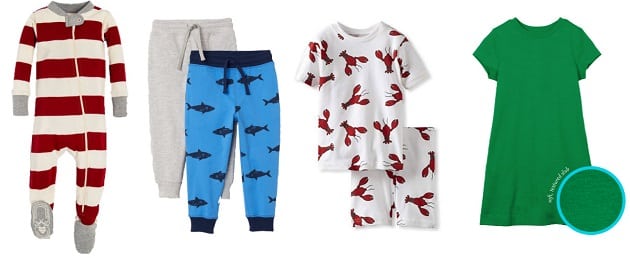 Above, some of our favorite brands of eczema-friendly clothing for kids: Burt's Bees Organic / H&M's Conscious Line / New Jammies / Primary (not pictured but also)