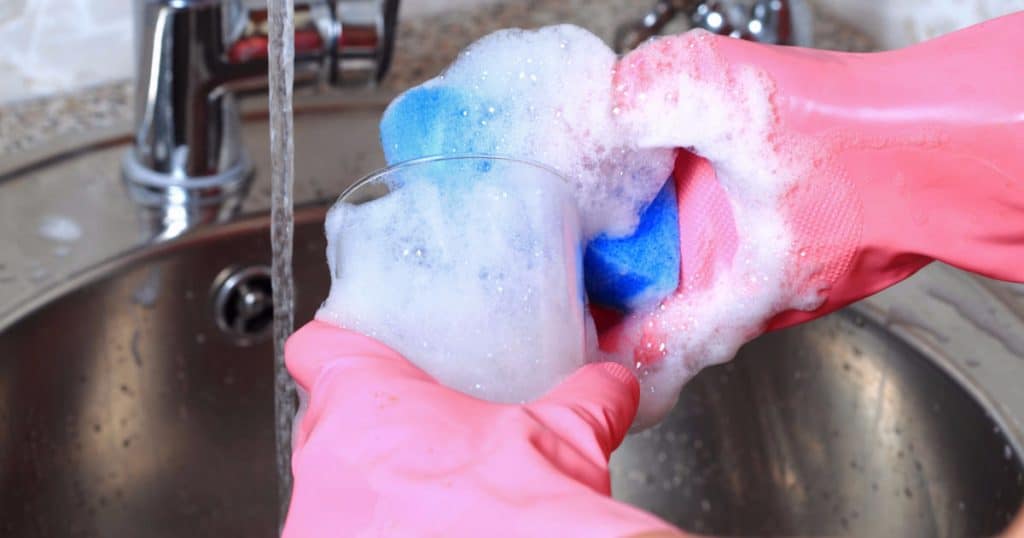 Ladies, let's just discuss: have you hired a cleaning service or cleaning professional to help clean your home? Did you hire a cleaning service BEFORE kids, or was it only something you investigated once you became a parent? (Or, did you ramp up from, say, a quarterly cleaning to a biweekly cleaning?) When would you advise other working moms to hire a cleaning service?
On the flip side, is the cost of daycare (or nanny or other childcare) so great that you can't get behind the idea of hiring a cleaning service — and then have you gotten into the Flylady system or some other cleaning schedule for yourself (even if it's just a last-minute cleaning system when company's coming)? 
I still remember when I realized it was time for my family to use a cleaning service — it happened when my older son had just upgraded from the baby tub to the regular tub. For some reason, when I took my own showers I never noticed all the mold and soap scum on the tub, but sitting on the floor next to my son who was happily licking the walls and toys and drinking the dirty bathwater (WHY?), I was horrified.
Up until then, my routine for keeping a "clean house" involved 15 minutes every day when I wiped down counters, scrubbed toilets, dusted something, or organized something — but I realized that with a small, crawling, growing little man (who was licking weird stuff) that I needed to raise my game. I had no particular interest in spending more than 15 minutes a day cleaning — or even to scrub the tub on a regular basis! — so this kind of depressed me. 
Around the same time, as luck would have it, we went out for a date night with another married couple, and they started talking about how AMAZING their cleaning professional was. "She's like the housekeeper I had when I was in London," the husband, A,  gushed. The wife, my friend N, piped up: "Yes! She asked if she could organize A's closet and then did a great job!" 
Psst: some of our favorite books on cleaning:

We expressed interest, and so they asked, and soon their cleaning professional, O, was cleaning our home once every two weeks. My home quickly became WAY cleaner than with my own cleaning method — not just cleaner, but more organized. There was at least ONE DAY every two weeks where I felt a sense of peace and calm coming from a 100% clean home. There is no way I could go back to the way things were before!
Some tips from someone who's had a cleaning professional for a while:
Ask your friends and neighbors for recommendations. A Facebook group for your child's school, a hyperlocal listserv, or a site like Nextdoor are great places to ask for recommendations. I've never worked with a cleaning service, just single-woman operations — I prefer knowing exactly who will be coming to clean my house and what the quality of work will be.
Specify if you want particular products used. Some cleaning professionals bring everything, while others will use what you have. (O even asked us to buy about $100 in products the first time she came to clean, including a fancy mop.) If you have definite opinions about whether you want green cleaning in your home, or you prefer unscented products or things like that, it's a good idea to be very clear with them about that preference.
Do the pre-clean until you know them better. Some cleaning professionals will organize your stuff if you ask — but some won't. I once hired someone who I thought could handle working "around" a few dirty dishes in the sink, but days later I found sharp knives sticking UP in the big canister we use to hold spatulas. Um, no thank you. I kind of love the pre-clean anyway, because I feel like my time is best spent organizing — almost anyone can clean the countertops, but only I can put the stuff away in the drawers underneath them. (And not to get into too much about emotional labor, but my experience 80% of the time is that my husband moves stuff from one solid surface to another in order to clear up the surface to be cleared, versus my usual attempt to actually return things to their rightful home. E.g., regular toys mixed with bath toys stay in the bathroom when he precleans the bathroom, whereas I try to put the regular toys back in the living room or wherever they belong.)
Have your house cleaned as regularly as you can. I tend to prefer a once-every-two-weeks cleaning because we can stand the mess until then, and we don't have to commit hours every week to doing a pre-clean. I know one stay-at-home mom of three who prefers to get a weekly housekeeper rather than hire a mother's helper or babysitter to take some of the pressure off herself.
Bask in the glory of your clean house. I like to host friends for dinner or schedule playdates during weeks after we've had our house cleaned — it feels like it gives us an "excuse" to socialize.
Readers who have already decided to hire a cleaning service, maid service, housekeeper or other cleaning professional — how did you find them? What are your best tips for other working moms who may be just starting to consider a housekeeper? What do you say to your kids about the situation?
Pictured: Shutterstock / I_B.