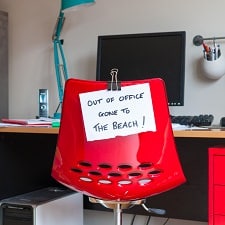 2019 Update: We still stand by this discussion on family vacations and coworker jealousy — but you may also want to check out our more recent discussion of what kind of family vacation is right for you.
Here's what is perhaps an odd question: Do you ever feel like there is coworker jealousy surrounding your family vacations? What are your best tips for office etiquette and family vacations — what are the best tips on how to take family vacations without instilling coworker jealousy? (AND: How many "buffer" days to you take off to prepare/recover from your family vacation?)
It is a truth universally acknowledged that a vacation with kids is a trip — not a vacation! Still, as we've talked about before, many parents schedule regular family vacations, which means it may "feel" to coworkers like you're going on lots of "fun trips." (I vaguely remember feeling like this when I was a single girl working in BigLaw — and I think there's definitely a difference to be made in "messaging" around the vacation.) Furthermore, because you may already know the upcoming dates and schedules for school and so forth, you may book the vacation and have it calendared FAR in advance — and that may make coworkers feel like you're "taking" the best vacation dates. (We got into this a bit with our discussion of holidays, vacations, and office etiquette over at Corporette.)
So let's talk about it: Do you ever feel like there is coworker jealousy about family vacations? Do you try to carefully handle your messaging about it, such as keeping your out-of-office message simple instead of detailed, particularly if your vacation is an obviously expensive trip like a cruise or a week at Disneyland?
A related question on the self-care side of things: How do you relax when you come back from your "vacation"? Do you take another vacation day for yourself to have a slow, lazy day, preferably with your kids back in daycare or school? Indulge yourself in a massage or a date night?
Psst: You may also want to check out our last discussion on the best family vacation resorts for working parents, Kat's tips for flying with kids and using Airbnb with kids. If you're got really little kids and are dreading lugging all of your STUFF with you on vacation, check out this post on companies that rent baby gear for vacations so you can have it waiting at your destination.
Picture via Shutterstock / Willow Dempsey.