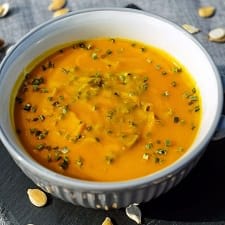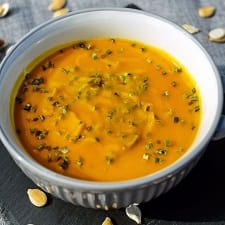 OK, ladies, let's discuss: Which are your favorite fall recipes? Is it time to bust out your Crockpot or Instant Pot? Do you love oatmeal, soups, and stews? What meals do you make that the whole family eats, and what fall-centric things do you find easy to put in school lunches, either from a leftovers perspective or otherwise?
For our $.02, I don't know what possessed me to buy pumpkin yogurt for my eldest to try (because I am definitely NOT a fan of pumpkin spice the way some people are), but he LOVES it, and it's one of the few things he'll eat right now. We just got an Instant Pot on sale at Amazon a few weeks ago, and coincidentally my beloved Crockpot lid just cracked — and after only 20 years, harumph (she said sarcastically) — so we're probably going to be doing a lot of experimenting with the Instant Pot this season. A lot of the recipes that I listed in my easy weeknight dinners post (years ago, now!) are still favorites, and I also got a hot tip from someone recently that you can roast frozen veggies (freezer to hot oven!) so we're going to be trying that. In terms of school lunches, my kiddo is still excited about oatmeal (I just make plain old-fashioned oats and add 1–2 Tbsp of a hot chocolate like Ghiradelli's*) so I'm curious to try that in a preheated Thermos jar* for him for lunch. (Hmmn, maybe with some peanut butter powder* for extra protein.)
How about you guys? Which are your favorite fall recipes to make for your families?
*This post contains affiliate links and CorporetteMoms may earn commissions for purchases made through links in this post. For more details see here. Thank you so much for your support!
Picture via Stencil.