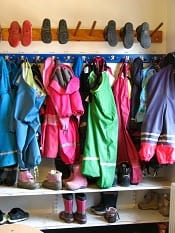 What are the pros and cons of different types of childcare arrangements? How do you decide on whether to hire a nanny, choose daycare, ask for help from family members, etc.? We've talked about taking business trips as a mom, but we haven't had a conversation about this yet. How did you decide what was best for your family? Or, if you're pregnant, how are you evaluating the options for how your child will be cared for when you're working? Let me start by saying: Whatever you end up doing is the right choice. Truly, there are pros and cons to everything, so try not to listen to people (online or otherwise) who feel super strongly about the issue. Here are some key differences among childcare options that I've noticed:
Nanny
The Pros: Your child gets individualized attention, in your home; you can be very specific about what you want re diet, activities, feeding, and more. You can negotiate for housekeeping and cooking as well.
The Cons: Hiring a nanny is expensive. Interviewing and payment can be a headache (especially if you are trying to figure out the "nanny tax"). If the nanny gets sick or is unreliable, you're SOL. Even if you are specific with your guidelines, there's no guarantee the nanny is doing what you ask (e.g., serving carrots instead of cookies, limiting TV time, etc.). By the time your kid is 3 or 4 you'll probably want to pay for preschool on top of nanny services for socialization/school readiness.
Nanny share: This setup has many of the same pros and cons as above, but with added pro of socialization and added con of finding a suitable family and dealing with tricky conversations such as the extent to which they've baby proofed their home.