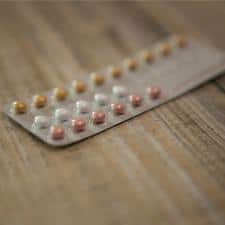 2018 Update: We still think this is a great discussion of birth control after having a baby — but you may also want to check out our more recent roundup of the best birth control options in 2018, over at Corporette.
Choosing birth control before you were a mom was complicated enough . . . but we thought we'd talk about birth control considerations after having a baby. We haven't talked a lot about birth control here (although a few years ago we had a post over at Corporette about IUDs), so we thought it'd be a great topic to discuss today. What did you consider when choosing birth control after having a baby? Were you concerned about breastfeeding, hoping to get pregnant again soon, or worried about other issues? Are you using the same type that you did before getting pregnant, or did you switch to something else? 
What were (or are) your deciding factors? The efficacy of the method? The potential side effects? The length of time that it stays effective? Whether it's hormonal vs. non-hormonal? Whether or not you're planning to have another baby soon?
Here are some pros and cons that moms find themselves considering when deciding on birth control after having a baby:
Breastfeeding: If you breastfeed your baby at least every four hours during the daytime and at least every six hours at night (and you don't supplement with formula), your body won't ovulate. (But talk to your doctor and lactation consultant about this — there are a lot of caveats, as described in this Self article.) However, when your baby turns six months old, you'll start ovulating again. (Psst: here's our last discussion on crazy hormones while weaning from breastfeeding.)
Birth control pill: If you're still breastfeeding/pumping, your doctor will probably tell you to avoid the combination pill because it contains estrogen, instead recommending the progestin-only "mini pill" (which isn't quite as effective). Last December brought news of a new study (NYT) that confirmed previous studies' findings that the pill increases breast cancer risk — but that was followed up with articles reminding women that it reduces the risk of other types of cancer (NYT).
IUD: You may not want to use this method (either the copper IUD or hormonal IUD) if you're thinking of having a baby within the next few years (although it's easy to remove, and you can get pregnant right away). Doctors usually recommend waiting six weeks after giving birth to get one. (Here's an old guest post on Corporette detailing one woman's experience with an IUD.)
Permanent birth control: Essure involves a non-surgical procedure that blocks the fallopian tubes, and it's 99% effective — but so many women have had problems that it now has an FDA "Black Box" warning. (Of course, many more have had no issues at all.) [Update: Essure will no longer be sold in the U.S. after 2018.] The old standby, tubal ligation, is more than 99% effective as well. Of course, the least painful, safest option for a mom is to have her partner get a vasectomy — and it's much more effective than a tubal ligation. However (perhaps not surprisingly), the vasectomy rate in the U.S. is about half of the rate of tubal ligations.
None, because babies: Some moms simply take a break from birth control because the only things they're currently doing in bed are breastfeeding, sleeping, and wishing they were sleeping.
(Not to mention the many other sorts of birth control, including natural family planning, etc. — Planned Parenthood's website is a great place to research any of them.)
If you're trying to avoid pregnancy right now, which birth control method are you using? Are you happy with it? What have you used in the past that you've had good or bad experiences with, either before or after you became a mom? Have you conceived a "surprise" baby when you were on the pill or using another type of birth control? What's your advice for other moms on what to consider when choosing birth control after having a baby?
Picture via Stencil.