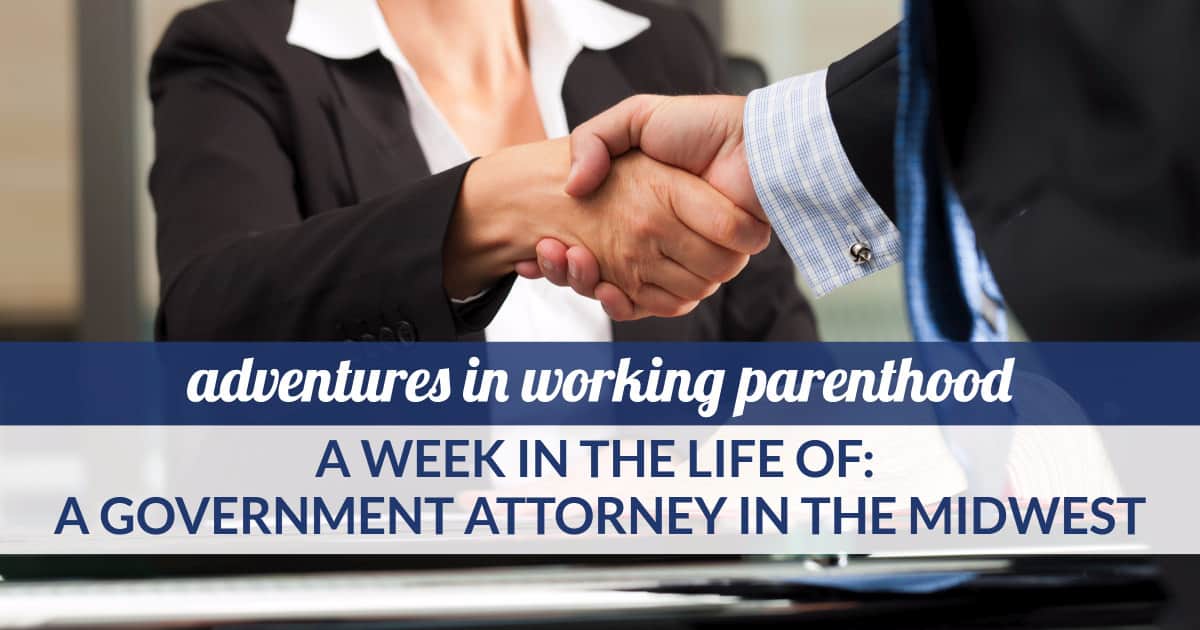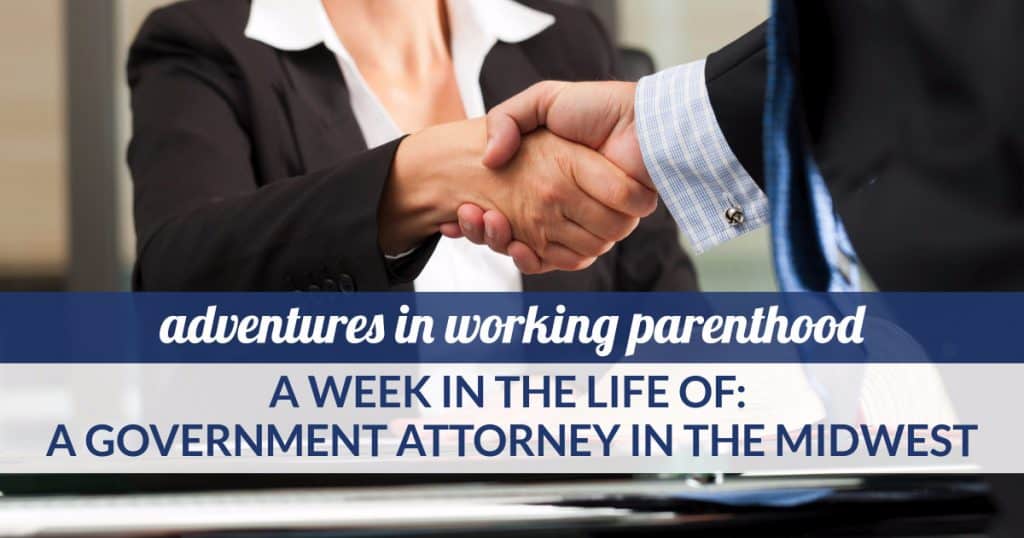 For the fifth installment of our Week in the Life of a Working Mom series, I'm happy to introduce a CorporetteMoms reader who asked us to call her HSAL. She's a 35-year-old government attorney in a large Midwestern city and has one child. Our usual caveat applies: Please remember that this is is a real person who has feelings and isn't gaining anything from this, unlike your usual friendly (soul-deadened, thick-skinned, cold-hearted, money-grubbing) blogger — so please be kind with any comments. Thank you! – Kat
If you'd like to be featured (anonymously or otherwise), please fill out this form! You can see all posts in this series here.
First, Some Basics about this Working Mom…
Name: HSAL
Lives: Large Midwestern city
Job: Government attorney
Age: 35
Home Situation: 1400-square-foot townhome with husband (researcher) and 18-month-old girl, and a cat. Getting ready to move in the next year.
Childcare Situation: Daycare ($287/week)
Last Week in My Life
Sunday
H doesn't have to go to work, so it's family day. We all get showered and dressed and go for a family trip to Target. H has to remove baby while I check out because she's howling that we won't let her roam free to get hit by a cart. Then we all play outside for the rest of the morning. Sidewalk chalk is a big hit. Baby naps at 12:30, we furiously clean for our friends coming over with their two kids at 3:00. Play, mess, they leave by 6:00 and we have dinner, bath, and bedtime. H and I stay up and watch shows until 10:00.
Monday
Wake up at 6:20, H gets in the shower while I go snuggle with baby for a little bit. I get in the shower when he's done while he gets her dressed and takes her down for breakfast. We both leave around 7:30 — he does drop-off and then calls me to tell me how it went and we chat and discuss podcasts during our commutes. Work by 8:15, catch up on emails, make a plan for the day. Ignore that plan and read the comments from the Weekend Open Thread. Squeeze in a yoga session during lunch. Have a meeting with another agency that is incapable of doing things right the first time. Leave work, home with baby by a little after 5:00. She eats leftovers, we play, H gets home, we all hang out until bedtime. Baby goes to bed at 7:00, I stay upstairs to catch up on my shows while H plays video games downstairs.
Here's what HSAL told us about doing yoga:
I used to do yoga semi-regularly, but I totally stopped when I got pregnant 2 1/2 years ago. A few months ago I decided I wanted to start exercising again, so I downloaded a great yoga app (Down Dog) and told myself that if I did yoga 10 times in April, I'd reward myself with new workout clothes. And I did it 12 times! I was really proud of myself. I'm down to a more "typical" twice a week now, which I'm hoping to stick with. It's been really great and I can already tell a difference in my strength and flexibility. I keep a yoga mat at work and I'll do a short routine in my office during the day, and get in a longer practice at night once a week. It's primarily for exercise, but it's also nice to clear my head for awhile and be away from a screen.
Tuesday
Wake up to alarm at 6:30, morning otherwise the same as Monday. H goes out for a long lunch with work friends, I work and do conference calls all day. Stop for a few groceries before picking up baby, home, dinner, bath, bed by 7:15. I do yoga while H gets garbage out and cleans up the kitchen. Television and bed by 10:30.
Wednesday
Up at 6:00 hearing the kid cough. Lay in bed playing on my phone until 6:30 when H gets in the shower and I go get the kid. I shower while he gets her dressed and takes her downstairs for breakfast. Cereal. I make lunch and get out the door by 7:30. He follows soon after, drops kid off at daycare, and then calls me to chat for the rest of our commutes. Work: meetings, conference calls, use a little flex time to leave a half hour early. Pick baby up, go home (husband also leaves early), play, eat quesadillas, play a little more, then bed for baby by 7:00. Husband and I watch TV for an hour then separate — I go to read and he plays video games. Bed by 10:00.
When we asked HSAL about her job flexibility, she said:
My schedule is decently flexible for a government office job. As long as I get my total hours in over the pay period, my boss isn't really concerned about when I'm there. Our standard day is 7 1/2 hours, and I'm generally there between 6 and 8 hours. It's hugely helpful — it lets me take care of random errands during the day. I can go get groceries in the morning before work, fit in a hair appointment without using PTO, or, uh, go home early and watch House Hunters for an hour before the daycare pickup.