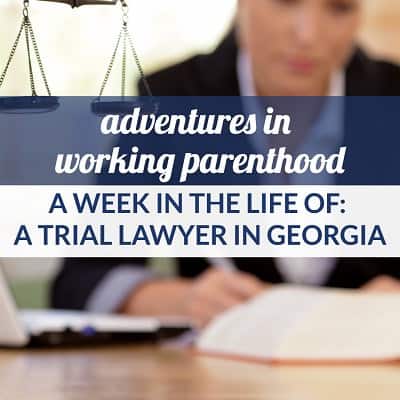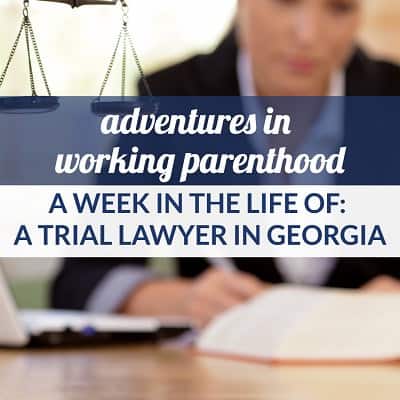 For this week's installment of our Week in the Life of a Working Mom series, I'm happy to introduce CorporetteMoms reader Meredith, who lives in Georgia with her husband and four sons and was working as a trial lawyer when she shared her week with us. Our usual caveat applies: Please remember that this is is a real person who has feelings and isn't gaining anything from this, unlike your usual friendly (soul-deadened, thick-skinned, cold-hearted, money-grubbing) blogger — so please be kind with any comments. Thank you! – Kat
If you'd like to be featured (anonymously or otherwise), please fill out this form! You can see all posts in this series here.

First, Some Basics About This Working Mom…

Name: Meredith
Location: Live in Smyrna, Georgia; work in small personal injury firm in Atlanta (Here's an update from Meredith: "Since writing this Week in the Life, I've opened my own law firm for more flexibility in balancing work/life demands.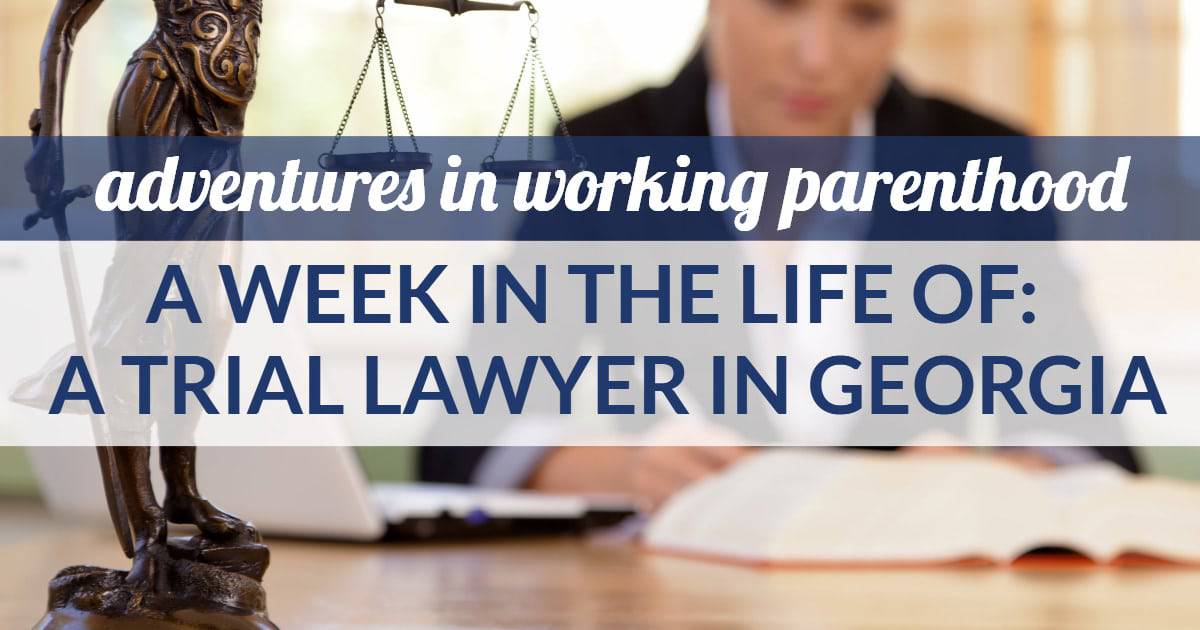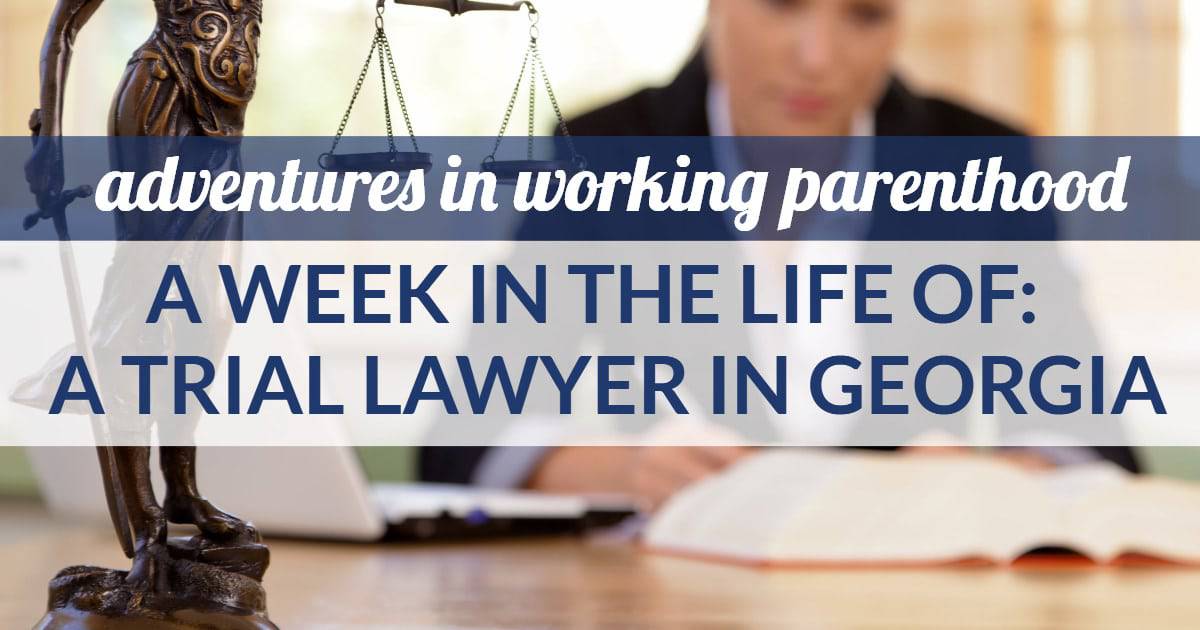 ") 
Job: trial lawyer
Age: 36
Home Situation: Four kids; stay-at-home dad who homeschools the older two 
Childcare Situation: Preschool three days a week for 3-year-old during school year ($2,500); homeschool co-op ($4,000)

A Week in My Life
Sunday
7:00 a.m. Thankfully, everyone sleeps in until 7:00. Get up, shower, then I nurse the baby while Hubby showers, help two littles pick out church clothes, and wake two big boys up. Sunday breakfast is always "fend for yourself," as it's crazy getting four kids ready for church.
9:00 a.m.–12:00 p.m. Church. Kids and Hubby stayed for lunch while I went to the office. Grab a salad on the way.
12:30–5:30 p.m. We have trial starting Monday, so my staff is all here. Last minute check of exhibits, phone numbers for witnesses, illustrations and tripods, etc. Paralegal confirms arrangements for lunch to be delivered each day. Then I circulate last draft of my opening statement for final comments. Let support staff leave at 5:30 and text Hubby I plan to head out soon.
5:30–8:00 p.m. Finalize opening argument. Revise outlines for direct exams for my witnesses. My co-counsel left at 6:00 — it's quiet and I am productive and forget I said I was leaving shortly. Call to apologize, and finally leave.
8:15 p.m. Arrive home. Everyone is still up. Nurse the baby and put him to bed. Trial prep has been in full gear for three weeks now, and I ended up with strep in the middle of it. My milk supply took a hit and we had to start supplementing with formula. This makes me sad, but also it's so much easier not to have to pump in my car in between depositions. And I know trial will be easier just nursing in the morning and at night.
8:45 p.m. Give my opening to the other three boys. They all agree it's persuasive, and ask some questions. I incorporate some extra details in response so my jurors won't have the same questions.
10:00 p.m. Go to bed and actually fall asleep. Rare for the night before trial, but I'm exhausted.
Monday
4:00 a.m. Wake up. Walk the dogs since there's no way to go back to sleep. Do a load of laundry. Lay out my suit and get in the shower.
5:30 a.m. Baby is up. Nurse while Hubby sleeps a bit longer.
6:00 a.m. Get dressed, do hair and makeup, grab coffee, and read through opening statement again.
7:00 a.m. Head to court. Our two older boys are homeschooled, and this is our last week of school. Normally this is when I do "morning circle" with them before I leave for work — handling a loop of art, music, geography, writing, and special subjects like poetry, Shakespeare, etc. Hubby has to do this when my work schedule requires me to leave early.
8:00 a.m. Arrive at court. Grab the file boxes I was assigned and prepare to get through security. Have to take sealed deposition videos through the mailroom security.
8:30 a.m. Arrive in courtroom and begin unpacking. Two paralegals are already there and setting up as well. We travel as a team, and all three of our paralegals will be in court assisting with documents all week.
9:00 a.m.–5:00 p.m. Trial day one. I feel good about it. Call and suggest dinner out. Boys are thrilled, since weekday restaurants are rare for us. They choose Red Lobster.
7:00 p.m. Get home and finally change clothes. Nurse the baby and then head upstairs to prepare for tomorrow. Hubby puts all the kids to bed, cleans up, and switches over the laundry I started this morning. Since he does all the cooking, these are usually all my chores, but with trial he picks up the slack.
10:00 p.m. Head to bed.
Here's what Meredith told us about her family's decision to homeschool: 
We always wanted our kids to have a classical education, but private schools utilizing that model were not affordable when our oldest began kindergarten. (I was still in law school.) He started in a local charter school and we tried to supplement public school with living books and memory work at home, but even by first grade the amount of homework and projects he was assigned made that impossible. We decided to try it for one year when he started 3rd grade, and we LOVED it. We're starting our 5th year homeschooling next week. It works for us and offers our family the flexibility to work around my job. I had a trial when the youngest was eight weeks old, and we just packed everyone up to a hotel down the street from Court. They did lessons there during the day and Hubby brought the baby to Court during scheduled breaks so I could nurse. I had a great judge who was amenable to relatively set morning, lunch, and afternoon breaks to accommodate me. It worked perfectly and I didn't have to pump in a courthouse bathroom or my car. Plus, we can travel whenever I'm not busy/in trial rather than during set school vacations.
Tuesday
2:30 a.m. Baby wakes up and is fussy. Nurse him and then am wide awake. Watch TV and try not to think through everything I did in trial yesterday. Fall back asleep around 4:45.
5:30 a.m. Wake up to alarm. Shower and get dressed. Try to eat breakfast, but stomach does not cooperate.
7:00 a.m. Leave for court instead of going to the Chamber book club I usually attend Tuesday mornings.
8:30 a.m.–4:30 p.m. Trial. Ends a bit early since our next witness was a two-hour doctor deposition by video.
5:30 p.m. Home in time for dinner. Hubby grilled chicken and corn. Normally I meal plan and grocery shop on Saturdays, but I've been slacking due to trial prep. He planned this meal and shopped himself. Tastes even better that way.
7:00 p.m. Starbucks date with my bestie. She's also my co-counsel's wife and has been watching our trial. Co-counsel has most of the witnesses tomorrow so we go over what's already happened and prep for Thursday. And just chat in general — which I need.
9:00 p.m. Home in time to put the oldest three to bed. Read a story, check in on their day, report in trial, and tuck them in.
9:30 p.m. Work a bit.
10:00 p.m. In bed — don't fall asleep right away but resist the urge to turn on the TV or do more work. Eventually fall asleep.
Wednesday
5:30 a.m. Wake up. Hubby has been up with baby and he's ready to pass him off. I appreciate the sleep and take the baby. Nurse him and then play downstairs, where we won't wake anyone else.
6:30 a.m. Shower and get dressed. Do hair and makeup. Change shirt twice.
7:30 a.m. Leave later than I intended.
8:45 a.m.–5:00 p.m. Trial. We underestimated cross-exam times and are behind schedule. We were hoping to rest today, but didn't finish.
6:00 p.m. Arrive home. Grab dinner — just peanut butter toast (my go-to comfort snack) and coffee. Nurse the baby while talking to co-counsel on the phone to revise our trial schedule.
7:00 p.m. Read aloud to the boys and then go upstairs to work.
10:00 p.m. Head to bed. Nurse the baby in bed since he's woken up, then move him to his bed. Again, lie in bed awake for awhile before falling asleep.
11:30 p.m. Remember that I need to get a substitute for my networking meeting tomorrow morning. Text our firm's in-house investigator, who agrees to sub, and then email her a short elevator pitch to read. Glad I have someone to call at the last minute who always agrees to help.
12:00 a.m. Back to bed. Fall asleep sometime after midnight.
Thursday
5:30 a.m. Wake up to alarm. Baby is still sleeping, so shower and get dressed. Make coffee and do a load of laundry. This is normally my chore and I'm very OCD about it. The baskets are all messed up and out of order since Hubby has been doing it this week. Spend 45 minutes rearranging everything and re-sorting the clothes.
7:00 a.m. Everyone is still asleep so I leave quietly. Today is my big day with our final witnesses and I'm nervous.
8:30 a.m.–5:30 p.m. Trial. Goes later since judge does not want this to go past Friday (neither do we). We've rested and the defense put up one witness. They'll finish and we will close tomorrow. All of my parts are done and I am exhausted.
6:30 p.m. Home. Eat dinner, which Hubby put aside for me. Homemade pizza, which is usually a favorite, but I can't eat much. Catch up on the kids' days and sit with Hubby at the table with after-dinner coffee while we go over the weekend calendar.
7:30 p.m. Nurse the baby and then go to bed. Fall asleep quickly.
Here's what Meredith had to say about her husband's role as a stay-at-home dad:
My husband worked in financial services and naturally scaled back to part-time work after the economic downturn in 2007–2008. Once I finished law school, I was making more than he was, we had our third son, and we decided he would temporarily be a SAHD until the mortgage business bounced back. But we found we did well on one income, I didn't have to worry about missing work to pick [the kids] up from school or doctor's appointments while I built my practice, and he loved being able to coach their sports teams, so we've kept that structure.
Friday
3:00 a.m. Wide awake. That's the problem with going to bed at 7:30. Try to just lie quietly in bed, but can't fall back asleep.
5:00 a.m. Get up, shower, get dressed. Nurse the baby and he falls back asleep. Think about walking the dogs. Forget to turn off the alarm, set it off, wake everyone up. Oops.
6:00 a.m. We all have breakfast together since everyone is now awake. Do a quick version of morning circle at the table and celebrate our "last day of school." Everyone tells their favorite subject and one thing they're proud of learning. It's actually a nice way to start the morning after such a crazy week.
8:00 a.m.–12:30 p.m. Trial. Defense rests early. Then we close (co-counsel does ours) and judge gives instructions.
12:30 p.m. Take all our support staff and associates who came to watch closing arguments out to lunch at a nearby restaurant. I order a chicken caesar wrap but can't eat much of it.
2:00 p.m. Arrive back at court. Jury is deliberating. We wait outside — chat with clients. Go up and begin packing files into our cars. More waiting. People start to leave as it gets later. Text Hubby to head to the birthday party without me since it looks like I'll be here awhile. He takes all four kids to a baseball game birthday party himself (brave man!).
4:30 p.m. Co-counsel, his wife, my paralegal, and I are now the only ones left with clients. Eleven people from my firm were here earlier. There isn't much to say as we wait. I eat the last Balance Bar we brought with us while my paralegal finishes the pretzels.
6:30 p.m. Plaintiffs' verdict, just not as much as we hoped. Talk to the jurors and confirm the issues we suspected.
7:00 p.m. Everyone else leaves for the weekend. Chat with BFF and co-counsel in parking lot. Text Hubby; they're still at the game. Decide to grab drinks with BFF since no one is waiting for me at home.
8:00–9:00 p.m. Dinner, drinks, and Trial debrief.
9:15 p.m. Home just before Hubby and kids. Everyone is exhausted and goes straight to bed. Nurse baby and we both fall asleep in my bed.
We asked Meredith whether or not this was a typical week for her:
Yes, this was a typical week. I am not in trial every week, but with litigation there are always client meetings or depositions or travel requirements to schedule around. It's never really 9–5 and each week presents different challenges to trying to do it all well.
Saturday
6:30 a.m. Baby does not sleep in. I am exhausted but get up anyway. Nurse him, then get up and play. Make coffee and try to wake up.
8:00 a.m. Wake up my 11-year-old for last-minute trip to Walmart. He's leaving for Scout Camp tomorrow and still needs some things.
10:00 a.m. Pack with 11-year-old. Do laundry he needs. Pull my dry cleaning to drop off. Catch up on chores and cleaning that went undone this week.
1:00 p.m. Lunch with my in-laws. They live two hours away and have both been sick, so we haven't seen them in awhile.
2:00–5:00 p.m. The 11- and 9-year-olds have a rank test for Tae Kwon Do. We all go. My in-laws and Hubby watch while I take the two littles outside to play for a bit since it's hard for them to stay quiet for three hours.
5:30 p.m. Dinner out with my in-laws. Then they head home and we head home to finish packing for camp.
7:00 p.m. Boys watch TV while Hubby and I coordinate calendars for next week and divide errands. I realize I forgot to drop off my dry cleaning today. Then I plan meals (we use plantoeat.com) and print grocery list.
9:00 p.m. We end the week with a "slumber party" where we all cram into our bed and watch a movie. Tonight is the oldest's choice since he is leaving for camp tomorrow. He chooses Jurassic Park. The little ones fall asleep quickly and are carried to their beds.
11:00 p.m. Movie is over and everyone goes to bed
Thanks so much to Meredith for sharing a bit of her life as a working mom! Readers, what's your biggest takeaway from her week of work as a trial lawyer as well as her general work/life balance?
Stock photo via  Deposit Photos / ginasanders.