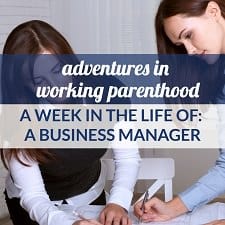 For this week's installment of our Week in the Life of a Working Mom series, I'm happy to introduce CorporetteMoms reader K, who lives in the Boston suburbs with her husband and son and works as a business manager in tech. Our usual caveat applies: Please remember that this is is a real person who has feelings and isn't gaining anything from this, unlike your usual friendly (soul-deadened, thick-skinned, cold-hearted, money-grubbing) blogger — so please be kind with any comments. Thank you! – Kat
If you'd like to be featured (anonymously or otherwise), please fill out this form! You can see all posts in this series here.

First, Some Basics About This Working Mom…

Name: K
Location: Lives and works in a Boston suburb
Job: Business manager in tech
Age: 32
Hours worked in a typical week: 35–44
Home Situation: I live in a 2,500-square-foot house with my husband (engineer in biotech); our 9-month old son, C; and our cat.
Childcare Situation: $1,200/month. We have a unicorn childcare situation: a licensed, in-home provider in our neighborhood who watches C and two other babies his same age. It is essentially a nanny share, but at a fraction of the cost.
We asked K about how she arrived at her "unicorn" arrangement for childcare: 
Mostly by luck, sorry to say, there is no magic secret. We toured several big-name centers, one independent center, and two in-home providers — in our area there is no shortage. I do recommend checking with your state's child care licensing agency when looking for in-home providers, because many do not advertise. That's how we found ours, but it was purely luck that all her kids were "graduating" to pre-K and she was starting with two other babies C's age. And because of mandated ratios, she can't take any more kids right now. We also got lucky that we click really well with the other families and the kids all have similar temperaments.
A Week in My Life