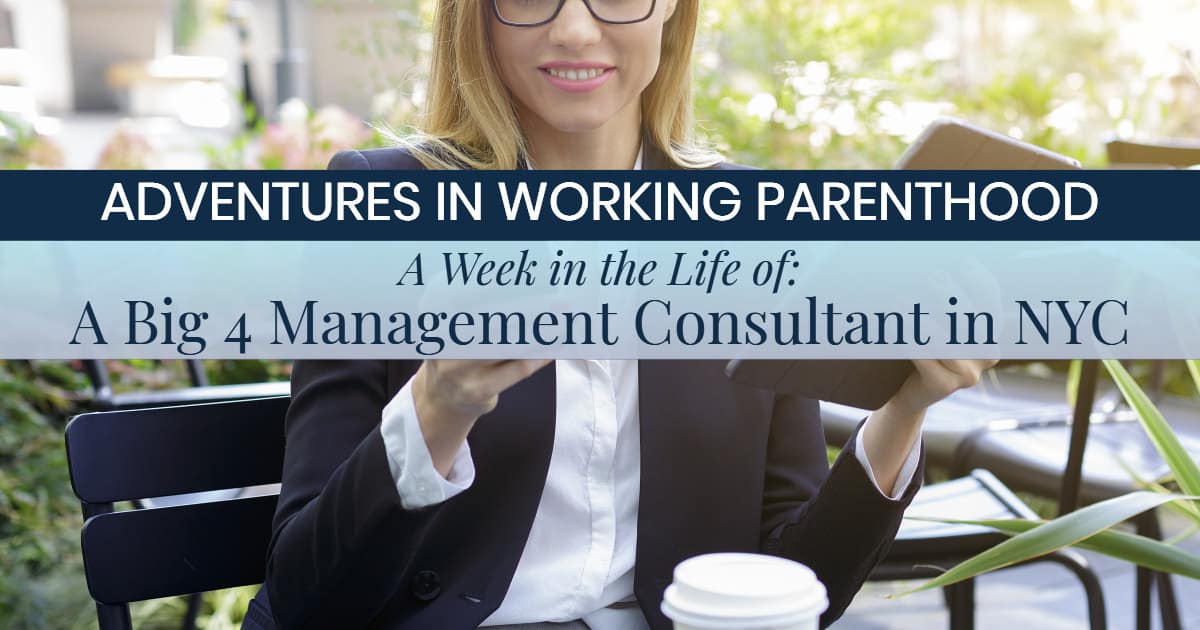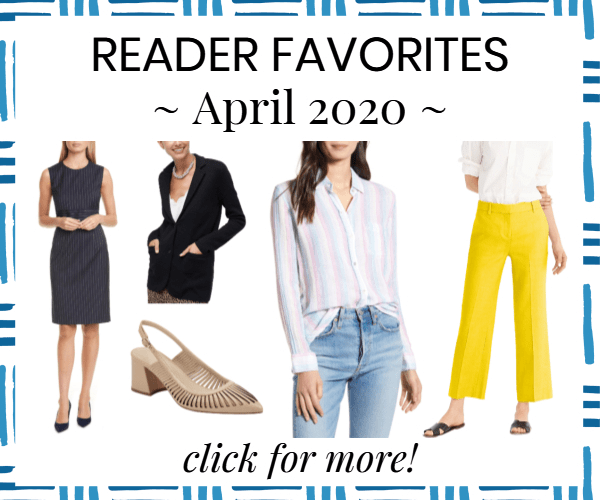 For this week's installment of our Week in the Life of a Working Mom series, I'm happy to introduce CorporetteMoms reader M, who lives in New Jersey with her husband and daughter and works as a management consultant in NYC. Our usual caveat applies: Please remember thaft this is is a real person who has feelings and isn't gaining anything from this, unlike your usual friendly (soul-deadened, thick-skinned, cold-hearted, money-grubbing) blogger — so please be kind with any comments. Thank you! — Kat
If you'd like to be featured (anonymously or otherwise), please fill out this form! You can see all posts in this series here.

First, Some Basics About This Working Mom…
Name: M
Location: Live in central NJ; work from home, my NYC office, or at a client site
Job: Management consultant at a Big 4 firm, specializing in customer experience and strategy
Age: 31
Home Situation: Live in a 2,300-square-foot home with my husband (37-year-old lawyer at a small firm) and our nearly 2-year-old daughter
Childcare Situation: Our daughter attends a local daycare from 8:00 a.m. to 5:00/6:00 p.m. for $300/week, which includes an employer discount. Her grandparents pick her up once or twice a week, depending on whether husband and I are traveling or will have a late night in the office.

A Week in My Life
Sunday
My best friend's bachelorette party was this weekend, so I spent Friday through today out of state. My husband hung out with my daughter and his parents. I returned home Sunday evening (after many flight delays) around 1:00 a.m.
Monday
7:30 a.m. Up early to get my daughter to daycare. I haven't seen her much between personal weekend commitments and a new client that requires travel, so I relish the day to do drop-off/pickup. I work remotely today from my home office, directing my team that's onsite, and spend most of the day working on deliverables and reviewing my teams' work.
12:00 p.m. My husband and I pop out to grocery shop for the week and pick up lunch. He doesn't cook while I'm away, so we try to buy a combination of "easy" items like soups and healthy pre-made meals for him and my daughter. I will also make dinner tonight to last them a few days while I'm traveling for my client.
5:00 p.m. I pick up daughter from daycare. On days that I work remotely, I have a standing agreement with my team that I'm off-limits (barring any disasters) so I can spend time with my daughter. I typically work longer hours when I travel or am in the office, so it balances out.
6:30 p.m. Homemade soup for dinner. Daughter is starting to get randomly picky with her food (too bad for us…), so it can sometimes be a struggle. Today she eats most of the veggie minestrone, so I chalk it up to win.
8:00 p.m. Bedtime routine, including three stories before putting her to bed
9:00 p.m. Catch up on emails, then pack for my three-day business trip
11:00 p.m. Out like a light
Here's what M had to say about her daughter's eating habits:
We try to get her to eat whatever we make for ourselves, and if she doesn't, we'll make sure she gets some pureed vegetable packs at the minimum. She gets healthy, balanced meals and snacks as part of her daycare, and due to some magical toddler peer pressure she seems to always eat what they serve. Frankly, if she gets picky when she gets home for dinner, I at least don't feel like a monster if she'll only eat a meatball or a squeeze packet since I know she ate well at school. I'm sure this is just going to be a phase. Phases last until kids are like 14 though, I hear.
Tuesday
5:30 a.m. Lyft arrives to take me to the airport. Not a wonderful time to wake up, but not the worst. When I first began my consulting career, there were many 4:00 a.m. pickups. I nap during the ride.
7:45 a.m. Flight leaves for my client trip. I nap during the one-hour flight (got to grab those extra Z's where I can).
8:00 a.m. Husband drops daughter off at daycare before heading into his office.
10:30 a.m. I get to my client site and get to work — lots to do this week with multiple deliverables and a few client workshops on the agenda.
4:00 p.m. Tuesdays are grandparent pickup days, since I'm away and my husband has to go into his office and work late. They pick daughter up from daycare and bring her back to our place to play, eat dinner, and do the normal bedtime routine. Husband usually returns from work around 8:00, so he might be able to take over bedtime duties depending on the day.
We asked M to share advice for other moms who travel a lot for work:
I have found consistent check-ins to be key. Things like FaceTime and Google Hangouts make it really easy to stay in touch visibly. That helps make me feel connected to my husband and daughter. I also try to text my husband randomly throughout the day to keep our relationship and friendship strong. It's equally important, though, to set boundaries at work where you can: Carve out a few hours of "do not disturb" time, and learn how to say No. Block off my kids' school "parties" and things like that into my day so when I am home, I'm visible. I didn't feel that I was able to do that earlier in my career, but I see that flexibility changing. I hope it will be more commonplace soon. On a more fun note, I also use my travel as a fun thing to discuss with my daughter — oh, Mommy goes to work on an airplane, etc. When kids are young they can definitely get into those mundane aspects that we take for granted. Having help really underpins all of this, though, and without my husband and our family members I don't know if all of the aforementioned advice helps all that much.
Wednesday
8:00 a.m. Husband drops daughter off at daycare before returning home for a remote work day. Lucky him!
9:00 a.m. Two hours into my workday and I'm ready to go home for the week. I typically travel Monday through Wednesday when I'm working at a client site — to allow for some mother-daughter time — but due to some specific workshops we're running (and my travel weekend last week!), this week is a little off.
6:00 p.m. Husband picks up daughter from daycare before starting the dinner routine.
8:00 p.m. Husband is rocking the equal parenting thing, getting our daughter down for bed on schedule. She's beginning to talk and has started asking "Mama, home?" so at least I know I'm missed. I try not to think about how she must miss me, because I'd feel bad. I could never hack it as a SAHM, though, so I just resolve to focus on the good role model I will be to my daughter when she's old enough to understand. Plus, I figure she'll get used to the schedule eventually and it won't be as much of an issue.
We asked M how she and her husband make decisions about dividing parenting duties:
It's almost always been 50/50. We bottle-fed from the get go, so from Day 1 I made it clear to my husband that I was not getting up every two hours for a feed. He loves interacting with our daughter, doing the bedtime routine, all of that stuff, so it's rarely a fight over who needs to do what. He also doesn't have much of a choice when I'm traveling, and when I return home I need my toddler-fix, so it seems to come naturally for us. I used to feel really guilty when I'd schedule time with friends, especially when it came after a work trip. I imagined that my husband was probably really annoyed or frustrated with me. I don't really think he was, but I still get in my own head when I take time for myself like that. I'll be the first to admit that I feel as though I still carry most of the emotional labor in the household. Whenever I feel really overwhelmed, my husband and I will have a talk and he'll pick up some slack for awhile. It's an ongoing discussion for us (and probably for a lot of other people).
Thursday
8:00 a.m. Husband drops off daughter at daycare before heading into his office
5:00 p.m. Husband's parents are able to pick her up today, since he had to pull another day in the office instead of remotely at home. We're so lucky that our parents are local-ish and don't have any other grandkids. We know this arrangement will change as soon as our daughter gets some cousins, so we're going to take advantage of this as long as possible. We also treat our parents to multiple bottles of wine whenever we see them as a partial (though inadequate) thank you.
5:00 p.m. I head out of the client site toward the airport for a 7:30 flight home
8:00 p.m. In-laws have the bedtime routine down, and husband arrives after daughter is sleeping
10:00 p.m. I get home from the airport. I catch up with husband on his week, our daughter, and our weekend plans before passing out.
Friday
7:30 a.m. Up for an early daycare drop-off! After an initial excited "HI!" my daughter has decided I'm now chopped liver and is asking for Daddy. Oh well. She has started to display some separation anxiety when we drop her off at daycare (surprise, surprise), but her carers are wonderful and know how to distract her (breakfast? yes, please! bye, Mom!).
3:30 p.m. I wrap up work for the day. It's been a long week and there's nothing I can start on now that I could finish before the end of the day.
4:00 p.m. I pick up my daughter from daycare early and we head over to my parents' house for an impromptu BBQ. We bring bubbles for my daughter to play with outside while we all catch up. My husband arrives later that night for dinner.
7:00 p.m. Family dinner.
8:30 p.m. I decide to stay over at my parents' house so they can spend more time with my daughter. I know I stand no chance of leaving, since my daughter has been attached to my hip all day. She goes down relatively easily, given the circumstances. I'm happy to spend the extra time with her.
11:00 p.m. I quietly slip into bed next to her pack 'n' play. I noticed that she pops up to look over at me throughout the night. Probably checking to make sure I'm still there. Nothing like some Friday-night guilt, kiddo!
Saturday
8:45 a.m. Daughter sleeps in later than usual, but we eventually get up to watch some Sesame Street downstairs while the rest of the house wakes up. We snack on berries and bananas.
10:00 a.m. Family breakfast means pancakes for my daughter. She's a total goofball and we all enjoy watching her eat them, one pancake per fist.
3:00 p.m. We arrive back home, and daughter has fallen asleep in the car. I carefully get her out and up into her crib for an official naptime.
3:30 p.m. I catch up with my husband. It feels like it's been weeks since we've properly interacted. It probably has. I definitely miss him.
6:00 p.m. Dinner together as a family
8:00 p.m. I handle the bedtime routine. Now that I'm traveling more, I find myself volunteering to do these routines more often. We split it 50/50 for the most part, but the opportunity to spend more time with my daughter and relieve my husband is too good to pass up. Looking forward to a beach day tomorrow (the first of the season) with daughter before headed back to my client on Monday.
Thanks so much to M for sharing a bit of her life as a working mom! Readers, what's your biggest takeaway from her week of work as a management consultant as well as her general work/life balance?
Pictured: Shutterstock / s4svisuals.