2018 Update: We still stand by this Nite-Nite Light bulb review — but you may want to check out some of our more recent stories about bedtime, including our recent post on how to get your kids to sleep.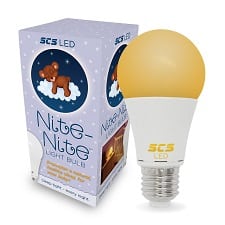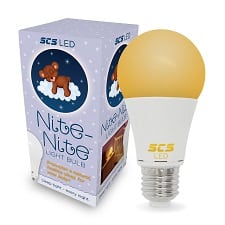 We got a version of this "sleepy baby" lightbulb from Hammacher Schlemmer a while ago — we were ordering other stuff and it was on sale, so I figured, why not throw it in — and we've been very happy with it. We have it in the reading lamp closest to my 4.5-year-old's bed (although it would also work well for babies' nighttime feedings and diaper changes), and bedtime has been easier since we got it. I'm not sure I'd say the former light energized him, but this one definitely seems to make it easier for him to recognize it's bedtime. The Hammacher Schlemmer one is still available for $20, but this one is also highly rated and available through Amazon Prime for $20 as well. SCS Nite-Nite Light Bulb
Hmn: here's a whole article about it in the NYT.